transForm Endowment Gifts

an endowment for the support of long-term mission workers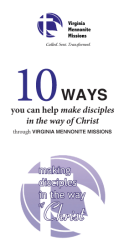 Ministry Support Teams provide mission workers with great spiritual, emotional, and material support. But long-term funding is a challenge. Therefore, VMMissions initiated an endowment plan that creates a hybrid model of funding long-term mission workers.
This is a model that has proven very helpful in the way we have funded workers who go out under tranSend.
Goal:
Establish a "family of endowments" totaling $7,000,000.
Where we are today:
Goal met! $7.1 million is in hand or has been pledged.
An continuing invitation:
Though we have reached our initial goal of $7 million, you are still invited to contribute
an immediate gift
a monthly or annual plan for adding support to the work of missions
an estate plan that contributes a portion to missions.
Contact:
Ken Horst
Development Associate
(540) 434-9727 / (800) 707-5535
[email protected]
---
For other ways to give to the work of God's mission, please see the 10 ways you can help make disciples in the way of Christ brochure at right.
---