Riders Raise Over $25,000 at 25th Annual Bike Shenandoah
Posted on October 4, 2021 by Abe Hartzler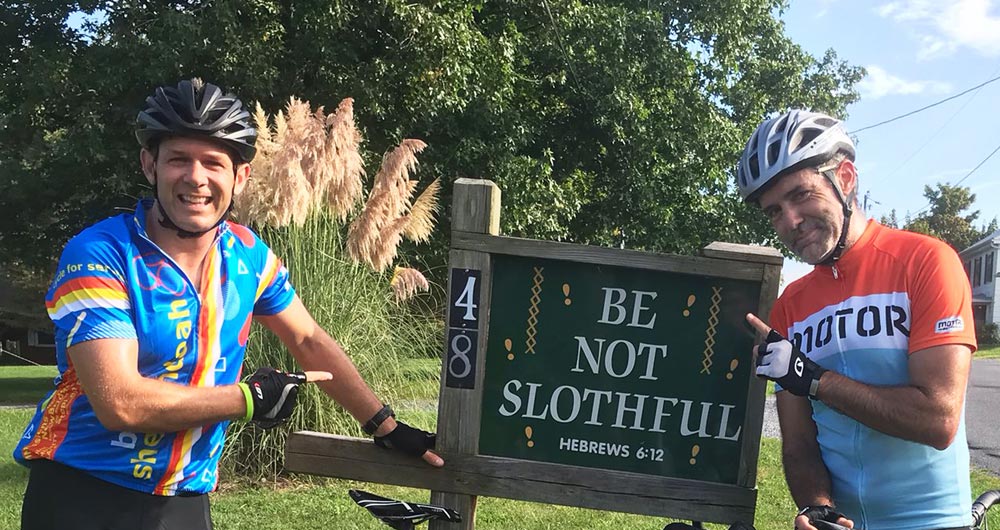 VMMissions President Aaron M. Kauffman (left) with his brother Ryan at this year's Bike Shenandoah. "We obeyed this verse," Aaron wrote. Photo courtesy of Aaron Kauffman.

On Saturday, September 18, nearly 100 bicyclists gathered at the grounds of Eastern Mennonite High School to participate in the 25th annual Bike Shenandoah Cycle for Service. The clear, sunny skies and mild temperatures made for a perfect day to ride the country roads of Rockingham County.
As a special way to celebrate the 25th anniversary of the ride, many cyclists could be seen wearing commemorative jerseys, specially ordered for the event. Also a special feature for the 25th anniversary was live music from Lightning Lucas, which cyclists got to enjoy over lunch as they returned from their routes.
Donations are still coming in, but as of October 1, the event has raised over $25,000 to be shared evenly among its partnering entities, which include Virginia Mennonite Missions, the Stephen R. Leaman Memorial Endowment for Missions, Mennonite Central Committee, Roberta Webb Child Care Center, NewBridges Immigrant Resource Center, and Our Community Place.
Throughout its 25-year history, donors have helped raise over $525,000 through their participation in this event.