A Front Row Seat to the Gospel's Power
Posted on May 4, 2020 by VMMissions Staff
A campus ministry leader at Bridgewater College, tranSender Kyle Glenn is confident that God is working through him to bring gospel transformation into the lives of college students.
By Kyle Glenn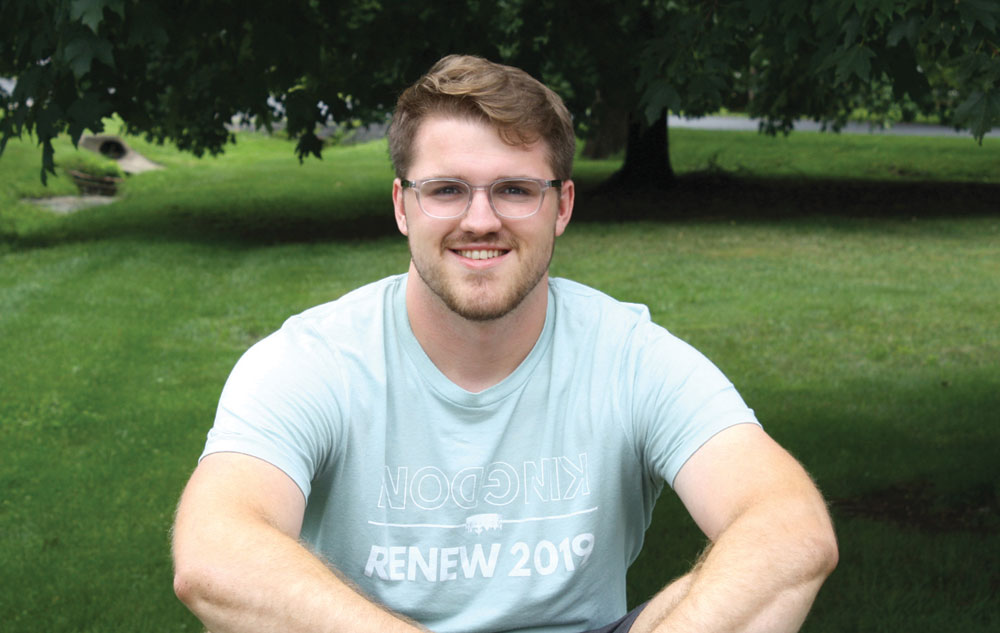 Kyle Glenn, a tranSender in college ministry. Photo: Jon Trotter
The power of the gospel is this: that the unlovable are loved, the irredeemable are redeemed, the disinherited are adopted, the faithless are made faithful, the wicked are made pure, and the unqualified are made participants.
This is my story. With every breath there is a constant reminder that it is only the grace of God poured out on me that allows me to walk forward in the purpose he designed for me. Ministering at Bridgewater College, I have had a front row seat to the power of the gospel working in the lives of college students. He has taken students who are broken, hurt, and complacent, and as a loving Father, gently removed the brokenness and brought restoration.
One such student who encountered the love of Christ is my good friend Reese. She came to Bridgewater, jaded and ready to dismiss the idea of God. As she came to Bible study week after week, I couldn't help but think, "I love that she's coming, but what is making her come back?" In hindsight, I see that she had tasted the water that truly quenched the thirst of her soul. Alone in a hospital room at Sentara Rockingham Memorial Hospital, she decided to give her life to the Lord. She was ashamed of the mental health issues she was having and didn't want to tell anyone she was there. Praise God that he meets people at their loneliest and most broken. He didn't just give her mental healing; he also gave her new life and formed a community to walk beside her.
Restoring the biblical concept of community, represented in the Trinity of God and the fellowship of believers in Acts, is very meaningful to college students. It is an avenue for the love of God to be released to the world. God's love really does flow through our lives and others see it and want to experience it. This is why I feel the urgent call to step out of the comfort zone of my Christian community to pull the lost into it, so that they might experience the love of Christ as well. As Jude 23 says, "…save others by snatching them from the fire; to others show mercy."
We must be willing to get our hands dirty as we reach out. James 2:14-17 states the harsh words that if we do not help a brother or sister out of their situation, our faith is dead. When a person sees a costly kind of care and concern, they see a love that can only come from God. They no longer see the distorted or perverted love that is required by society for intimacy.
Sharing—and living—the gospel was never meant to be easy, but it was also never meant to be complicated. I remind myself to keep it simple; I give what has been given to me and allow God to be God. I know for myself that releasing control goes against the very fabric of our humanity. There is no better example of loss of control than what the world is currently facing with COVID-19. What is ultimately driving this threat is the fear of death; it has, in a sense, made the world stand still.
Despite the fear, we must still be willing to advance the gospel. Now that college students have been sent home, our ministry has shifted gears to having online Bible studies and sermons. During this time, it can feel like the power of God is being limited; I can succumb to a fear that the gospel won't connect as well since we are no longer meeting face-to-face. The hope I am clinging to during this time is found in Isaiah 55:11, "So shall my word be that goes out from my mouth; it shall not return to me empty, but it shall accomplish that which I purpose, and shall succeed in the thing for which I sent it."
I believe that as I faithfully continue to preach the word—regardless of the method—it cannot return empty. God's purpose will be completed in each and every season, regardless of how we perceive it. Even in times when we experience disappointment, we must continue to cling to the truth that God's ways are higher than our own. God is doing a new thing in the body of Christ and I believe that as we remain steadfast to the purpose God has given us, it will not only change the campus, but it will change the world.
Filed in: All posts, Transforming