A visit to Purok Pluto's coffee fields
Posted on December 31, 2014 by VMMissions Staff
[dropcap]We[/dropcap] rose early on a Sunday morning and accompanied a group of Purok Pluto's farmers into the coffee fields to observe and participate in the harvest of the coffee cherries.
As we hung the plastic collection buckets around our necks and followed the farmers down the slope into the rows of coffee trees, the chilly morning fog lifted to reveal a marvelous view of blue mountains surrounding the glinting water of the Gulf of Davao, Philippines.
The PeaceBuilders and the farmers filled their buckets with red coffee cherries and trooped back up the slope to the shade of Lyn's store.
Sitting beneath the roof of an open-fronted shed attached to the store, Marivic, Pluto resident Joy John, and store proprietor Lynlyn Panolino removed green, damaged, and rotten cherries from a pile of reds heaped on a net.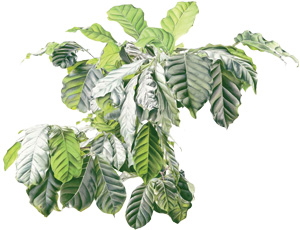 In order for the owner of a coffee field to bring in a harvest, she usually needs three harvesters in addition to herself. These extra hands receive their pay in coffee: one kilogram out of every five that each harvests.
As the women described their farming life, they expressed frustration at the broad reality of hard work for small returns. In America, they asserted, if you have a vineyard or a farm, you are the rich person. But not here. "Why is that?" demanded Marivic turning on me suddenly and gazing intently in my eyes. I told her that I have no idea.
The next morning, at the PeaceBuilders and Coffee for Peace offices in Davao, Marivic's brother-in-law Ariel Dubria and his wife Nening were in good spirits. They were collecting their check from CFP, and taking part in the wet-processing of the coffee cherries which they and their fellow farmers had just brought from Purok Pluto in the farmers' own truck.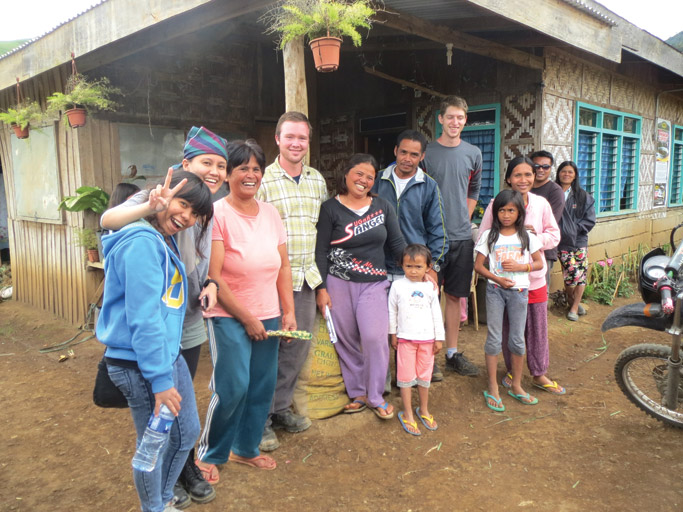 The PeaceBuilders team that visited the coffee fields of Purok Pluto, a village in Mindanao, Philippines. Photo courtesy of author
.
Nening told me that the money from CFP helps them a lot. Coffee pays better than vegetables, and whereas vegetables can only be harvested once every three months, coffee harvests come every two weeks.
Ariel says that, by participating in the wet-processing, the earning power of these farmers, who today live in dirt-floored shacks and must haul their produce down to the passable sections of road on horses and overladen scooters, will increase enormously.
With support and training from PeaceBuilders, and with assistance from the Department of Trade and Industry, they may one day be able to claim a just recompense for their labors.
Filed in: All posts