Building a network of Mennonite relationships in Germany
Posted on February 12, 2015 by VMMissions Staff
This past October, we had a gathering of the network we have been forming, a pivotal step in a journey we started almost two years ago when coming to Germany. Sixteen adults, along with ten children participated in a weekend long session, marking the first gathering of many of the people we have gotten to know and built relationships with since embarking on this adventure of creating a network for the Mennonite church in southern Germany.
To begin with, the weekend was truly a remarkable experience, and the affirmation we received was incredibly meaningful. More importantly, the interest and resolve among those at the gathering to move forward with the network was simply exciting.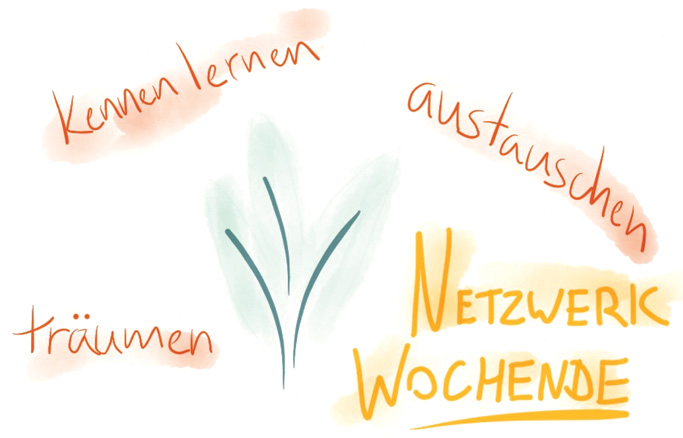 "Network Weekend: dream, learn, exchange." Courtesy of author
The weekend had dual purposes of creating space for people to get to know each other as a group, and to explore together concrete steps in forming a network. The theme of the weekend was missional living: how we listen to, respond to, and participate in what God is doing in our own lives, neighborhoods, and faith communities.
The opening session on Friday night started a bit bumpy. I realized only moments before starting that I forgot my laptop! It had all my precious workshop materials and diligently prepared presentations on it. So I had to wing it. In some ways, it turned out to be a blessing and meant we had more personal sharing and informal time together and set a more open and participative tone for the weekend.
Despite all the families with small children staying under one roof at the retreat, the first night went surprisingly well. The Saturday session centered on having people share where they are at in life and share about their dreams. Using different methods, people drew pictures, shared in small groups, and interacted with one another about their experiences in church and possibilities for missional ministry. Come Saturday night, I was able, to my relief, to download my presentation and give an overview of our concept on the vision, values and structure of the network. This allowed for people to see more tangibly what we were thinking and have a chance to interact with the ideas.
"The interest and resolve among those at the gathering to move forward with the
network was simply exciting."
On Sunday morning, we worshiped together and Rebekka led a session on missional relationships, using the Luke 10 passage where Jesus teaches to stay where you are welcome. We then reflected on our experiences from the weekend and what God had stirred in their hearts. This is where things really crystallized, and people opened up about their excitement about the network and interest in seeing it come into fruition. At this point, we felt a huge sense of relief and joy, knowing that we were not in this alone anymore and that we had good people to work with moving forward. The gathering ended with communion and prayer.
Of the participants, many are at a crossroads in their life and looking for more meaningful ways to live out their faith, like starting a Bible study, practicing missional hospitality with their neighbors, or planting a new church community. As it was our first gathering, we learned a lot about the potential of such gatherings and the importance of encouraging one another.
As we move forward, we hope the network can be a place for people to find encouragement for starting new initiatives, for new and ongoing church plants, and for renewal efforts in existing churches. We hope that the network can be a place of support and resourcing for people involved in a variety of missional initiatives and that a network structure can be a place that practices the gathering and sending of disciples.
Concretely, we agreed to meet twice a year, and we formed a planning team for the next gathering set for April. We still don't have a name, but the feeling that there is something now underway and that people are willing to participate is our major takeaway.
It was a lot of work for the both of us, as hosts, organizers and parents. We certainly underestimated the amount of energy it would take to care for our (then) two small kids in the midst of keeping the show going. But we were not alone and had wonderful help, for which we are extremely grateful. Bringing these people together for the first time was a culmination of many of our efforts in investing in relationships, getting to know the context, and exploring ideas for a network. It was a bit of a roller coaster ride for us emotionally, but a deeply satisfying experience.
Filed in: All posts