Building outward-oriented networks of discipleship
Posted on April 25, 2014 by VMMissions Staff
When we began exploring what it would mean to help develop a network project, we knew that we had a lot of learning to do.
Since moving to Bammental in the fall of 2012, we have spent a good deal of time making connections, building relationships, and learning from young people about their experiences in the church and their vision for church.
Our focus was to connect with those who have moved away from their home congregations, but have remained engaged in ministry in other churches. Essentially, what we were pleased to discover is that there is a desire for people to stay connected to their roots and to network with others in community. Thus through our experiences, a vision began to emerge, for how a network could help encourage and support a new generation of leaders toward the creation and formation of contextual missional initiatives.
.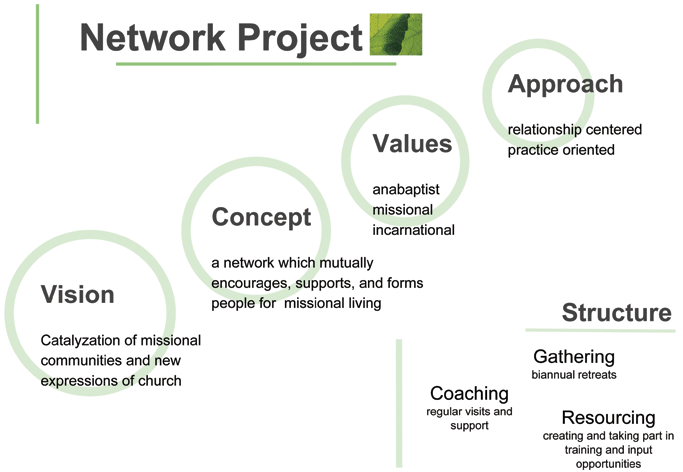 .
Our second year in Germany has become much more about creating a network structure. Through prayer, discernment and many conversations, a vision has begun to emerge. We see the network's vision is to help create and form new missional initiatives and would exist to encourage, support and resource people involved in or starting new churches or new expressions of church. It will be centered on forming relationships and sharing community, and encouraging each other in our commitments and involvements in ministry.
Additionally, we hope that several values can help shape the identity of the network community, like an Anabaptist perspective on Jesus-centered discipleship, a missional approach to understanding church as outward oriented, and an incarnational commitment to embodying the gospel in a particular, neighborhood, town or city.
The coming year we are looking to develop the network more concretely. We are organizing a retreat in October 2014, which will be a huge step toward forming an initial community of peers.
It has truly been an exciting journey to be on, with all its challenges and joys, uncertainties and epiphanies. We sense God's hand in what we are doing and we have learned to trust more in God's timing and guidance as we try to do our part in creating new ways to think about church and mission, and to be part of creative ways to form leaders and disciples for God's Kingdom.
Filed in: All posts