By Carol Tobin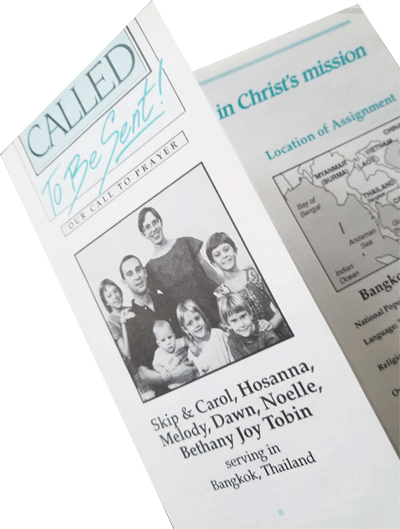 Years ago, my mother's active prayer life was aided by what you did to dry your hair after a shower. There was a spacesuit-like helmet with an attached hose that you put over your head so that you could be immersed in a warm whirring. She relished that quiet zone, as a time to devote her prayers to the Lord. One day, with particular intensity, she found her heart joined with Jesus' plea, "The harvest is plentiful but the laborers are few. Therefore ask the Lord of the harvest to send out laborers into his harvest" (Matthew 9:37-38).
Not many days hence, my husband Skip and I shared with my parents that God was calling us to be goers, ones who could be available to serve—somewhere—among people who had little opportunity to know a Christian, let alone experience the transforming power of God's good news in their own lives.
We shared with a bit of trepidation. We were a part of each other's lives; our three daughters were the only grandchildren close at hand. My mother, however, was not saddened or surprised. She understood that God was answering her prayers in sending us. Lesson one: Calling and sending are not an individualized matter. There is influence and impact mediated from one member of the body to the other, according to the movement of the Spirit. Her prayers played a part!
Our call was not specific. Our step was simply to make ourselves available. We processed with the people God was using to open our eyes to the needs beyond our local neighborhood where we'd been investing deeply. "Where might you send us?"
The choices given us were Burkina Faso or Thailand. I felt more affinity with Thailand, having spent years walking with Cambodian friends my parents had helped to sponsor in the early 1970s. Kim Piet had even taught me how to count to ten in Thai!
God smoothed us through the preparatory process. With our two-month-old fourth daughter in arms, we went through our training. It was all a blur, with the exception of one so very important word that God spoke to me while I was fetching something from our parked car. It stopped me in my tracks. "You think you are doing this for me. No, I am doing this for you." Lesson two: We don't relate to God in terms of sacrifice. We obey, and there is growth and good. I felt comforted. Assured.
But getting to Thailand didn't feel good. We were plunged into a disorienting world where we had the competencies of kindergartners. With the tropical heat bearing down on me like a knife as I pedaled my laden bicycle back from the market, I loathed every inch of clothing that had the nerve to inflict itself upon me. I felt sorry for the birds who had to live in such a sweatbox.
Besides that, my identity was hammered. We were stripped of all of the things that helped us to feel good about ourselves. We even looked lame to each other. Lesson three: God's call, despite being good for me, did not revolve around my definition of myself and what would feel fulfilling.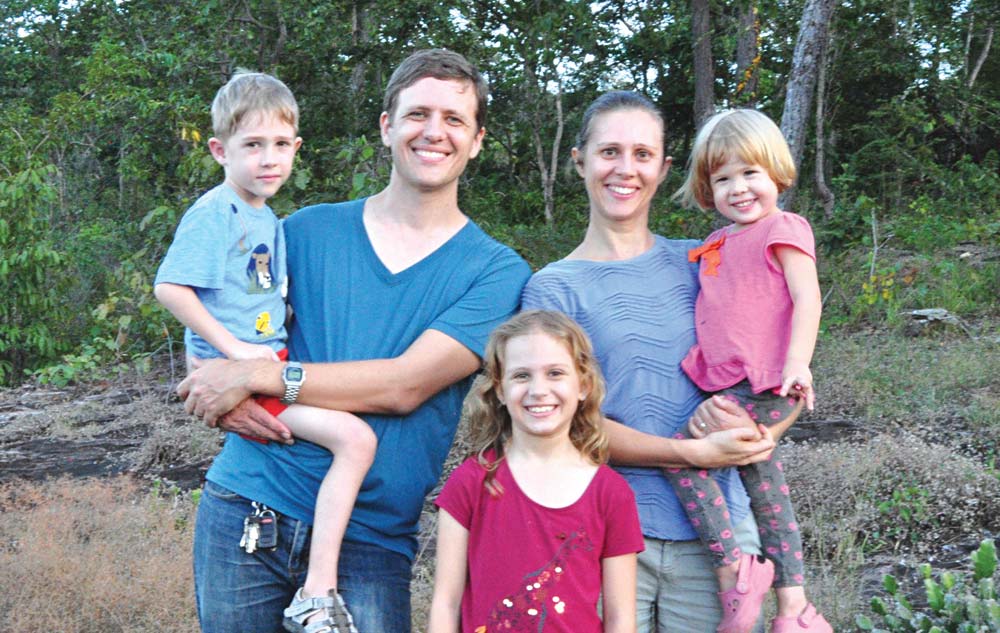 Today Steve Horst and Bethany Tobin serve in Nam Yuen, Thailand, with their children Anjali, Emmanuel, and Tierzah. Courtesy photo

That was 1989. Twenty years and two additional daughters later, we returned from Thailand. Lives had been transformed: ours and our many rice-farming friends. A church had emerged. They were worshiping and bearing vigorous witness in far-flung villages where there had been no witness to Jesus.
The story God is writing in Thailand continues as our daughter Bethany and son-in-law Steve Horst are investing their lives into partnering with the leaders that we watched become followers of Jesus. Lesson four: As Paul says, in II Corinthians 4:16, participation in God's grace being spread causes the giving of thanks to abound to the glory of God. We are thankful!
Filed in: All posts, Transforming