VMMissions Launches 'A Church of Many Cultures' Campaign


By Carol Tobin
On Saturday, November 6, VMMissions launched the public phase of a comprehensive fundraising campaign at an event in Harrisonburg, Virginia, sponsored by Everence. Those present included members of the VMMissions board, staff, volunteer campaign cabinet, as well as a number of the 120 donors who have already pledged financial contributions. Campaign co-chairs Phyllis Miller and Dave Yutzy announced the final goal of the campaign as $3 million, of which $2.25 million or 75% has already been committed.
The vision for this campaign, A Church of Many Cultures, began to emerge in 2019, as VMMissions celebrated its centennial. Board Vice Chair, Paul Yoder, posed the question, "How can we position ourselves to catch the wave of what God is doing as we move into our second century of ministry?" In reply, VMMissions President Aaron Kauffman cited two significant trends: "First, we see global migration relocating Christians from all over the world, many of whom sense God's call to reach their new neighbors for Christ. Second, our international workers are discovering that some countries resistant to traditional mission work are wide open for business ventures." The Church of Many Cultures campaign will address these realities and enable programs to support both Global Church Planting and Business for Transformation.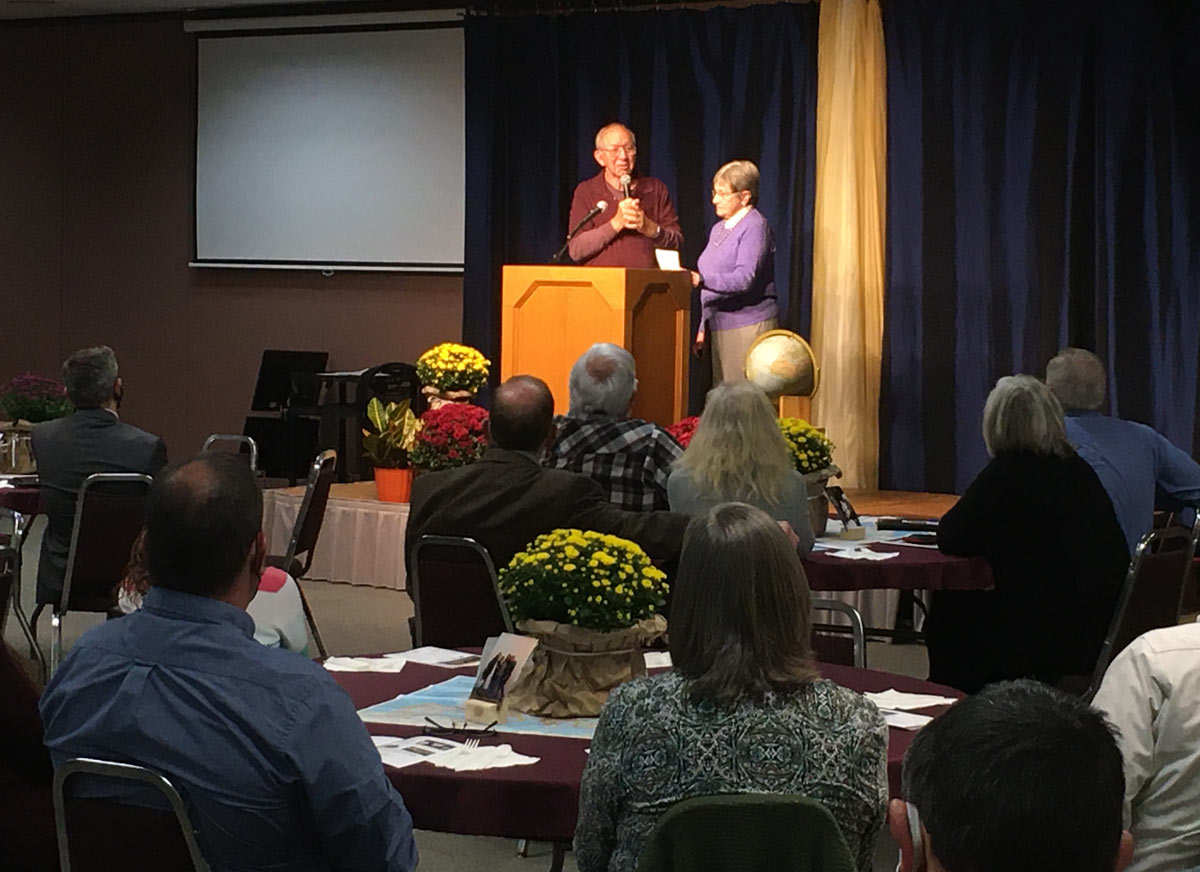 Marvin and Sarah Ellen Slabaugh, honorary co-chairs of the Church of Many Cultures Campaign, both shared their passion for supporting and mobilizing the work of mission by funding the work of VMMissions. David Gingerich

The Global Church Planting vision is to mobilize church planters from around the globe to serve in the places where the gospel is needed most. As VMMissions Latino Ministries Coach Lizzette Hernandez stated in her presentation at the launch event, "The mission landscape has changed. The mission field is becoming the mission force." And yet, members of this new force often lack support systems and resources. One million dollars will be used to create a Global Church Planting endowment, while an additional $250,000 will be available for immediate use during the first five years of the program.
VMMissions has already helped to launch three Latino church planters over the last several years: Alfonso and Milagro Alvarado in Lacey Springs, Virginia, Armando and Verónica Sánchez, in Waynesboro, Virginia, and Juan José and Cecilia Lagos in Winston-Salem, North Carolina. Ministry Coach Tom Yoder clarified VMMissions' approach in this work: "In our coaching, we encourage best practices, but resist formulas. What we want to see is movement, multiplication."
The focus on Business for Transformation was initially an enigma to prominent local business leader, Dave Yutzy. "Why was the mission board getting into business?" That question was answered for Dave when he traveled with a VMMissions business exploratory group to several international locations. His eyes were opened to the opportunities that exist for businesses to bless communities that do not welcome traditional mission work. "Business people have been left out [of mission programs], but now, they are placed right up front!" As with the Global Church Planting program, the hope is to earmark $1 million for a Business for Transformation endowment, while utilizing $250,000 for immediate ventures in the next five years. Yutzy himself has stepped up to co-chair the campaign, working alongside former VMMissions board chairperson, Phyllis Miller.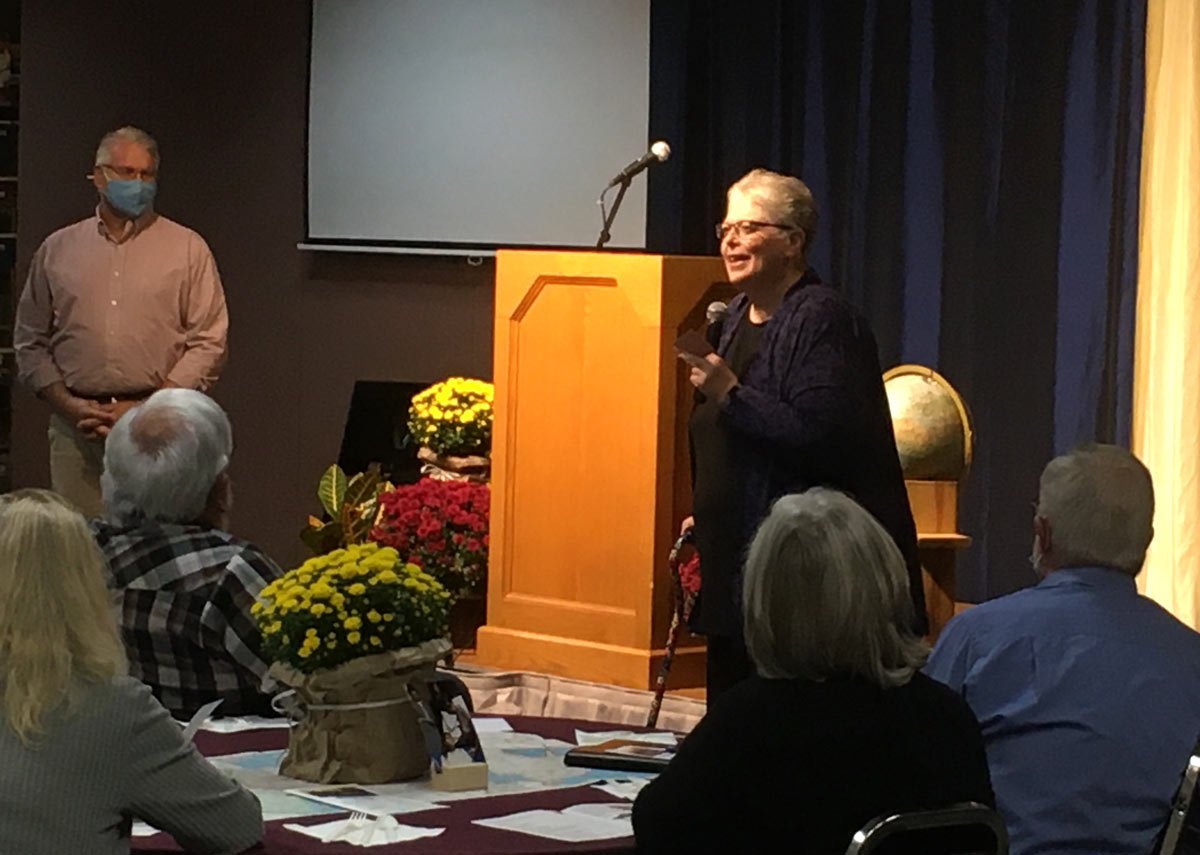 Campaign co-chair Phyllis Miller shares the campaign's final goal amount: $3 million. Dave Yutzy (left) spoke about his excitement that VMMissions was getting behind business as an avenue for missions, opening doors for the gospel in closed locations to traditional mission work. David Gingerich

Additionally, the campaign envisions designating a portion of the funds to enable the renovation of a storage barn on the property of VMMissions. According to general contractor and campaign cabinet member Glen Stoltzfus, "The bones of the building are good." The repurposing will yield a fully accessible meeting space designated for prayer, training, and community events, with a capacity for 50 people. Improvements are also planned for the VMMissions parking lot and grounds.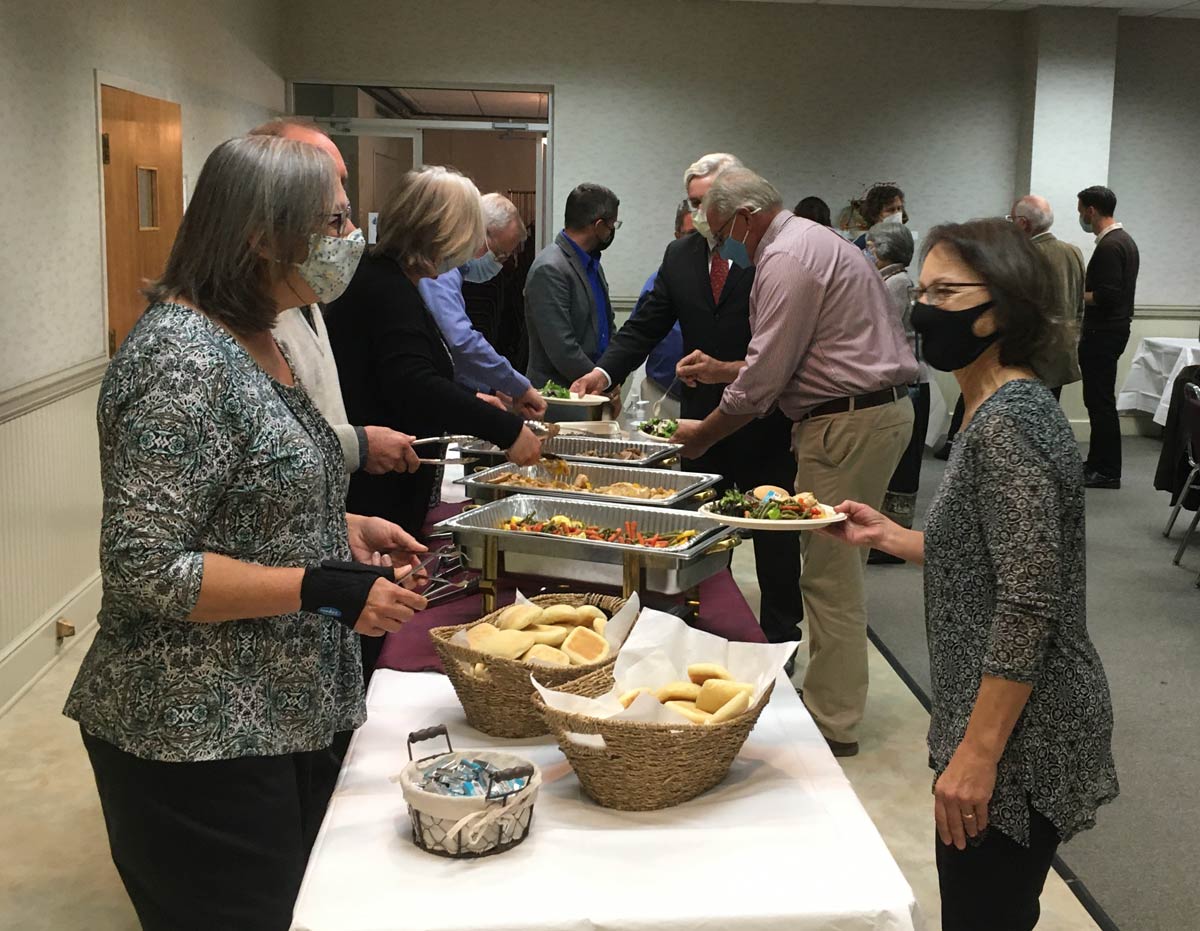 Participants at the launch event enjoyed an international meal served by staff. (Foreground) VMMissions Finance Director Jan Liskey chats with Jewel Yutzy (right). David Gingerich

In his address Saturday evening, Aaron Kauffman mentioned the uncertainty he felt about moving forward with a campaign in the midst of a global pandemic. His confidence rose after a feasibility study conducted by campaign consultant, David King, revealed that a high percentage of VMMissions' supporters were not only supportive of the vision, but ready to contribute immediately. "For ten months now, we've reached out to donors to share the vision, with surprising results. I truly believe we are catching the wave of what God is doing. And I'm excited to go public with our campaign this evening."
Additional information about the campaign is available at campaign.vmmissions.org.