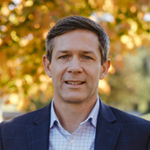 Launching a campaign in the middle of a pandemic has been a venture of faith. Dreams were stirring in our hearts as we celebrated our centennial in 2019. We asked God, "Where are you leading us as we enter our second century of ministry?"
The clear response was to continue sharing new life in Jesus Christ with all people, especially those who haven't heard. Still today, one-third of the world's population has no access to the gospel, and less than half of all Americans say they belong to a local church. How can we reach out in creative ways?
Two ideas came to the fore. First, we noted that a truly global church has emerged after two centuries of the modern missions movement. Today, more Christians hail from Africa, Latin America and Asia than from Europe and North America. As gifted leaders from the Global South relocate by choice or by circumstance, how might we come alongside their efforts to reach their new neighbors for Christ?
Second, we observed that many places resistant to traditional mission work are wide open for business development. Together with local entrepreneurs, we caught a vision for Christian-led businesses as a means of blessing communities not only economically, but spiritually as well. How might we help launch businesses that will provide jobs and be an authentic witness to the gospel?
So we developed a plan to raise funds for these two initiatives: Global Church Planting and Business for Transformation.
Along the way, we recognized the need to expand our facilities to serve our expanding ministries and bless the local community. What resource did we already have that might serve that purpose? A dream of renovating the barn on our property into a mission training center came into view.
Tying these three dreams together was the biblical vision that, one day, people from every culture on earth will gather to worship Jesus. We decided to call our campaign, A Church of Many Cultures.
We were ready to roll it out in March of 2020. Then the pandemic brought everything to a halt, including our campaign. We did not know whether it was for a season, or forever.
But soon the mood began to shift. As we tested our ideas with key supporters in the fall of 2020, we heard overwhelming support. Most of them were ready to give right away.
Soon, a team of volunteers – our Campaign Cabinet – came together to help us. The campaign was a go!
Since then, we've reached out to donors, churches, businesses and foundations, sharing the vision of a Church of Many Cultures.
And people have responded. To date, 248 donors have committed over 95% of our $3 million goal. I stand amazed at God's provision through the generosity of his people.
Early in the process of developing this campaign, Paul Yoder, vice chair of our board, observed, "It seems like we're riding the crest of a wave that God has put in motion. How do we position ourselves to catch that wave?"
The response to our Church of Many Cultures campaign has convinced me that we are indeed catching the wave of what God is doing. We hope you'll join us.
Filed in: Editorial, From the President, Transforming