Encouraging our brothers and sisters in Trinidad
Posted on January 7, 2013 by VMMissions Staff
Our journey to Trinidad & Tobago actually began in Orlando, Florida! Sam was privileged to attend a church planter's and pastor's conference, "Exponential," in April 2012, thanks to the generosity of VMC, VMM and our Eastern District.
One of the highlights of this trip was meeting the pastor of Charlieville Mennonite Church, Ganesh Kalloo. We became friends quickly and continued our friendship after the conference with email exchanges and phone calls. We were blessed to receive an invitation to come and serve Charlieville as well as the rest of Mennonite Church of Trinidad and Tobago (MCTT) in October.
Upon our arrival and meeting all of the leaders of MCTT, as well as Richard & Margaret Keeler, Beverly began to reflect with them that she had many childhood memories of hearing first hand reports of the mission work there including the medical practice of Dr. Keeler who treated many people afflicted with Hanson's disease. When Sam met Richard the first evening he said, "I feel like I'm meeting a 'living legend.' Richard replied with a laugh, "I'm living but I'm not so sure about the legend part!"
Sam was the guest speaker at the pastor and leaders' retreat located at a beautiful location in a central part of the island. Those sessions stimulated many hours of discussions, storytelling, laughter and special prayer times where everyone, including us, received encouragement through the Holy Spirit to continue our work strengthening our various congregations.
The other key event was a leadership seminar for MCTT leaders. There were over 30 leaders present.
Topics addressed were transactional vs. transformational leadership, dream-based coaching, leading change and other topics. The entire time was exciting and stimulating. To see firsthand what God has done and is doing in Trinidad left us energized for what God has called us to do in our part of His vineyard!
Pray for the believers in Trinidad & Tobago! They are praying for you!
.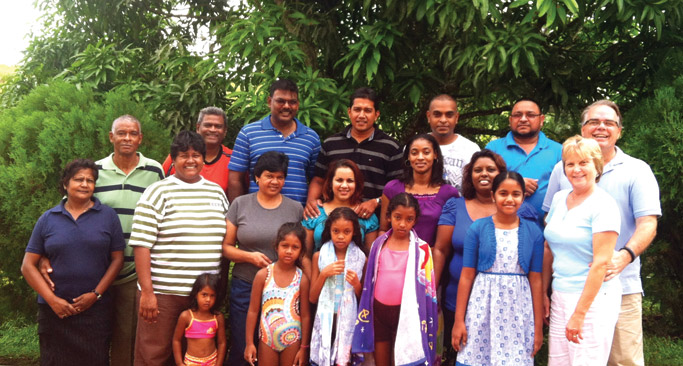 Mennonite Church of Trinidad & Tobago leaders at a pastors retreat: from left: Ramon & Kamla Goodridge, Overseer Rawl and Linda Gunpath with daughters Sydni and Zion, Ramesh & Babes Jaimani, Ganesh & Risha Kalloo, Ronald & Lurine Latchman with daughters, Navin & Sunita Benny with daughter Anna Leah, and Sam & Bev Scaggs.
.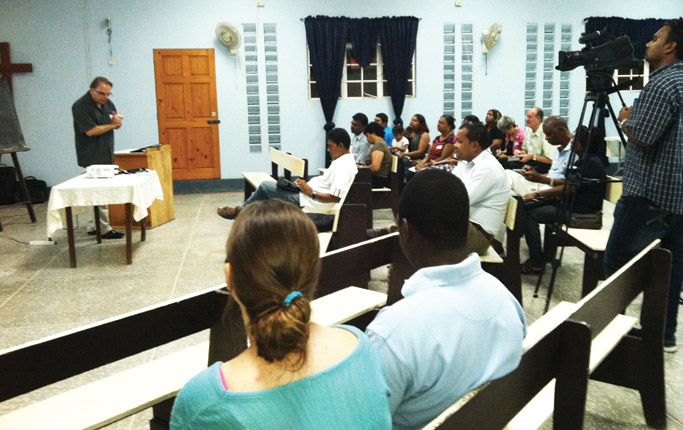 Sam Scaggs teaches a leadership class in Charlieville Mennonite Church. The sessions were videotaped so that others could view the classes later.
.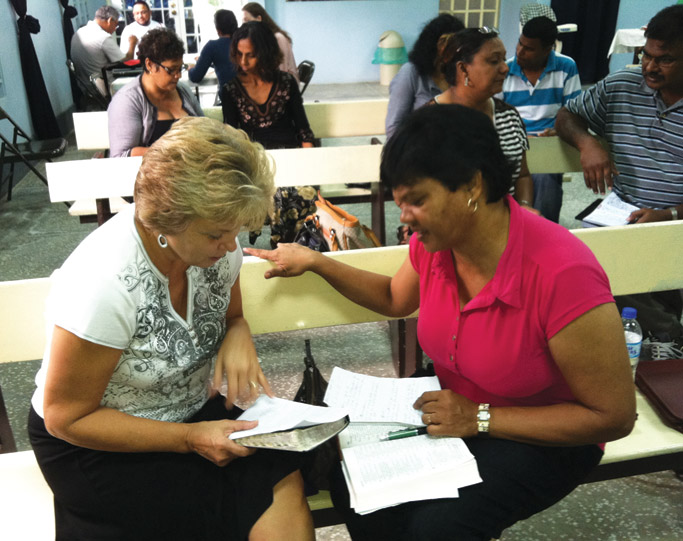 Bev Scaggs and Babes Jaimani discuss topics raised in the leadership classes held in the Charlieville Mennonite Church. Photos courtesy of author
Filed in: All posts