Small Church, Big Impact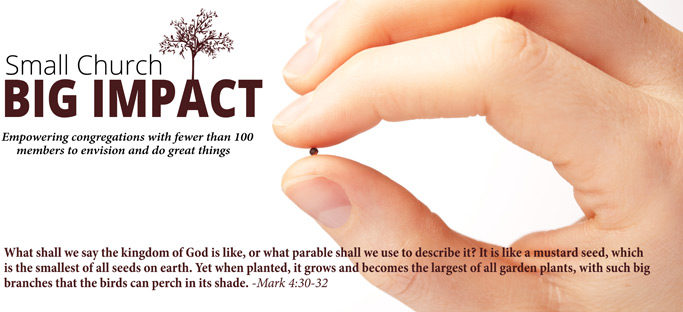 The Cultivate resourcing program of VMMissions' USA Ministries, together with Virginia Mennonite Conference, is offering a workshop called Small Church Big Impact to address the unique challenges for small and/or rural VMC congregations (100 active members or less).

This workshop will be Saturday, April 16, from 9:00 am to 5:00 pm, at Shady Oak Fellowship Hall (part of Weavers Mennonite Church), 2501 Rawley Pike, Harrisonburg, Va.
David Boshart, Moderator-Elect of Mennonite Church USA, will be our plenary speaker.
Since congregations of these sizes and contexts often have similar needs, David Boshart will unpack – in a practical way – what Jesus' message of God's rule coming near means for small churches and how a process of realignment can help us see our context in a new way.
Small Church Big Impact wants to get behind small/rural church leaders. We will engage a new way of thinking, away from thinking in terms of lack or feelings of victimization, to learning to trust in what God is doing among us and with our own shared resources.
Small Church Big Impact is for pastors and church leadership team members. There will be two plenary sessions, multiple workshop offerings, a small group breakout-process time and a follow-up response gathering one month after the event. Cost is $20 per person, lunch is included.

.
Resources and relationships for making disciples, equipping missional leaders and joining the movement that Jesus began.
A partnership between Virginia Mennonite Conference and Virginia Mennonite Missions