¡Hagámoslo juntos! Let's do this together!
Posted on December 28, 2014 by VMMissions Staff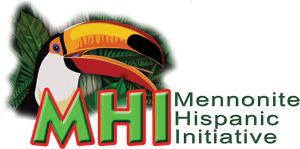 .
Mennonite Hispanic Initiative hosts first retreat for leaders
"Hagámoslo juntos!" or "Let's do this together!" was the first-ever Mennonite Hispanic Initative (MHI) leaders retreat at Highland Retreat.
Four Spanish-speaking churches from the Harrisonburg area were represented: Iglesia Discipular Anabaptista, El Camino Discipular, Enciende Una Luz and Iglesia de Dios de la Profecía. Twenty-six church leaders and 28 teens and children participated November 22-23.
Our goal for this retreat was to help our Hispanic leaders reflect a bit deeper on the discipling language that we've been learning together for the past nine months. Participating leaders are regularly part of a leader's discipleship huddle, which takes place twice a week under my direction as MHI Director and Racial-Ethnic Coach with Virginia Mennonite Missions.
Leaders had plenty of time for rich conversation around smaller circles. They reflected together on the provoking questions being presented by myself and Skip Tobin, VMMissions USA Ministries Director.
The main topics were:
What is the missional nature of God and his church?
What does it mean to live tri-dimensionally—up, in and out?
What is missional discipleship?
The event ended on Sunday morning with a special service and potluck at Iglesia Enciende Una Luz where people from the different congregations gathered for a time of Thanksgiving celebration together.
This event is part of MHI's leadership development strategy. We would like to make this an annual event to develop Hispanic leaders with a heart for God's mission within our conference.
Most participants rated the content provided as "highly relevant" to their ministry context. "This event has showed me a bigger picture for God's mission," one participant said. Another said, "Now I know the importance of being a family on mission together and not as two separate activities."
.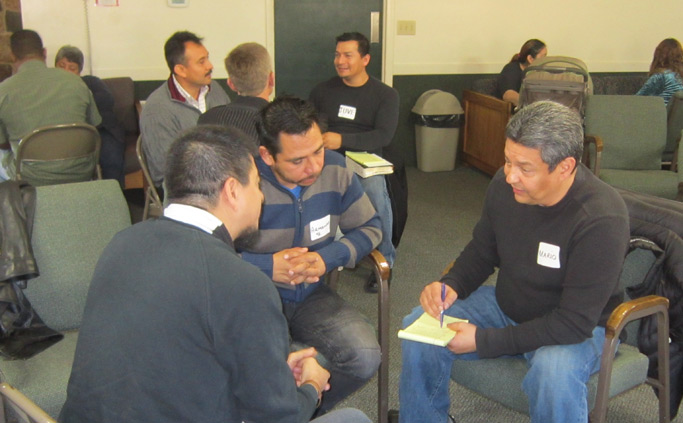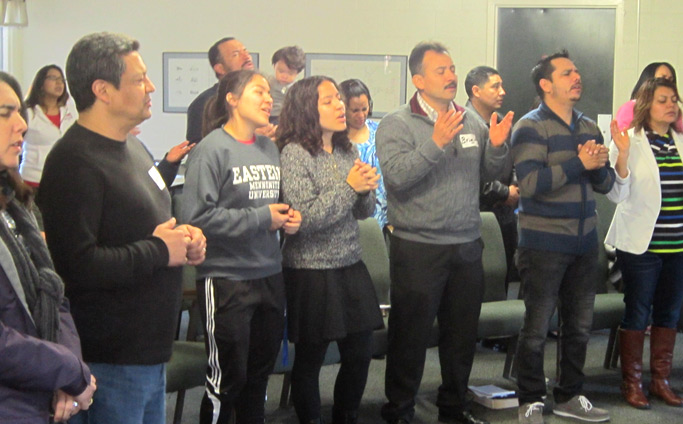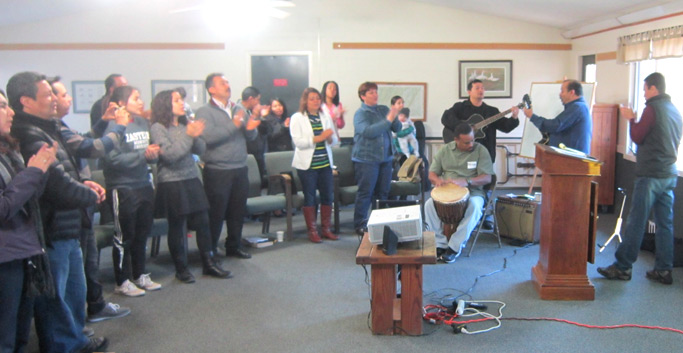 Participants in the first MHI retreat for leaders enjoyed a time of worship and fellowship.