Become a Multiplier

Join our community of monthly partners who are multiplying disciples of Jesus from many cultures.
More than 3 billion people today remain unreached by the gospel
That means they do not have access to a Bible, a church, or even a believer who can tell them about Jesus. Even where the church is present, many people have yet to experience the new life of God's kingdom. 
Jesus sends the church to reach them. "All authority in heaven and on earth has been given to me. Therefore go and make disciples of all nations" (Matt. 28:18-19). For 2000 years, people have heard the gospel and received new life in Christ through the words and example of God's people.
VMMissions exists to equip the church to continue that great chain of disciples who make disciples. We do that by investing in the spiritual maturity and ministry skills of individuals, and empowering them with the tools they need to share the gospel with others. We call this our model of discipleship multiplication.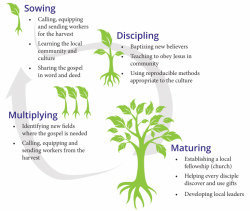 Help share the gospel by becoming a Multiplier.
Multipliers are partners who desire to fulfill the Great Commission through monthly acts of generosity. Multipliers invest in a gospel impact that will multiply over time, until all people everywhere have the chance to know and follow Jesus.