In the heart of the South Asian Muslim world, James and Ann (not their real names) work with a small business and with the local church in discipleship, neighborhood outreach, and developing leadership and resources.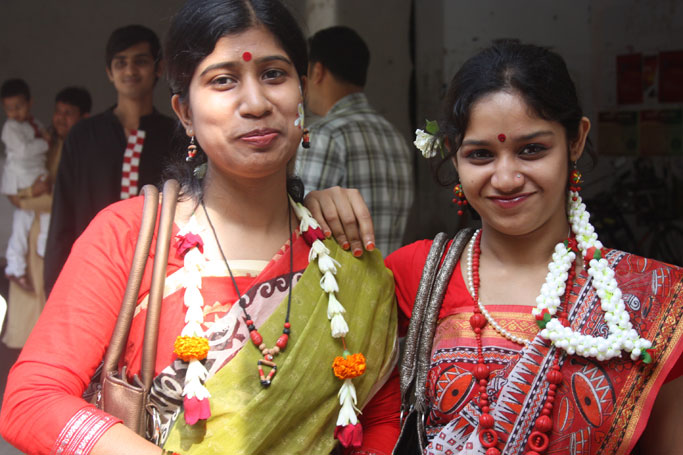 Girls from the South Asian country where James and Ann serve display traditional dress. Photo by authors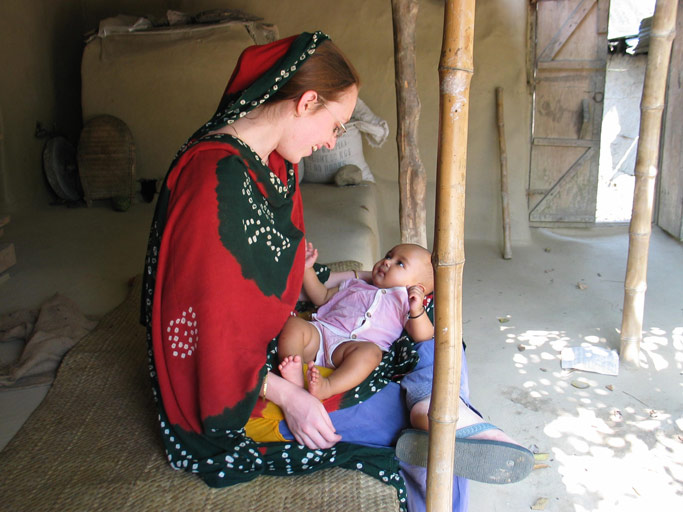 Ann enjoys spending time with her host family's young child. Photo by authors
Benefactor or servant?
Let's just imagine that you feel called to serve unreached Muslim people in South Asia. Where do you start? Most of us would probably start with looking for service opportunities in which we could use our expertise – as doctors at a mission hospital, Bible teachers, and development workers.
Upon arrival, we'd juggle a full-time position with setting up a home, getting to know local coworkers, and doing two or three months of language learning. If you were to join our team, we would ask you to put your service ideas on hold until you finish two years of language and culture study.
"But isn't that squandering precious time that could be spent serving? Why would you do that?"
Jesus contrasted his example of true servanthood from the pagan's model of becoming a "benefactor" leader: "The kings of the Gentiles lord it over them; and those who exercise authority over them call themselves benefactors. But you are not to be like that…I am among you as one who serves. (Luke 22:25-26)
A benefactor is a powerful person who, from a distance, gives money or resources to help the less fortunate. But Jesus divested his position and became one of us. Too often, well-intentioned attempts to serve have resulted in bitterness by the recipient culture because those initiatives were entirely from the outsiders' point of reference.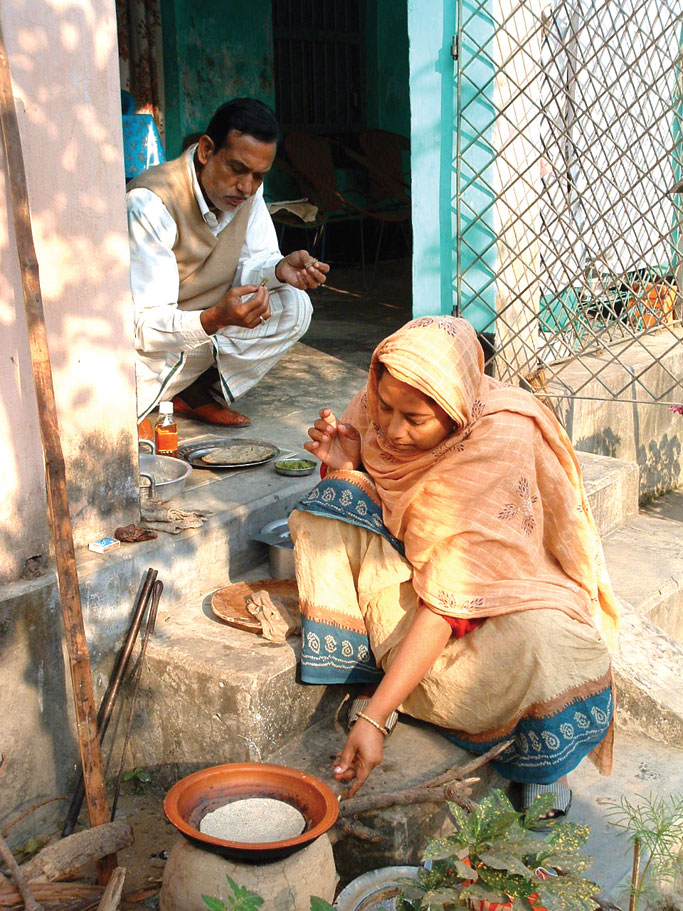 James and Ann's host family makes bread for the evening meal. Courtesy photo
Studying language, building trust
Veteran missiologist Paul Heibert has said, "No task is more important in the first years of ministry in a new culture than building trusting relationships with the people." You can't truly serve people unless you understand them, you can't understand another people until you learn their perspective, and learning their perspective takes prolonged language and culture study! When we use colorful local idioms, smiles break out on our friend's faces; they feel like their culture has worth. Good language skills are also necessary for deep discipleship. God's Word and the Holy Spirit are of utmost significance, but God uses flesh-and-blood mentors to grow new disciples.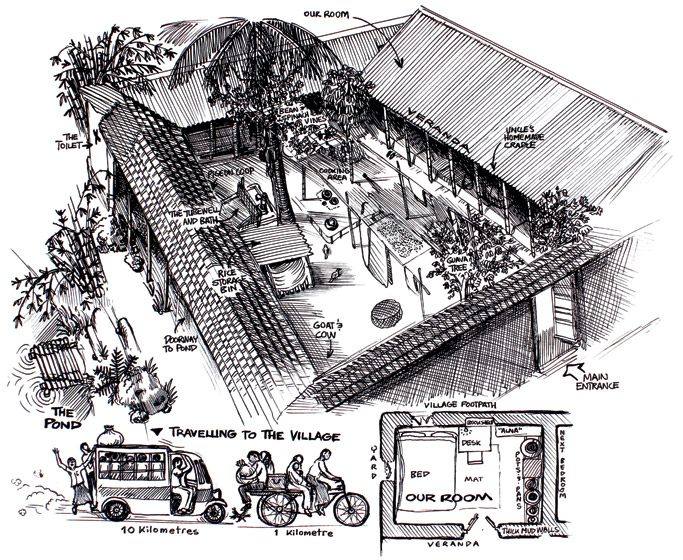 A sketch by James of his family's village homestay, where they lived with a local Muslim family as they studied language and culture.
Home stays
If you joined our team, we would have you live with a local Muslim family for about a year. It is terribly hard: You must eat and sleep as the family eats and sleeps, and function without any English. All of our teammates can attest to days in which each moment was painful. To debrief and rest, you'd spend weekends with teammates, who would sympathize with the frustrations of being perpetually treated as a child, help you navigate confusing cultural situations, and treat you to some Western comforts.
We are so grateful that we were directed in this way. One time when James was sick, our host father fed James an unknown herbal remedy in the middle of the night. Ann was terrified, "What are they feeding him?!" But after that, our hearts were more bound together. We had become their children, and talking about faith became more natural.
Homes for hospitality
If you joined our team, we would want the home that you eventually establish to be a place that feels familiar and welcoming to locals. I remember when some local believing friends came to visit a Westerner's beautiful home. They were in awe over the perfume beside the bathroom sink! That's all they wanted to talk about! All our affluence and gadgets can easily distract them from what we want to communicate: Jesus.
This last year we got to know a new believer, a young Muslim cleric. He and his wife stayed with us for a few days. Coming from an ultra-conservative background, she was very suspicious at first. But when she saw how we lived, gradually she relaxed and Ann had some good conversations with her.
It's hard to change lifestyles and tastes, but new preferences eventually emerge. When our teammate, Franklin, returned home to the Solomon Islands after years in South Asia, he lost no time in buying his favorite brand of 'spicy tuna.' At first taste, he thought the product had been changed, since it wasn't spicy; then he realized that it was his taste buds that had changed!
A woman walks back to her village after purchasing food in the market. Photo by authors
Whose church?
Incarnational ministry is not just about building trust and having good conversations – ultimately it is about what kind of church we plant. If we don't study language and culture, we will inadvertently convey a Western model of church into our new setting. Learning from the locals, serving them, creates space for their discernment. They might end up worshiping in ways we don't appreciate; they might like books of the Bible that we hardly read.
But when a local comes into this "indigenous" church, he will say, "These are my people! This is my culture!" The chance for exponential growth will be much greater as will the level of local initiative, because they will see the church as theirs, not as a Western transplant. Then we foreigners get to go home and let them multiply, because it's been their church from the start.
---
James and Ann (*pseudonyms) serve in South Asia with their two children, in partnership with VMMissions.
Filed in: All posts, Transforming