Loving our refugee neighbors
Posted on March 15, 2017 by Jon Trotter
By Ben Emswiler
It was yet another very cold night in Harrisonburg, Virginia, as we searched for a parking space outside of James Madison University's Convocation Center where JMU was hosting Eastern Mennonite University in a cross-town men's basketball game.
I apologized to my Congolese friends in the car with me for having to park so far away and walk in the cold weather. The response from the young man in the back seat: "It's okay, I walked from Congo to Rwanda. I think I'll be all right."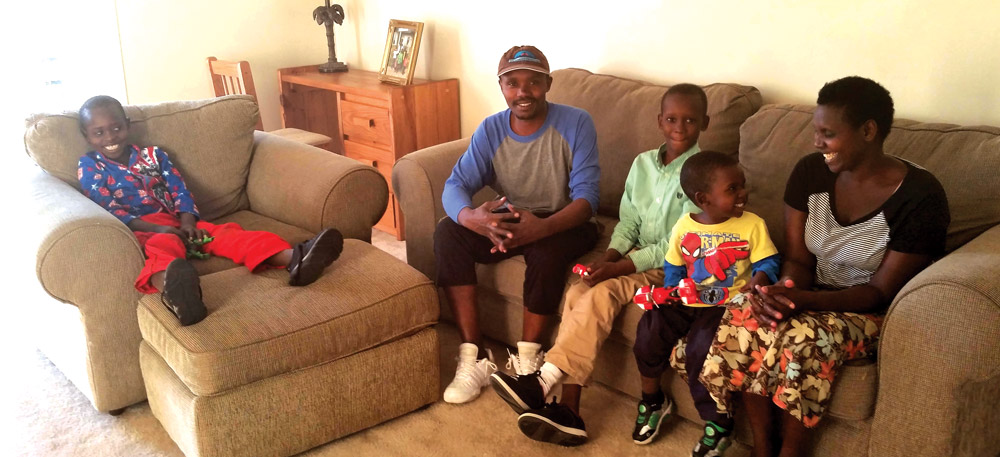 Fred, Cyprien, Moses, Nahiyo, and Consolata, a resettled refugee family from Democratic Republic of Congo, in their Harrisonburg apartment. Photo: Ben Emswiler

The couple of hundred refugees that Harrisonburg receives each year, coming from places such as Syria, Eritrea, Iraq, Cuba, and Congo, are not helpless people that we should feel bad for. In fact, it's quite the opposite—they are fighters that we should respect.
They are the exact type of people that we should all desire to befriend, for doing so leads to nothing short of a mutually-beneficial relationship.
Although these resettled families are resilient survivors—adapting to and overcoming excessive adversity on their journey here to the United States—basic needs for refugees still linger. If we step up and address these needs in an appropriate manner, it can dramatically and meaningfully improve their process of positively integrating into our communities and society.
It is essential to understand that assisting refugees in an appropriate and effective manner, however, means promoting self-sufficiency and eradicating dependency. In fact, this happens to be the principle objective of the Linking Communities program of Church World Service, the primary refugee resettlement office in Harrisonburg. This program is designed to initiate lasting relationships between community members and recently resettled refugees.
Another organization that supports refugees in the Harrisonburg and Rockingham County area is Faith in Action—a coalition of faith communities that seek justice on a variety of issues. This past year, thanks to Faith in Action and their supporters, Harrisonburg became an official Welcoming America City, making it easier for immigrants and refugees to thrive.
Perhaps most telling of the community's desire to love the foreign neighbors it houses are the many trilingual signs throughout the area that read, "No matter where you are from, we're glad you're our neighbor." First started by Immanuel Mennonite Church, these signs are now spreading across the country. More important, however, is developing genuine relationships with our refugee neighbors, being open-minded and seeking to befriend them.
As the refugee community continues to grow in the area, so will opportunities to serve them. Let us not simply help our neighbors. Let us love our neighbors.
God has brought the nations to us and has given us the blessing and responsibility to share our resources with them, to make disciples by inviting them to faithful living in Jesus Christ, and to put into practice the greatest commandment of them all—love the Lord with all your heart and love your neighbor as yourself.

Ben Emswiler a is a local refugee relations volunteer in Harrisonburg, Va. He attends Zion Mennonite Church.
Filed in: All posts, Transforming