Melba Heatwole, longtime mission worker, dies at 85
Posted on September 11, 2019 by VMMissions Staff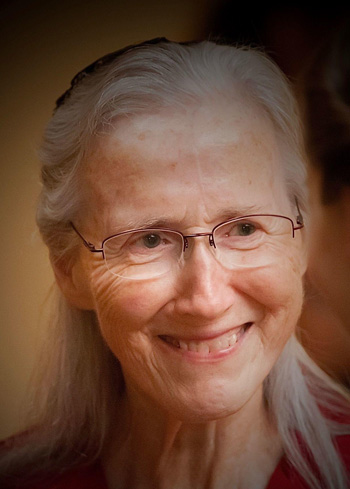 Melba Frances Kiser Heatwole, 85, of Bridgewater and recently VMRC, passed away on Thursday, Sept. 5, 2019, at her home following a stroke.
She enjoyed deep connections with family, friends, and community; both locally and around the world. Her deepest joy and purpose was knowing God through Christ Jesus, and inviting others to know Him also. Her lifelong roles were wife, mother, grandmother, great-grandmother, missionary, nurse, and encourager to all.
She served in Jamaica for 20 years and for two years in Albania through Virginia Mennonite Missions. She also served for two years in Costa Rica through Conservative Mennonite Conference.
She was born Aug. 13, 1934, in Waynesboro, the daughter of Oren Shank Kiser and Thelma Campbell Kiser. On April 17, 1954, she married Willard Joseph Heatwole, who preceded her in death.
In 1957, Melba went to Jamaica with her husband Willard and children. Sister Heatwole, as she was lovingly and respectfully called on the island, served as Sunday school teacher and Vacation Bible School leader in Kingston and Ocho Rios congregations. She used flannel graph figures to tell Bible stories which was fascinating to the children who had no TV in those years. One Bible school had 450 children! Melba is remembered as a loving woman who made the Jamaicans her people; she cried with them, visited the elderly, and reached out to many communities. By the time Melba and Willard returned to the US in 1972, there were 14 congregations in the Jamaica Mennonite Church.
Melba loved to share books and educational materials with those who didn't have easy access to these, and worked tirelessly with Books Abroad, sending SS materials and theological volumes to churches in a wide variety of countries.
When Melba and Willard were 70 years of age, they went to Albania and served for two years between 2002 and 2004, and while there she learned the history and the language of that oppressed country.
Everywhere Melba served, she was a force of love, and lived a life of faith that impacted many others. Her legacy is far-reaching and the seeds of the Gospel that she planted are bringing fruit into the Kingdom of God.
Surviving her are five children, Jerrel (Alma) Heatwole, of Greenwood, Del., Conrad (Mary Jane) Heatwole, of Bridgewater, Jewel (Gary) Yoder, of Harrisonburg, Ransford (Christine) Heatwole, of Bridgewater, and Marolyn Heatwole, of Naples, Fla.; siblings, Sanford (Peggy) Kiser, of Souderton, Pa., Charlotte (Winston) Rhodes, of Weyers Cave, Alta Sue (Robert) Gomez, of Fishersville, and Richard Kiser of New Hope. She is also survived by 13 grandchildren with 36 great-grandchildren: Jerrel Jr. (Sarah) Heatwole with Asher and Jubilee; David (Roxie) Heatwole with Asia, Lincoln, and Kannon; Gabriel Heatwole, Carmen (Jeff) Shiery with Addison and Molly; Kendra (Absalom) Heatwole Shank with Lila, Silas and Elijah; Cheryl (Timothy) Heatwole Shenk with Lydia, Matteo and Vivia; Kaitlin Heatwole (Nathan Hershberger) with Leo and Julian; Brendan (Rebekah) Yoder with Jasmine, Nathan, Merrily, Joella, Katie, Jeshiah, Hope and Kylah; Stephanie (Christopher) Pellerin with Amelie; Kyle Yoder; Dano (Tara) Heatwole with Ransom, Bliss, Jotham, Tanah, Norman & Elam; Kara (Matthew) Plett with Aubrey, Emley and Milo; and Risa (Benjamin) Yutzy with Corin and Efram.
Mrs. Heatwole was preceded in death by her husband, parents, siblings Norman Kiser and Ellen Wyant, as well as an infant great-grandson, Mighty Mack Shiery.
The funeral service was held at Dayton Mennonite Church, on Saturday, Sept. 7, 2019.
Memorial contributions may be made to Virginia Mennonite Missions to support Christian education programs in Albania.
Special thanks to Gloria L. Lehman and the family of Melba Heatwole.