New workers appointed
Posted on May 2, 2016 by Jon Trotter
Two VMMissions workers have recently been appointed for service assignments.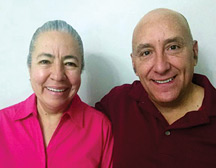 Francisco and Juana Machado have been appointed (jointly with Mennonite Mission Network) to church plant in Burgos, Spain. They have been invited by Anabautistas, Menonitas y Hermanos en Cristo – España following a one-month exploratory visit to Spain in early 2015.
---
Alisha Brubaker has been appointed to a one-year mission internship in East Africa, focused on spiritual formation and learning, as well as children's and youth ministry, under the direction of EMM regional directors. She recently completed an eight-month EMM YES assignment in the same country.