Latino Ministries hosts Training for Trainers event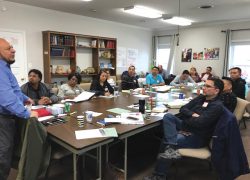 On March 14, on the cusp of mandated coronavirus restrictions, VMMissions hosted 22 of the almost 50 Latino believers who had hoped to participate in Entrenamiento para Entrenadores (Training for Trainers), a Spanish-language training with Honduran church planter, Allan Lorenzana.
In the opening session Allan shared his 15-second testimony. Then he asked, "What's your story?" Lizzette Hernandez reports that participants stumbled to respond with a cohesive story within that time frame. Allan then taught a simple and inviting way to do it. After a few times of practicing, participants felt empowered to share their story with others. In the weeks following, participants have been excitedly sharing stories of the impact made within their circles of relationships.
A certified trainer, Pastor Lorenzana brings to his work firsthand experience in La Ceiba, Honduras, where more than 300 churches have been planted in the last two years. The tools he introduced have been developed by the No Place Left International Coalition (www.noplaceleft.net).
The starting point for No Place Left is alignment with Jesus' statement in Matthew 9:37, "The harvest is plentiful but the workers are few." Thus, their purpose is to mobilize the whole body of Christ toward the work of the harvest, with every member of the body trained to become a disciple maker, until, as Paul states in Romans 15:23, there is "no place left."
Experience has taught Allan that while most Christians recognize the responsibility of sharing their faith with non-believers, if asked, he says, "They admit that they don't know how to do it!" Thus, an important part of his work is to empower believers to share their faith with others in a simple and biblical way so they can obey the Great Commission.
While not necessarily uniformly effective, Allan has seen good fruit from this and other simple tools across the globe, both in rural and urban areas. When Jesus' followers are armed with simple strategies, skills and tools and are working under the vision and power of the Holy Spirit, as described in Acts 1:8, not only will new believers be added to the local church, but church planting movements will emerge. And as the participants at this training learned, it all starts with having an answer to the question, "What's your story?"
Cloth face mask drive launched for poultry workers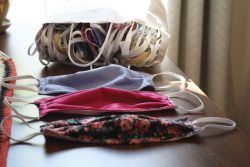 VMMissions became aware of a need for cloth face masks for Latino church members who work in poultry plants and are getting sick without protection. VMMissions contacted four area poultry plants, who requested 1,500 masks to give their workers. Many people gave time and resources to meet this need, and a total of 2,075 masks were delivered. Read more about this project.
Coronavirus Immigrant Care Fund makes impact
The economic impacts of COVID-19 are being borne disproportionately in the U.S. by immigrant families, many of whom are greatly affected by reduced hours and layoffs. In response, VMMissions created the Coronavirus Immigrant Care Fund to provide tangible help in the form of cash gifts, working with immigrant pastors to identify needs in their midst. The following responses are from several recipients:
A mother receiving help responded, "I was preparing our lunch today with the food we had left in our pantry, the last food we had…when Veronica Sanchez came with the help. Words are not enough when there's so much to be thankful for! God is faithful, thanks to all involved in this blessing."
One family's father has been laid off from his job until further notice, and he is the sole income of their household that includes three children. The mother said, "I want to say thank you to all the donors for helping us out like this, we cannot pay you back for what you have done but ask God to bless you abundantly."
In Winston-Salem, N.C., Veronica has been recovering from a delicate surgery for the last six months. She hopes to get back to work soon, but the company she used to work for is doing massive layoffs due to the crisis. "I say thank you with all my heart to the brothers and sisters who have sent this great blessing that has come to us through Pastor Juan José Lagos. May God multiply his blessings over you!"
One family was so grateful for the help they received, that they went to their pantry and gathered some cleaning items and gave them to Pastor Armando Sanchez. They wanted to give back from what they had. They hope that someday they can also help others in need just as they have been helped.
Filed in: All posts, Events, News, Transforming