Nurturing the faith of college students
Posted on May 30, 2019 by VMMissions Staff
By Rachel Yoder
A small chat began as I nursed my latte and did some work in a downtown coffee shop. The student with whom I chatted eventually asked what my job was. I shared that I am on staff at a church in Harrisonburg and work with college students and young adults in the area. She was so excited!
Apparently, she has been having questions about faith, but works out of town on the weekends and hasn't been able to find a church. I told her that a group of students gathers on Thursday nights at my house and we read scripture and talk about it together. She said that she would love to come. I got her phone number and she and her friend showed up at my house the next night!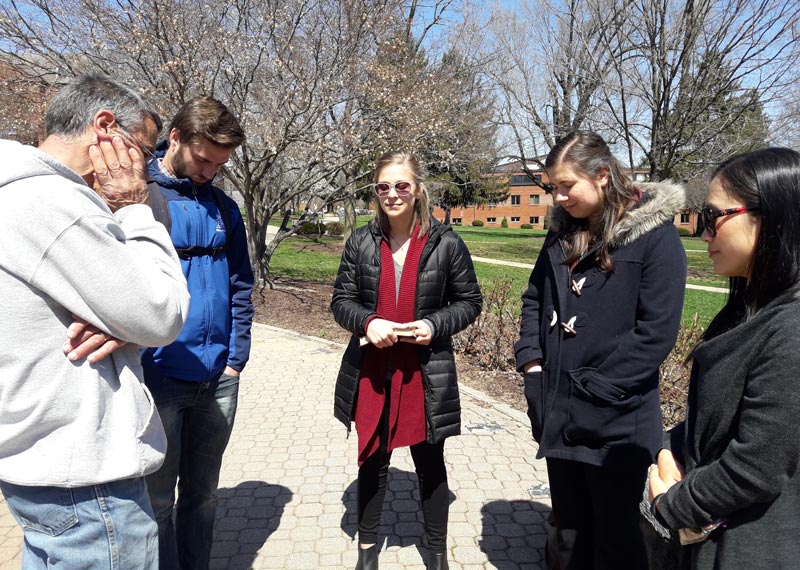 Rachel Yoder (center) provides leadership for a weekly prayer time on the campus of Eastern Mennonite University. Photos courtesy of Rachel Yoder

When I first felt called to work with college students, I was a student myself. I was in my fifth year of undergrad – deeply involved in a campus ministry and also deeply committed to being a part of a local, off-campus church family.
But I was dissatisfied; something was missing. I noticed that my church family wasn't offering anything to help us as students to shift out of specific campus and/or ministry affiliations that we brought with us into the church context. We sat in our seemingly prescribed clumps and never ventured out. I sensed that there was a role for the local church in helping us students to experience being a part of the body. We wanted to be known, cared for, and encouraged in ministry by folks who were in a different stage of life.
God began to awaken in me a dream for the dividing walls to be broken down and for all of us—university students and local members of congregations—to see each other as brothers and sisters in Christ and for the unique gifts of these students to be nurtured for the sake of God's kingdom. Being a VMMissions tranSender has allowed this dream to become reality. I get to see God move through the ministry of Eastside College through a house, 264 OSH. Eastside College is becoming a place where grads and undergrads from both JMU and EMU can come together to grow in relationship with Jesus through praying, learning, serving and worshiping together.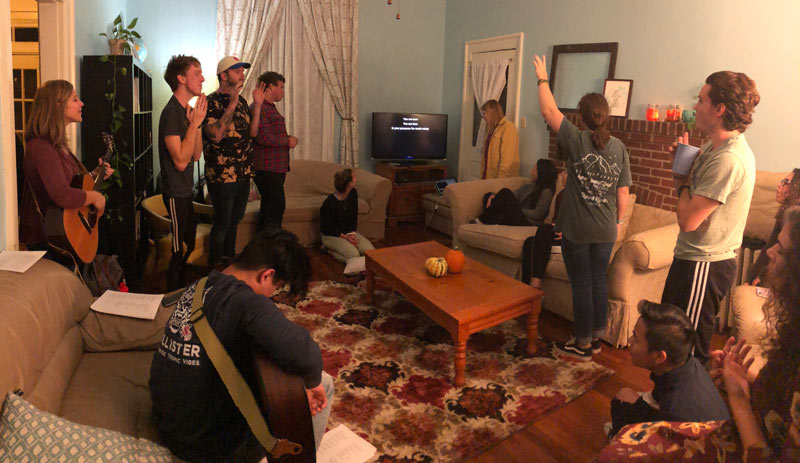 College students worship in the living room of 264 OSH, a hospitality ministry called Eastside College that invites students into a growing relationship with God.

Living life together happens in different ways. For some students, it's getting together regularly for coffee and fellowship. Currently, there are two groups of women who meet together each week. We study the Bible together and invite one another into our lives. Other times, I am simply there with students as they wrestle with struggles and doubts in their faith: "What does it look like to have a personal relationship with Jesus? How do I balance freedom from legalism with discipline? Where does a relationship with Christ fit into my college experience? Next fall, students will be moving into the house with me and "life together" will take on a whole new meaning!
Belonging is a huge issue for these students, and I am offering them a chance to belong. Social media has brought about an ever-present measuring system of comparison. If students see something or someone on social media with the "perfect" life, they will most likely try to figure out why they don't have it, or how they can obtain it. They try to fill a void, which I believe can only be satisfied by Jesus, with the temporary satisfaction of a certain number of "likes" or the group of friends they have.
After my new coffee shop friend's visit to 264 OSH, she sent a text message, reflecting on our discussion that night. "Showing Jesus/having a relationship with Jesus won't look the same in everyone…Sharing Jesus' love doesn't always have to be big; it can be simple, small, and yet still effective. It's beautiful." I am humbled and honored to be able to champion students like her as they live into their dreams and develop their unique gifts for the glory of God.
Rachel Yoder is a tranSender at 264 OSH in Harrisonburg, Va.
Filed in: All posts, Transforming