At Lezha Academic Center in Albania, we believe that we have been called to make an impact on the spiritual life of each student. Emerging from centuries of atheism and isolation under communism, most of the Albanian people lack an understanding of faith and have not truly encountered Jesus Christ.
By modeling a consistent and loving approach to the community, we are beginning to break through barriers and reach the students. Last year served as a foundation for building relationships and trust along with a foundational understanding that faith in God is reasonable and critical to living a fulfilled life.
This year, God is moving and providing us more opportunities to talk directly about our faith through our classes, informal interactions, and Bible Club. Many students are approaching us with questions and they are eager to develop their spiritual understanding. We have begun to pray with students, teach them about the characteristics of God, and mentor them toward a personal encounter with Jesus.
Several students and parents have begun to attend our small Mennonite Church that will soon outgrow the space that has existed here for over 15 years.
LAC has been increasing its connections with the local evangelical community by hosting church events and by creating networks of cooperation to support our common mission of bringing the Gospel to the community of Lezhë.
I see the growing school and church as a beacon of light shining in the darkness. I often walk through the streets looking at all the people going about their business who do not have a relationship with Christ and I pray that God will empower His believers to share the Gospel so that His love will break through into the community and spread throughout Albania.
.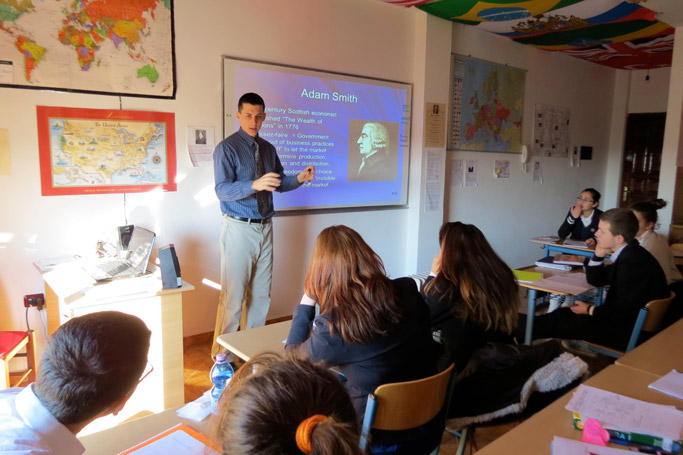 Caleb Benner teaches Economics at LAC. Courtesy of author
Filed in: All posts