God is good! We have been living in the Vasto/Termoli area for 12 years and we are thankful to God for what He is doing here.
When we first arrived to Vasto, the church had been established almost twenty years but was almost dead. There was no young group, no actual ministries, and little biblical foundation. After some months we gathered some young people, believers' children in the church and discipled them. Most of them were not born again; that's why it was quite difficult to start a youth group in the beginning. However, God is faithful and 25 young people are now in the Vasto church. They are very active—in the worship group, in mission fields, and attending a branch of Master Seminary in Italy.
We have organized Gospel Communities, home Bible study groups, where believers and unbelievers meet to share the Gospel. We have different groups: two in Vasto, one in San Salvo, Termoli, San Martino. We are encouraged to see many people come with openness, because they don't feel threatened in a friendly house. Our aim, through them, is planting new churches and spreading the Gospel.
We live in a tourist area; most Italian people go to the beaches during the summer. We have many possibilities to reach out with the Gospel, on the sea-side in the mornings and on the streets at night. Many people gather around us to listen to the Gospel in concerts, mimes and open-air meetings.
We are renovating an old house someone gave to our church and will use it to reach teenagers. My Space will be the name of the house. This house is in a different area in our town and we are praying that God will lead us to work there too. Renovating work costs quite a lot, but we know that God will provide everything we need. Pray for us as we strive to fulfill this vision.
.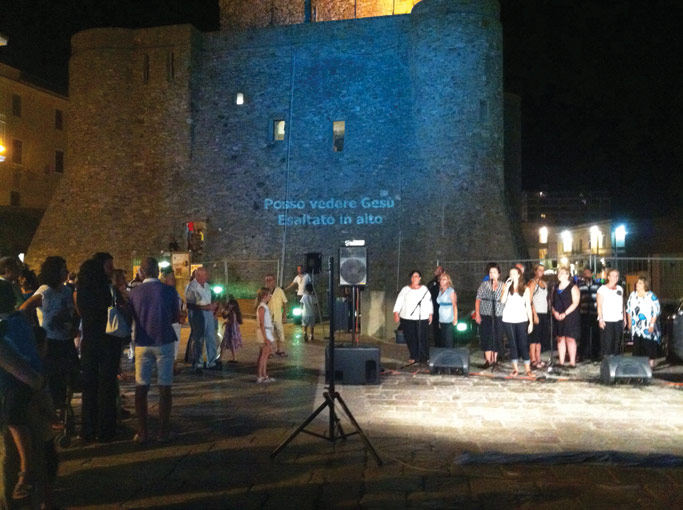 The Vasto church shares the Good News with open-air evangelism in the evenings.
.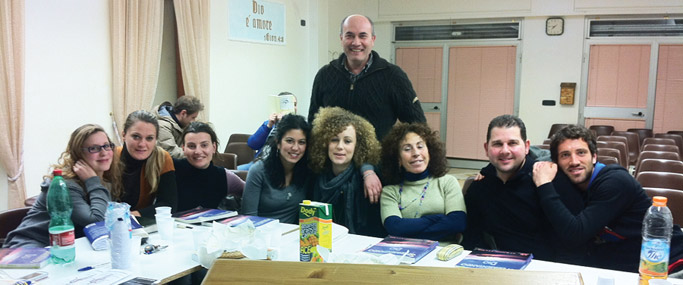 Giovanni Greco (center) with the discipleship group. Photos courtesy of author
Filed in: All posts