Praying for the Kingdom while sharing sweet tea
Posted on April 23, 2014 by VMMissions Staff
We have been living and serving in this slum community on the outskirts of a major Southeast Asian city for two years now.
After a devastating fire and eviction in our previous slum, God led us to this new community with some of our old neighbors. Beautiful things are growing here; if one can look past the piles of trash, raw sewage, rats, and other ugliness that is stark poverty. God, give us Your eyes to see the beauty that is here and can be here.
Two months ago, our neighbors celebrated with us in my reaching seven months of pregnancy. Tujuh-bulanan, the local celebration is called. The day included special food, fruit salad with seven fruits, seven colorful fabrics wrapped around me, and water with seven flowers poured over my head in blessings.
As we all gathered together, my teammate Lina told the story of Hannah from scripture and in the process invited all the neighbor women to gather every Tuesday to continue hearing stories of ancient women.
.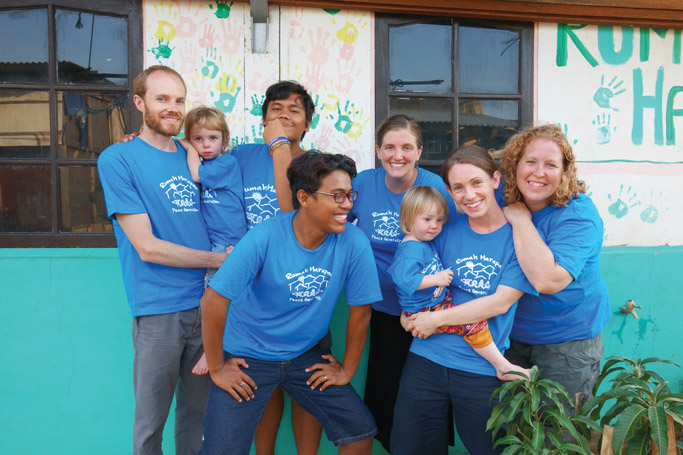 The ministry team working on the outskirts of a their city: (back row, left to right:) Manu, Sage, Yugo, Grace, Lina (front row:) Lucky, Freya, and Anna. Courtesy of author
.
So now each Tuesday we gather with our Muslim friends: beautiful women who have endured numerous floods, fires, evictions, and the daily grind of poverty. We study stories of women from scripture, beginning with stories from the Torah. Eve, Hagar, Sarah, Lot's wife, Job's wife, Rebecca, Leah, Rachel, Potiphar's wife, Jocebed, Miriam, Sifra and Pua (midwives in Egypt), and others.
As we share sweet tea and homemade snacks, they ask good questions about these ancient women. My neighbors help me see the stories with fresh eyes. And somehow in this twenty-first century slum, I find myself feeling much closer to the culture and time of the biblical women. We end each Tuesday meeting by praying together.
This is only the beginning, but we are full of hope and expectation for the future: that as we journey through stories from scripture our neighbors will encounter the love of Christ. O Lord, make Yourself known to our Muslim friends. May they meet you not only as prophet but as Lord and Savior. We offer our lives to you in this service. Amen.
Filed in: All posts