Prepared in Cusco for Service in Virginia
Posted on July 21, 2020 by VMMissions Staff
Hannah Shultz serves as a tranSender in Harrisonburg, Va, working in music ministry with Spanish-speaking children.
By Hannah Shultz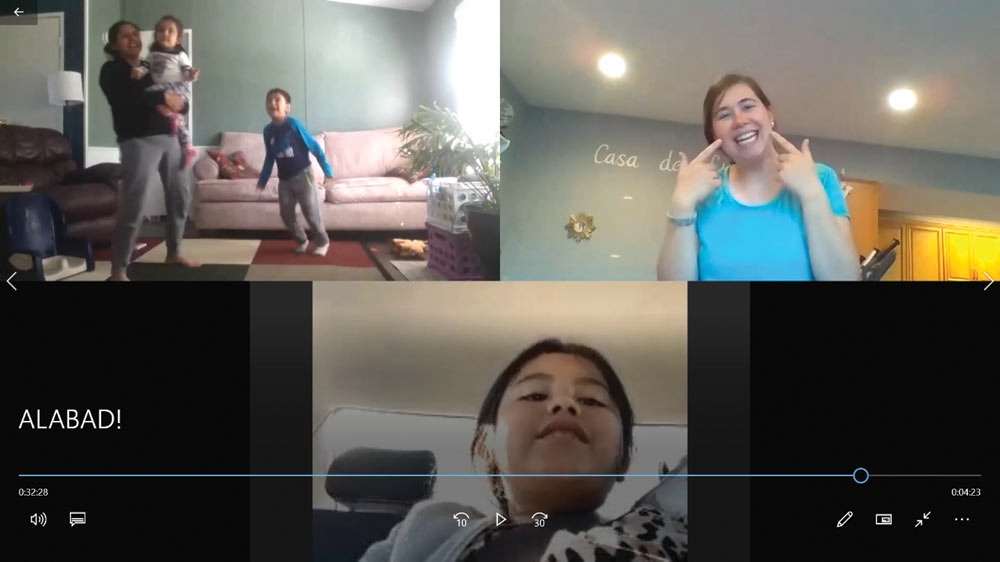 Hannah Shultz (top right) on an ALABAD! Zoom call with children in her program. Courtesy of Hannah Shultz

My identity and understanding of the world and the gospel are forever changed by the opportunity I had to grow up as a TCK in Cusco, Peru. I remember an empowering conversation with my mother before leaving for Peru, where I was given a say in this decision to move. Making this choice at age seven deepened the degree to which I took on the role of "missionary." I, along with my parents, was called to bear witness to who God is, to Jesus' forgiveness and salvation, and to the Holy Spirit's empowerment to share this good news throughout the world.
I am currently on assignment with VMMissions through the tranSend program. The Lord has ignited within me a passion to empower Hispanic parents in their calling to disciple their children in the way of Jesus.
I recently finished a 12-week Scripture-based Zoom music class for young children and their parents called ALABAD! [Praise!]. I've received overwhelming affirmation regarding the importance of this work and will be writing the curriculum for our next class (ages 5-7) this summer.
I can see how God has uniquely equipped me for this task, weaving experiences together in a way that leaves me speechless. God had a greater purpose in teaching me Spanish than I realized. Through friends and an internship at Manantial de Vida (a local Hispanic church) in the summer of 2017, God graciously enabled me to continue engaging in Latino culture using my Spanish.
Growing up in Peru gave me a deep appreciation for various aspects of the beautiful Latino culture: Life is seen through a collectivist rather than an individualistic lens! I love the fact that people are so valued that every person must be acknowledged in greeting and parting. And, how wonderful that worship is expressed through dance!
I resonate with the children who participate in ALABAD! because they share the TCK experience. These children are shaped by their parents' culture as well as by the American culture, giving them a unique blend of culture and world view. As when I lived in Cusco, these children are likely to feel their minority status; they need to hear that Jesus is with them in times of loneliness.
In Deuteronomy 31:19 God tells Moses, "Write down this song and teach it to the Israelites and have them sing it." God knows that we, humanity, lose our way and need to be reminded constantly of the truth of who God is. My prayer is that the gospel and the truth in the songs we sing in ALABAD! will remain in the hearts of our children and serve as reminders of God's faithfulness even in hard times when they might be prone to lose their way.
Our class for infants this spring was not designed to be online, so it was discouraging to imagine teaching a 3-year-old and a 13-month-old via Zoom. Little did I know that their older siblings would also be able to participate because they were home together. God knew! Eli (age 5) loves to remind me, "It's time to pray!" His parents are teaching him that Jesus is healer, so he confidently asks God to end the coronavirus so he can play with friends again. Eli shares Jesus' love with his sister, Diana, giving her hugs when we sing our hello and good-bye songs, "…hola Diana, Dios te ama a ti."
Jesus loves our precious TCK children. I am honored and overjoyed to be a small part of God's big plan in and through these beloved children. Thank you, Lord, for the gift of music, cultures, and for sending your son, Jesus, so that whoever believes in him shall not perish but have
everlasting life.
Filed in: All posts, Transforming