Preserved for a purpose
Posted on August 13, 2018 by Jon Trotter
Francisco and Juanita came to the U.S. as asylum seekers from Honduras. Now God is using them as church planters in Madrid, Spain.
By Francisco Machado
We gave our lives to Christ in 1982, and were active members of the Mennonite Church in Honduras for over 20 years. Seeing the realities of excessive corruption and injustice, we were led to confront these issues. It came at a price: in 2008, we received death threats. Knowing we had to leave, we escaped with our four children. Friends in Harrisonburg, Va., received us; we obtained asylum and citizenship.
It took seven years for us to become comfortable in our new setting, to study and develop the ministry gifts God has given us. We finally felt security and peace. But, we have learned that if Jesus is Lord, he can change our plans if he wants to. We are his servants!
So we began to ask, "God, where will you send us next?" In 2014, Mennonite Mission Network invited us to consider an international church planting assignment, but I didn't want to move again. But later they sent me another email about an opportunity to serve in Spain. I remember that early morning well. I was still in bed. As soon as I read the word "Spain" my heart started beating faster. I thought of my ancestors and their Spanish descendants who possibly didn't know the good news of Jesus Christ. I woke my wife up and asked if she would be open to going to Spain. She responded (maybe more asleep than awake), "I will go wherever our Lord takes us," and then kept sleeping!
Another confirmation came as Pastor Wendy Malvaez shared a dream with us in which she was at a Catholic mass. The congregants were all asleep! After the priest stepped down from behind the pulpit, Wendy took his place. She boldly preached Jesus to the sleeping congregants. "Where am I?" she asked the Holy Spirit. "You are in Guadalajara, Spain." Inwardly, I thought, "This is wrong!" I knew that Guadalajara was in Mexico. I went home and looked at Google Maps. Sure enough, there, outside of Madrid, was Guadalajara! After these experiences, our hearts were set on going to Spain!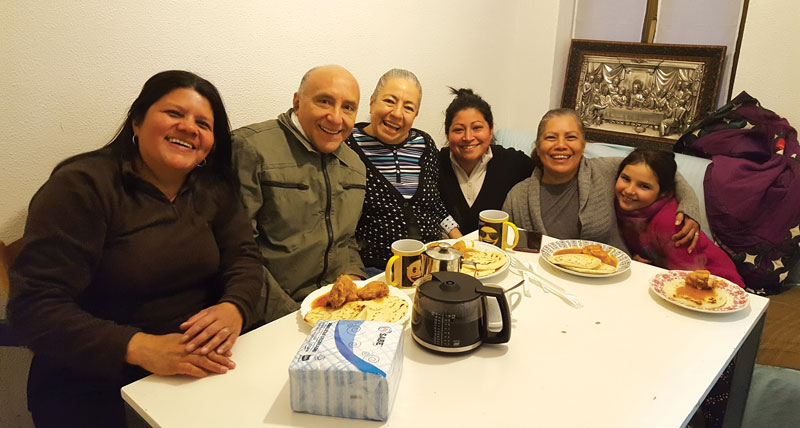 The Machados enjoy a lunch of pupusas and chicken with fellow Hondurans from the home group which meets on Saturdays. From left is María Elena, Francisco and Juanita Machado, Arely, Francisca, and Martha, a girl from Spain. Courtesy of Francisco Machado

We have been here now since last fall. And we are finally able to see how God's grace is at work. Both our Latino origin and our command of the Spanish language are great advantages to us. In fact, we are often asked, "Where is your home town?" Through our experiences of persecution and exile, God has made us strong in Christ to adapt to the cosmopolitan culture of Spain, even as we struggle in our bodies with the pollution. Another challenge is the public transportation system. We have to walk to and from the various stations in all kinds of weather. However, we are resilient. Like Paul, we know well how to be abased and how to abound.
We have been led, like the apostles in Acts. We originally expected to work in Burgos city. However, we were not accepted as students in the university there. The open door came at the Autonomous University of Madrid. We were introduced to Pastor Antonio Gonzales who pastors a Brethren in Christ church on the outskirts of the city. It is very clear that God has put us together. God had given this humble PhD philosophy professor and ex-Jesuit priest a vision for street evangelism. But he felt very alone in it. He is thankful that God sent us to help him!
After moving into the city community of Collado Villalba I wanted to connect with local church planters. I was given the phone number for someone connected with the El Faro [Lighthouse] Church. I called, to no avail. I searched online, and with the help of GPS, arrived at the address. There was no sign of a church! However, I noticed some people entering a house nearby. As I drew closer, I was invited to come into the home. God had brought me to a house church led by a Dominican brother, Angel Daniel Vargas! Like Pastor Antonio Gonzales, Angel has welcomed us as an answer to his prayers.
We feel in both of these church settings as if we have been known for a long time, as if we were born among them. They open their hearts. They seek out our counsel. We pray together, and God responds and gives an answer. And so, their faith grows. New people are attracted, and the church grows. In this, I see the moving of the Holy Spirit – God's divine plan – because the only thing that we have done is to make ourselves available and dedicate time! These leaders have been praying for a revival in their communities, and they want us to be a part. Pastor Wendy's dream is becoming a reality!
With Pastor Antonio and members of our church family, we began a group called "Pioneros Callejeros" [Street Pioneers]. We walk prayerfully through the streets in busy commercial centers of the city, allowing the Holy Spirit to lead us. Most of the people we meet are Spanish; some are Latinos, Romanians, and North Africans. We find that it is easy for us to engage people in conversation. Often, we simply ask if we can pray for them. While the hearts of older people have been damaged because of religion, we are so blessed to find that younger people are very open. Many times, young people with whom we converse on the city trains continue past their stations, just so they can continue to talk with us. It is not true that Spaniards don't like the gospel!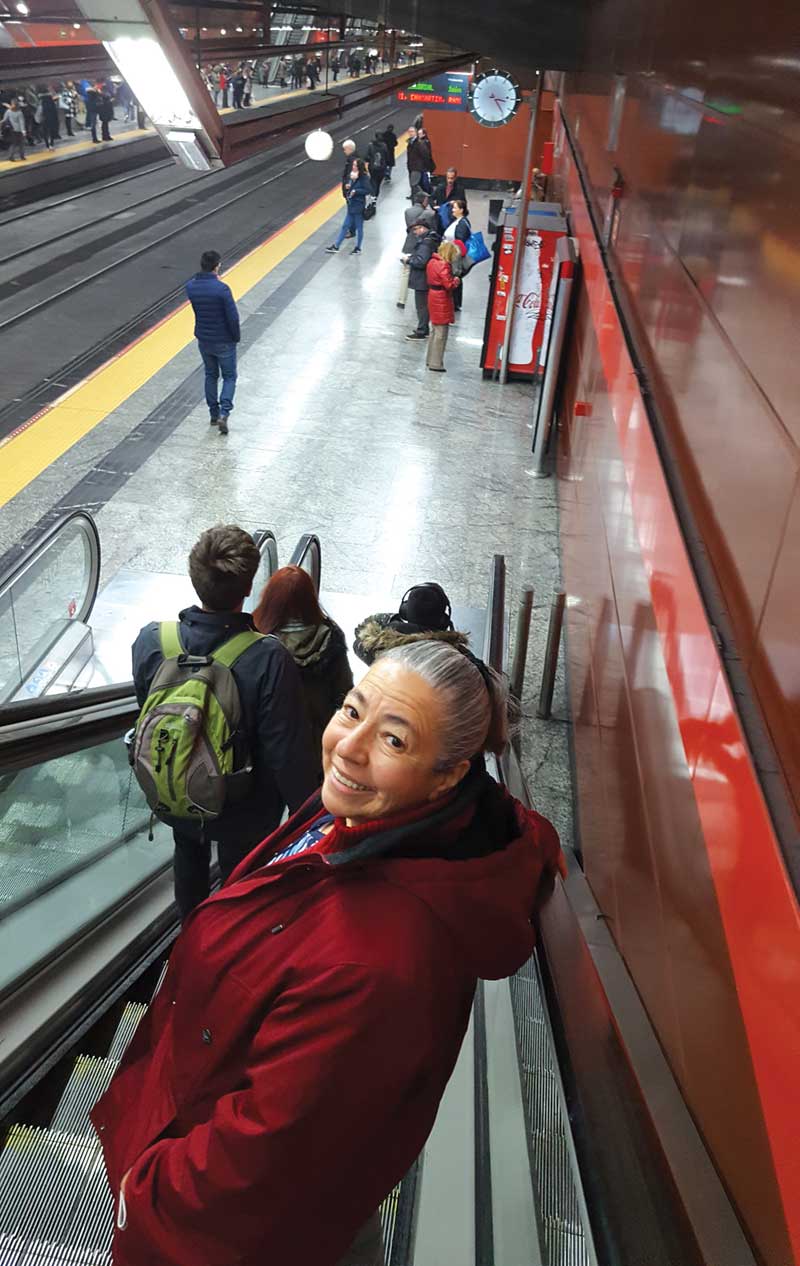 Many times, people have experienced being healed. This gives us more opportunity to invite them to meet Jesus. I will tell you what happened on Friday, May 18. While we were in a busy business area, we saw a young Romanian immigrant. He was alone and smoking. We approached him to ask if he had any pain. Immediately he threw down and crushed his cigarette, saying, "I was riding in the car with my boss. I told him, 'Drop me off here because I want an encounter with God,' and you came to pray for me. I want to cry." He continued, "I think of my grandfather who is a pastor in Romania and I am a disaster. I could have died already because I was stealing copper cables and I got an electrical shock."
With tears in his eyes he told me, "Pray for me, because I want to change." I joyfully led him in a prayer of repentance and commitment to follow the Lord. In the end, I asked him if he had family. "Yes, I have my wife and two sons." I then told him, "When you get to your house, hug them and kiss them and tell your wife that you have found the Lord and from today forward you are all going to follow him."
God has preserved us for his sovereign purposes. We did not understand God's purpose for us, but now we do. Our commitment is to work with the support of the local Anabaptist Christians towards the goal of helping people here in Madrid discover simple and genuine ways to follow Christ. And in so doing, we will begin to plant the seed of a church with Mennonite principles and values in this city. We ask for your finances so that we can continue to serve. We ask you to carry us in prayer that God would touch the hearts of those who will be a part of this new work.

Francisco Machado Levia and his wife, Juanita, are serving with Mennonite Mission Network and VMMissions as church planters in Spain. Donate to their ministry.
Filed in: All posts, Transforming