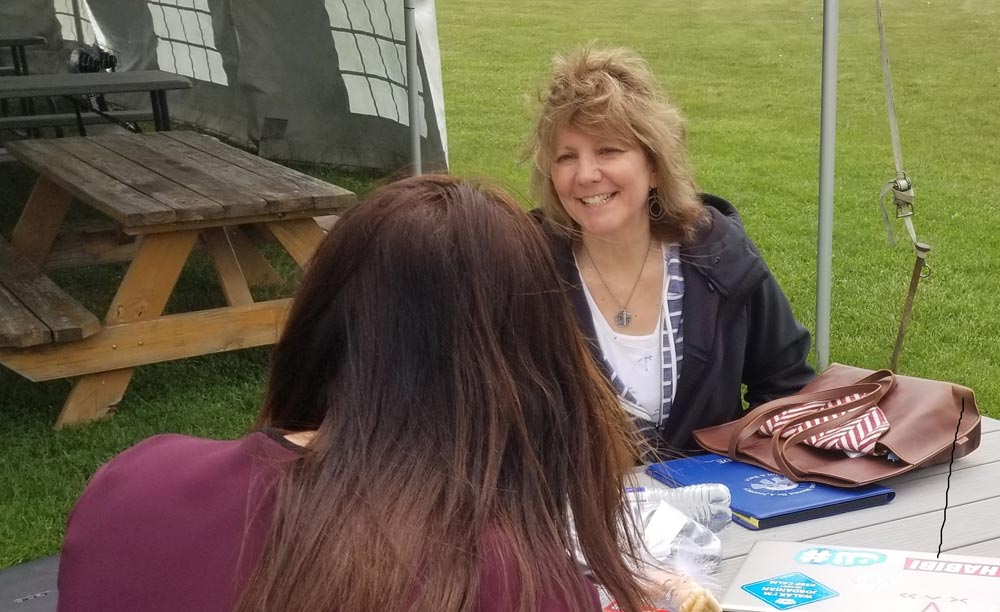 Clara meets with Linda King (right), a member of her Ministry Support Team. Photo by Carol Tobin

A gifted evangelist, Clara has discovered that God is blessing her with partners whose gifts complement her own.
By Carol Tobin
Leaning forward eagerly over an aromatic cup of Turkish coffee, Clara declares, "God is bringing people to this city so that they can have the opportunity to meet him. At the same time, he is gathering his servants. He is preparing us for a harvest."
What city is she talking about? Harrisonburg, VA. Who are the people being brought here? The many refugees and immigrants who have been able to make "The Friendly City" their home. And who are the people being gathered by God in preparation for a harvest? That is what this article is about!
Clara senses that she has been handpicked by God for her work in Harrisonburg. "I was living in Maryland, an immigrant from Jordan. I was very discouraged. Nothing was opening in a secular job, no ministry. I thought, maybe God wants me to minister back in Jordan. I had promised a friend that I would attend a church meeting with a handful of people I didn't know." In what she sees to be a divine encounter, Pastor Blake Wood from Faith Community Church (FCC) in Harrisonburg came to this same meeting. Clara was interested in talking with him afterwards because he mentioned traveling to Jordan. He asked, "What are you doing?" Clara said, "Nothing. For the last four months. I am just volunteering with refugees here." He told her that his church had been praying for two years for someone to serve among Arabic speakers in Harrisonburg. Would she be interested in coming?
"I could not have imagined what I was stepping into, how overwhelming it would be to connect with these women and families! I know their language. I represent a connection to their culture. There are so many needs! They forget that I am like them. I say to them, 'I am as homesick as you are!' But I am able to offer them Jesus.
"However, the burden was too great. And so I was honest with Pastor Blake. 'I need more. Some kind of support.' And straight away he understood. He connected me with Jason Showalter at VMMissions.
"Within two days, I was helped to envision developing a Ministry Support Team (MST). FCC is very supportive of the vision and generous with finances. But God wants to bring people who can stand with me in prayer and care for me as a person."
Miriam Basinger and Linda King are two such persons whom God has brought.
MST coach, Karen Yoder, approached Miriam about chairing the MST. What Karen didn't know was that God had been speaking to Miriam. "I had just hit a sort of wall in my professional life. Frustrated, I told my husband, 'I'm doing the whole career thing, but what is this for?' I heard God saying, 'Focus on what is eternal.' And then came this request. The first time I prayed for Clara, the Lord immediately gave me a picture of her completely surrounded by pillars of prayer. I want to offer her that protection! I have befriended many Muslim students over the years, but I am not an evangelist. I am glad to be a seed planter and let someone else do the harvesting. It's teamwork. Together we have a beautiful outcome."
Linda King, a member of FCC's leadership team, is also serving on Clara's MST. "I know nothing about the culture. But I love the stories! I can help Clara by writing them down. They are moving. They are profound. Working with Clara has been eye opening. Faith validating. Faith stretching! I was recently reminded about the feast that awaits us in heaven. Wouldn't it be just like God, … if you sit down at the feast, look around and think, 'I don't even know who these people are!' But then you realize that they are people who were impacted by your prayers, by your giving! How wonderful! I will have a seat at Clara's table!"
Clara knows that this ministry is not meant to be on her shoulders alone. "This affiliation with VMMissions is helping to broaden my vision so I can reach and share the ministry with other churches. I want others to join the celebration of saved souls, to help with discipleship and come alongside the refugee families." And what she says continually is, "This is all God's doing. I don't have to struggle. He is bringing me people! He has already prepared everything!"
Are you one of those being called? You may have just the gifts needed to grant you a seat at Clara's table!
Filed in: All posts, Transforming