A shared heartbeat for mission
Posted on November 3, 2017 by Jon Trotter
Eastside Church in Harrisonburg, Va., shares a commitment with VMMissions to the sustainable multiplication of disciples, leaders, and churches. To date, this has meant sending eight persons in mission assignments with VMMissions.
By Peter Eberly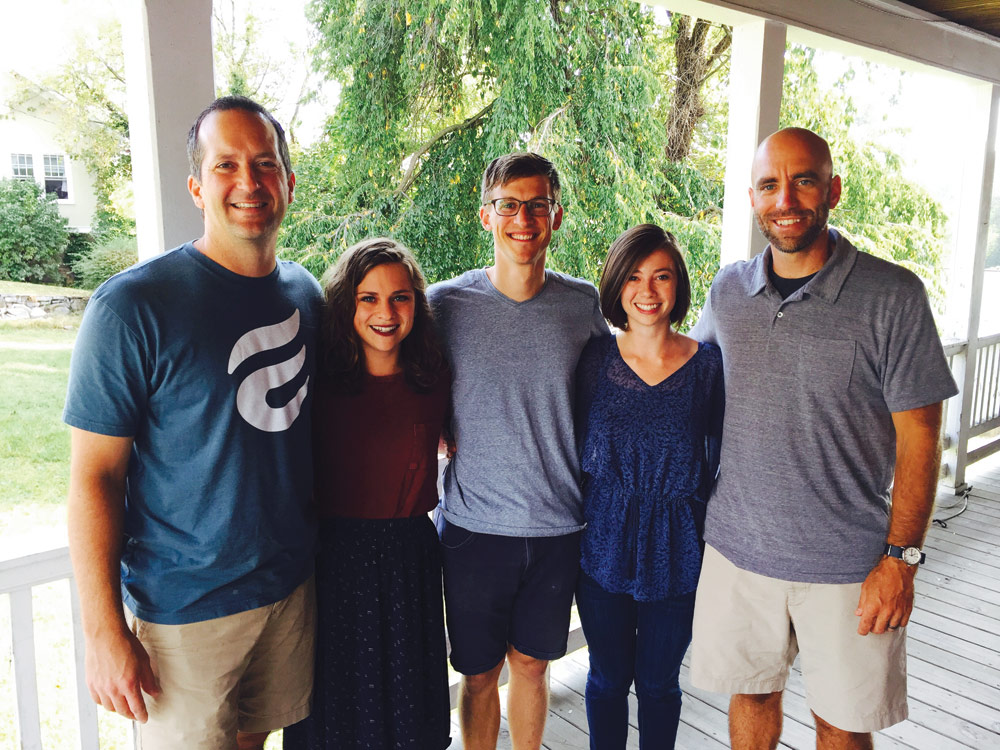 Multiplying disciples: Eastside Church Lead Pastor Peter Eberly (left) and Associate Pastor Matt Schwartz (right) with VMMissions workers (l-r) Taryn Zander, serving in global refugee short-term missions, and Tyler and Kendra Yoder, serving at 264 OSH, a house ministry primarily building relationships with college students for outreach and discipleship. Photo courtesy of author

I am a big picture guy and I'm passionate about the church! I believe the clearest call we receive as followers of Jesus is to become his disciples. As I study discipleship, it seems clear that a disciple makes disciples, who in turn make disciples!
If the church is made up of disciples, then everything we are part of should replicate: disciples who can make disciples, small groups who can make new small groups, churches that can plant churches. I have missional dreams that from Eastside would come churches in many locations—in Virginia and along the entire East Coast. That replication process must begin with individual disciples.
We have seen that vision beginning by raising up eight workers who carry an affiliation with VMMissions. I have no idea how many we will have in the next five years, but it seems like those numbers will continue to multiply!
We have been walking with VMMissions for eight years now. Our clear commitment to the Lordship of Christ and our agreed outcome of disciple multiplication has made for a wonderful partnership. Because of our core values, we have been able to extend flexibility to each other as we develop strategies.
Not that it's always smooth! Skip Tobin, VMMissions Director of USA Ministries, and I have had a couple of heated debates along the way. But the heart connection—the shared heartbeat for God's mission—is solid enough to keep our partnership moving forward.
I've noticed that missional dreamers like myself often get pinned to the wall with questions of "How?" and "Why?" But I have discovered that VMMissions knows how to listen to our dreams and say "Wow!" They then move on with great competence in figuring out the "how."
The fact is, all of the things that we are doing are new things, requiring this kind of flexibility, creativity and competence.
VMMissions is providing the scaffolding, the functional frameworks that enable these new things to happen.
When you are in pioneering work with the next generation, you have to be willing to take risks and experiment with the new. Having a partnership and connection with VMMissions increases the likelihood of not only fruitful current ministry, but sustainable long-term multiplication. A connection with VMMissions assures that there will be sustainable multiplication of those gifts and investments, priorities carried forward over the long haul.
Right from the beginning, the Lord directed us to give 10% of our budget to VMMissions. We knew then what we have experienced now: churches send. We didn't have anyone to send yet, so we invested in those who already were sent. We chose to invest before we could envision any fruit or benefit coming back to us. But no kingdom seed is sown without return, and now we are reaping benefit in this relationship.
It isn't only money that we have chosen to invest. We have also invested resources into developing leaders. We want to be poised for the opportunities that God brings our way. I used to think that recruiting leaders involved creating the perfect job description. I've learned that this isn't true. Leaders can be recruited, but more often leaders are created through discipleship.
I've had the joy of walking with and training the next generation of leaders and planters at Eastside Church! Tyler and Kendra Yoder, for example, experienced the call to church planting when they were least expecting it. It wasn't there in the beginning.
Beyond that, we have to be willing to release the folks that we disciple. We are preparing to send Tyler and Kendra Yoder away. Likewise, we have chosen to release Seth and Theresa Crissman to be a blessing to the wider church community. They are helping area churches give and receive the good news in their neighborhoods primarily through the establishment of Kids Clubs.
While we experience a sense of loss as we maintain this posture, it also provides space for the next generation of leaders at Eastside Church to take their place.
This is risky. There are those who feel frustrated that as a church we aren't focused sufficiently on meeting the needs within our congregation. But, I don't want to be a hospice station! The church is made up of disciples who make disciples, not spectators who take up seat space. I feel that we have to be externally focused. And the fact is, there are "high asks" for things that have kingdom value.
I trust the tranSend program because of this—because there is a high discipleship demand and high commitment coupled with flexible environments for exploring ministry gifts.
As we do our dreaming and allow the Holy Spirit to ignite our imaginations, it is great to have an agency partner like VMMissions to carry the dreams forward with competence and creativity.
Peter Eberly is Lead Pastor of Eastside Church, Harrisonburg, Va.
Filed in: All posts, Transforming