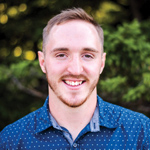 Abe Hartzler
Associate Director of Advancement
Abe Hartzler is Associate Director of Advancement. Prior of June 15, 2020, he served as Event Coordinator and Ministry Support Coach since July 2019, planning all facets of VMMissions events and working with Ministry Support Teams to enhance their capacity for developing sustainable networks of worker support.
Sensing a desire to engage the supporters and friends of VMMissions in new ways and cultivate relationships with donors, Abe assumed leadership of the Advancement Team, a role left vacant by the sudden death of Steve Leaman on April 5, 2020.
Abe and his wife Rachel live near Weyers Cave, Virginia.