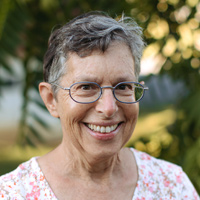 Carol Tobin
Asia Regional Director and Mission Advocate
In her role as Asia Regional Director, Carol has her antennae "up" for ways that God is calling us to connect with what He is doing in Asia, and among Asians. She nurtures partnerships, cares for workers, undergirds MSTs, especially in their prayer support for workers, and casts vision for new ventures. Carol is also Content Editor of our quarterly missions publication, Transforming.
She enjoys opportunities to function as VMMissions' Mission Advocate, by writing and teaching and walking with folks through times of discernment. She also serves as the Harrisonburg coordinator for the "Perspectives on the World Christian Movement" course.
It was the 20 year period of time serving with her family in Northeast Thailand that provides her with a tangible picture of hope for God's activity in contexts vastly different than our own in which we stand to gain as much as we give.
She and Skip are part of the Early Church community, have six adult daughters, four wonderful son-in-laws, and at present count, five grandchildren. Carol enjoys cooking "hearty and unusual food," baking bread, swimming, picking berries, and receiving occasional poetic inspiration.
Education
B.A., Sociology, Bucknell University, 1975
M.S., Recreation Administration, University of North Carolina, 1978