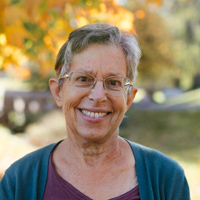 Carol Tobin
Mission Advocate and Transforming Content Editor
As Mission Advocate, Carol uses her writing and teaching skills and extensive experience in mission to tell the stories of God at work through the ministries of VMMissions. Carol is the Content Editor of our quarterly missions publication, Transforming. She also has coordinated "Perspectives on the World Christian Movement" courses in Harrisonburg.
She served for 20 years with her family in Northeast Thailand, an experience that provides her with a tangible picture of hope for God's activity in contexts vastly different than our own in which we stand to gain as much as we give.
She and Skip are part of the Early Church community, have six adult daughters, six sons-in-law, and eight grandchildren. Carol enjoys cooking "hearty and unusual food," baking bread, swimming, picking berries, and receiving occasional poetic inspiration.
Education
B.A., Sociology, Bucknell University, 1975
M.S., Recreation Administration, University of North Carolina, 1978