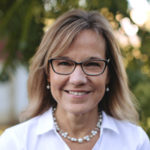 Lynn Suter
Director of Operations
Lynn pays attention to the behind-the-scenes operations of VMMissions so that our workers are well supported in their front-line work. Her training in law, experience with churches and non-profits, and appreciation for the organic nature of mission work help VMMissions right size its processes, procedures and policies for its many and varied settings.
Lynn also serves as Managing Director of VMMissions' business-for-transformation subsidiary (name withheld for security reasons) which is carrying out VMMissions' strategic initiative to help launch businesses for the economic, social, spiritual and environmental good God intends to accomplish through work. This initiative is focused on creative access countries with little gospel witness.
Lynn and her husband, Eldie, are active at Eastside Church. They enjoy the out-of-doors and spending time with their adult children and their spouses.
Education
J.D., Washington and Lee School of Law, 1986
B.A., James Madison University, 1983