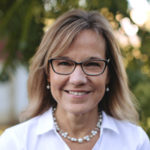 Lynn Suter
Director of Operations and International Ministries
Lynn wears two hats at VMMissions. As Director of Operations and International Ministries, she oversees both operations and the international ministries program.
On the operations side, she reviews and drafts operating procedures and policies to guide VMMissions' work in its many and varied settings domestically and internationally. She also works with VMMissions' staff to ensure regulatory compliance and mitigate operational risks.
For the international ministries program, Lynn joins the VMMissions team of international directors in recruiting, training, nurturing and supporting international workers through pre-appointment, field placement and re-entry, and expanding our work through partnerships and pioneering. She also has direct supervision of certain international workers and partnerships.
Lynn and her husband, Eldie, enjoy hiking and travel and are active at Eastside Church. They have two young adult children whom, many years ago, they took to Nepal for three years of service with Mennonite Board of Missions (now Mennonite Mission Network).
Lynn practiced business law for 25 years prior to coming to VMMissions in 2014. She greatly enjoys teaming with others for the sake of sharing the good news of God's love in Christ.
Education
J.D., Washington and Lee School of Law, 1986
B.A., James Madison University, 1983