Taking bold steps of faith and obedience in Palermo
Posted on June 28, 2013 by VMMissions Staff
Aurora, 23, and her brother Manuel, 21, grew up in the Centro Agape church of Palermo.
Through the years they've participated in the church's youth group and other initiatives for young believers. They have become an important part of the church's youth group, and both contribute to it in their own unique way. They are also involved in My Space, the after-school outreach program for teenagers.
Though they have known hurt and difficulties in their family over the years, God has been their faithful sustainer.
As these two young people have grown as believers over the past couple of years, they both desired to be baptized as an expression of their faith in Christ. On a sunny Sunday morning in May, the church was filled with regular attendees, extended family, and many friends from throughout Sicily as Manuel and Aurora took a bold step of faith and obedience.
Their baptism was a joyful and emotional event! The service began with worship songs and then continued with an introduction by Andrea, the leader of the church's youth group, describing what baptism is. A letter was then read to Aurora and then to Manuel describing how God has gifted them and encouraging them to seek Him wholeheartedly as they move forward in their relationships with Him and service to Him. The pastor gave a message, and then they boldly shared their testimonies and declared their faith in Jesus as their Savior. Finally, with great joy, they were baptized!
The festive event continued after the service with a church potluck, and then a group of about 20 young people enjoyed a walk in a park and then some of Palermo's delicious ice cream.
But the story does not end here! Their grandmother has also expressed her desire to be baptized! Praise God for His work in each generation of believers in the church in Palermo!
.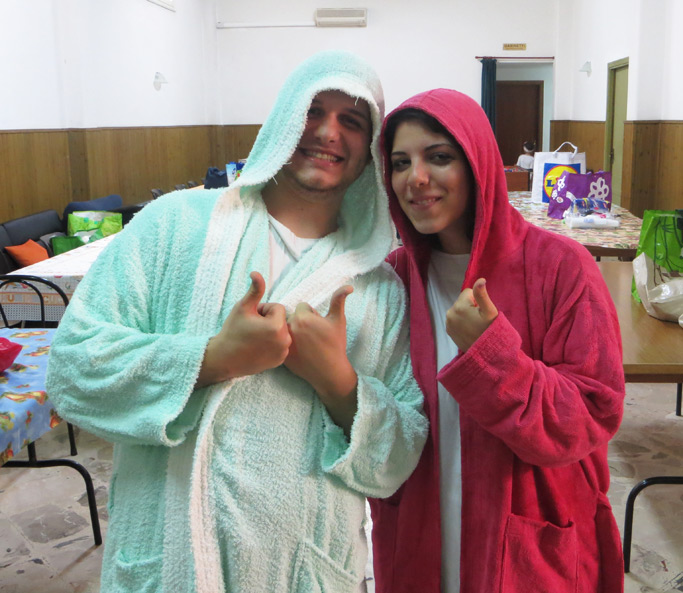 Manuel and Aurora smile after their baptism at Centro Agape. Courtesy of author
Filed in: All posts