Thanksgiving celebration in Italy introduces new traditions
Posted on January 2, 2015 by VMMissions Staff
[dropcap]Thanksgiving[/dropcap] is the beginning of the American holiday season and can be a time of struggle for those of us living in another culture and missing family and friends back home. It is also an opportunity to create new traditions, to share a bit of our culture with our friends and contacts here, and to reach out in hospitality and fellowship over a shared meal.
At the beginning of November, we offered to prepare a traditional American Thanksgiving meal as an outreach. It was exciting to be able to do this for both our small group here in Termoli as well as the larger church in Vasto. The chance to share our culture, have the ability to use it as a tool for outreach, and stay busy to ease the homesickness that comes with the beginning of the holidays was a blessing.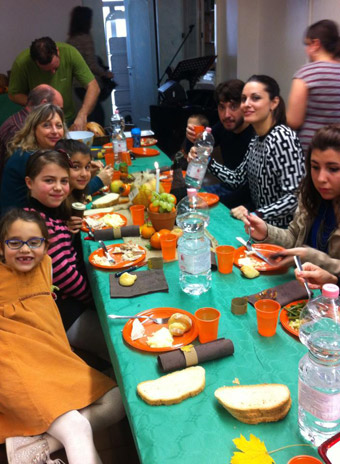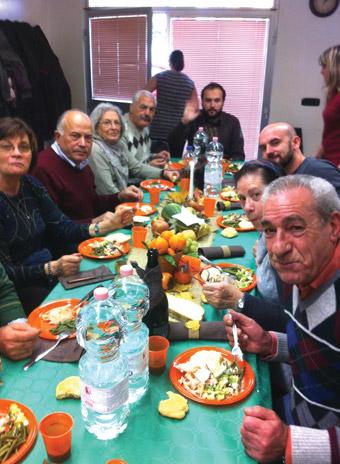 Guests enjoyed fellowship and food at one of the Thanksgiving meals hosted by Shawn and Laura Green. Photos courtesy of author
Our dinner fed about sixteen people, and we still had plenty of leftovers. Shawn was able to give a little of the history behind the holiday, and then we had a time for everyone to share what things they were grateful to God for in their lives. It was a good time of fellowship and sharing hospitality over a meal.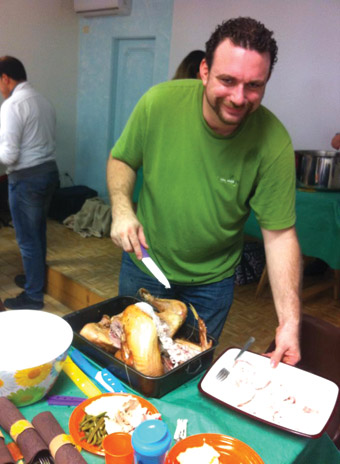 Our second meal, held in Vasto, was lunch Sunday afternoon before church and took quite a bit more planning as we were going to be feeding at least fifty people. We had a crew of people helping with the cooking, babysitting our boys, and setting up and decorating the church.
We had many guests, who don't normally attend, come and participate. Again Shawn gave the history on why we celebrate Thanksgiving and what it means, especially for a Christian. Then the opportunity was given for anyone to share why they were thankful.
Many blessings were shared by both members and guests alike as we took time to remember and celebrate God's faithfulness over the past year. We also enjoyed an outreach service followed by a dessert bar. It was very busy and tiring, but we are excited to see what God will do with the seeds that were planted.
Shawn Green cuts turkey for the Thanksgiving meal.
Filed in: All posts