"The Church in Jubilee" – MCTT annual meeting celebrates freedom in Christ
Posted on October 28, 2012 by VMMissions Staff
The Mennonite Church of Trinidad & Tobago (MCTT) held its 28th annual general meeting, August 11-12. The theme, "The Church in Jubilee," reflected the national 50th anniversary of independence for Trinidad & Tobago. While the country celebrated freedom from foreign control, the church celebrated fellowship, worship, service and witness through freedom in Christ.
Fraternal guests, pastors and spouses and members of the General Church Council enjoyed dinner together in the Mennonite Church of Chaguanas on Friday evening. Warm fellowship abounded as persons shared together.
Arthur & Linda Campbell represented the Jamaica Mennonite Church (JMC) as delegates to MCTT's annual general meeting. Linda serves JMC as the acting president of JMC. In addition to bringing greetings from JMC, Linda preached in the worship service on Sunday morning.
On Saturday, delegates gathered in the Charlieville Mennonite Church to discuss various parts of the church's business; reports were interspersed with words of inspiration and songs. At the end of the meeting, officer elections resulted: Richard Keeler as president, Liza Raganooth as vice-president, Timothy Sam as secretary, and Daniel Moonsammy as treasurer for the General Church Council.
Sunday morning a group of almost 200 people gathered in the Hope Mennonite Church in Esperanza, where Pastor Navin Benny opened the service and a lively worship team led songs of praise. The church building has been in process for six years, and now it is a fine facility for a large group to gather for worship. The installation of Sis. Sheriza Sookharry was conducted by Overseer Ganese Gunpath. (see article below) Following the service, a fine meal was enjoyed by all.
Former president, Joseph Sookram stated, "Let's ask our God to kindle the fire in us and install the desire to shine our lights to bring honor and praise to our God." MCTT is headed into the new year, taking the joy of jubilee with them!
.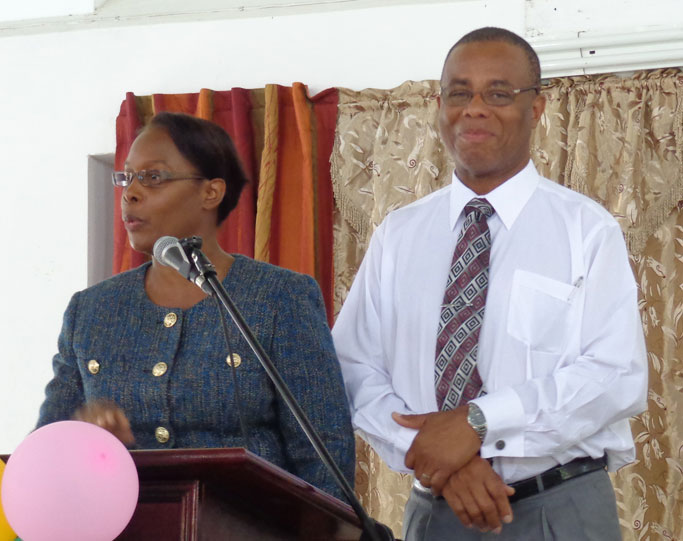 Arthur & Linda Campbell brought greetings from JMC to MCTT.
.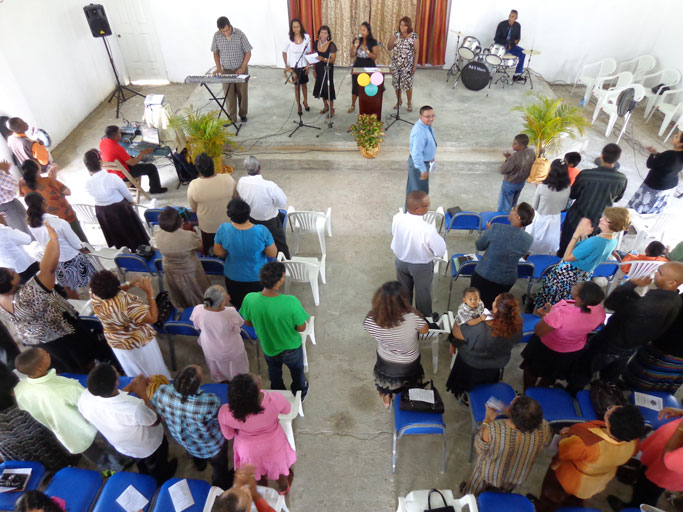 Members of all five congregations gathered for the joint service on Sunday morning in Hope Mennonite Church. Photos courtesy of Galen Lehman
.
---
Pastoral Mentoree installed in Trinidad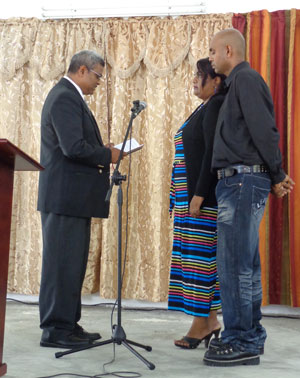 On August 12, during the joint service of the Mennonite Church of Trinidad & Tobago, Sis. Sheriza Sookharry was installed as the first female pastor mentoree of this conference.
Sheriza and her husband, Rajin, have served the Mennonite Church of Chaguanas as lay leaders for some years. Sheriza has experienced the call of God on her life, and she embraces the role of pastor for this congregation. Both Sheriza and Rajin are taking courses at West Indies Theological College this year to gain further training.
Two other pastoral mentorees, Ramon Goodridge of Sangre Grande Mennonite Church, and Ronald Latchman of Diego Martin Mennonite Church were installed earlier this year. Ramesh Jaimani has been named the mentor for the mentorees, and will coach each of them, especially in their role as preacher.
Caption: Rawl Gunpath, overseer of MCTT (left), installs Sheriza with husband Rajin. Photo courtesy of Galen Lehman
Filed in: All posts