In the desperate tedium of a large refugee camp, Casey DeYoung and her husband Russell obey the impulse to be the hands and feet of Jesus in Lesvos, Greece.
By Casey DeYoung
You never know when an unexpected and life-changing journey is about to begin. Mine began one winter afternoon, two years ago when my husband Russell mentioned an email he had just received from Virginia Mennonite Missions. It listed several short-term mission opportunities available for the summer of 2018, among them work at a refugee camp in Greece. Like most of you, we had been aware of this ongoing humanitarian disaster via regular news stories, often involving the deaths of those attempting to cross the Mediterranean from North Africa. We looked at each other and said, "We have to go!" We had no idea what God had in store for us, that we would be pushed to our physical and emotional limits.
The Greek Island of Lesvos is located only four miles from the coast of Turkey. Because of this fluke of geography, it has become ground zero for the European refugee crisis. Lesvos is the closest meeting point between Europe and Asia. The Aegean Sea provides an open area between Greece and Turkey that fills with dangerous rubber boats and rafts—the transportation of last resort for men, women, children and babies fleeing the war-torn countries of the Middle East and Africa.
The refugees are passing through Turkey; here they hire smugglers to get them across the open water, nearly always in the dead of night, so as not to be caught by the Turkish Navy and returned to Turkey, occasionally to be incarcerated. Once they climb onto the rubber boats they are on their own. The smugglers take the refugees' money (normally $1,000 per person), point to the lights on the coast of Lesvos, and shove them out to sea. As many as 50 people can be crammed onto a large raft designed for maybe a dozen. With luck, the boat will make it across. Normally, at least half arrive somewhere along the coast where they are picked up and transported to the camp at Moria. This is the camp where we worked.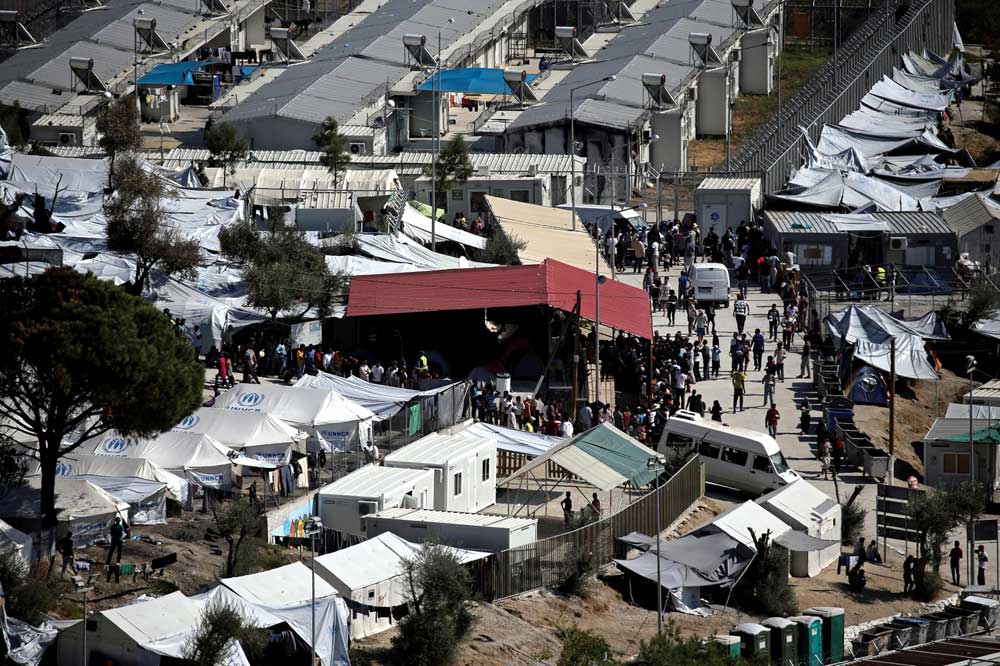 A view of the crowded Moria camp. Photo: UNHCR

The first thing that greeted us upon our arrival at the gates of Moria on a scorching day in August was the smell of open sewage flowing under a grate at the gates to the camp. The gates are guarded by the Greek police and our VMMissions team had to show our ID badges to enter. The camp is spread across a former Greek military base, one square quarter mile with a steep hill in the center. Now crammed into this space—designed to hold 2,500 people for only several weeks—were 12,000 people, trapped there for months, sometimes over a year. Tents and storage units called ISO boxes, which would be uncomfortably small for a normal-sized family, routinely housed three families each.
We were entering a world where we would feel sorrow, joy, rage, exhaustion, frustration and happiness, all in a matter of a few hours. Every day. I have never felt more strongly that every minute we were trying to be the hands and feet of Jesus.
The first thing I noticed was something I wasn't expecting in such an overcrowded facility: the smiles. I was nervous and seriously questioning the wisdom of choosing this as our mission—so many people, so little space! However, as we made eye contact and simply smiled at people, the smiles were reflected tenfold. How could this be? In this sweltering heat, surrounded by chaos and constant noise, how could there be such smiles? These were the gifts we received every day in camp, a testimony that joy can be found even in such dire circumstances.
The camp's atmosphere was permeated by a sense of utter boredom. There is simply nothing for people to do. Everyone is waiting. Waiting for papers from the Greek government allowing them to resettle in Athens, waiting to see a doctor, waiting in long lines three times a day for meals. Waiting with no end in sight. Just waiting.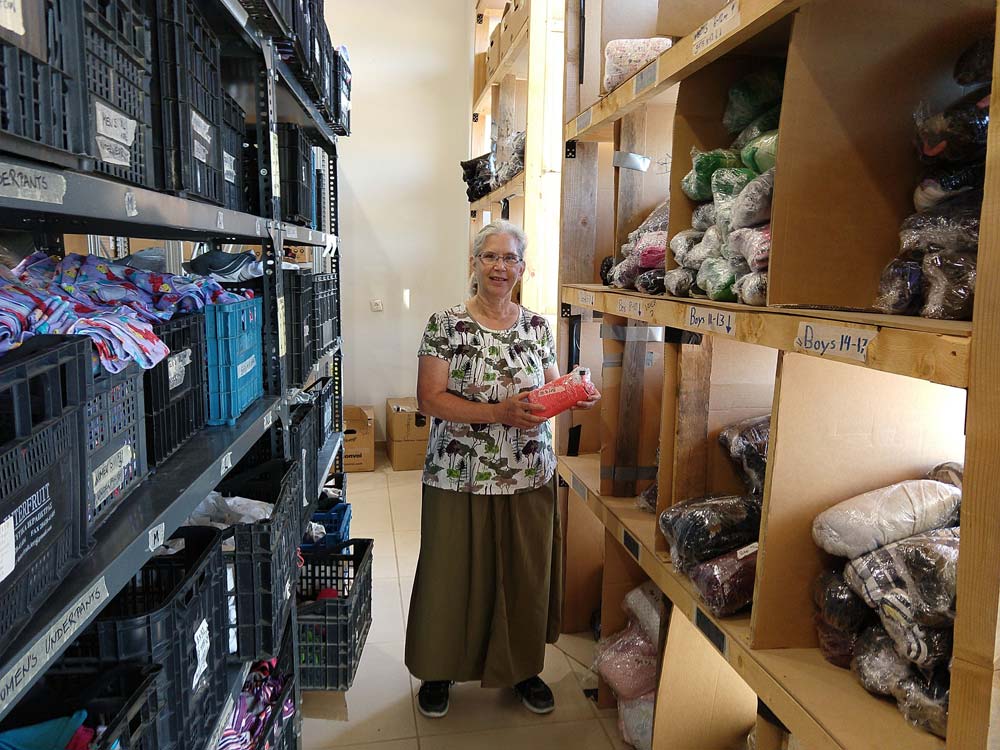 Marian Buckwalter holds a "burrito" clothing roll to be given to a new arrival at the camp. Courtesy of Marian Buckwalter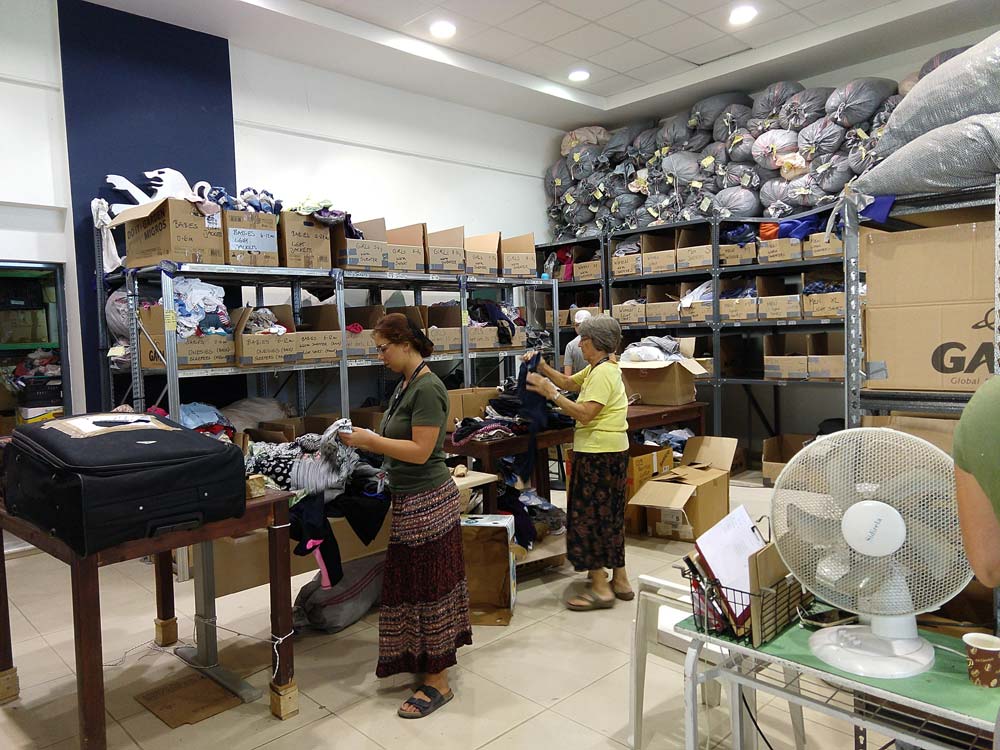 Martha Clymer (right) and another volunteer sort clothes for refugees in the warehouse onsite. Courtesy of Marian Buckwalter

Because Moria was never meant to be more than a brief transit camp, there are no facilities for the children, no play area—much less schools—and there are hundreds of young children running all over the camp with nothing to do.
Because of the sheer number of refugees, every day was different for the volunteers. What sorts of things did we do? We built tents and helped people move into them, distributed moving supplies, fed people, handed out clothing, made counts of the constantly changing camp population, helped people fix issues with their ID cards—the list was endless.
By far the most difficult part of working in the camp was constantly having to say no to perfectly reasonable requests. "Can I have a larger tent?" "Can I have an extra blanket?" "Can I have more water?" "My shoes have been stolen!" "My sleeping bag has been stolen!" "I need more diapers!" Because the supplies are mainly controlled by the Greek government and the United Nations, we simply had no capacity to address the simplest requests. It was beyond frustrating. We wore bright red vests in camp that identified us as volunteers; sadly, these vests implied an authority that we didn't have.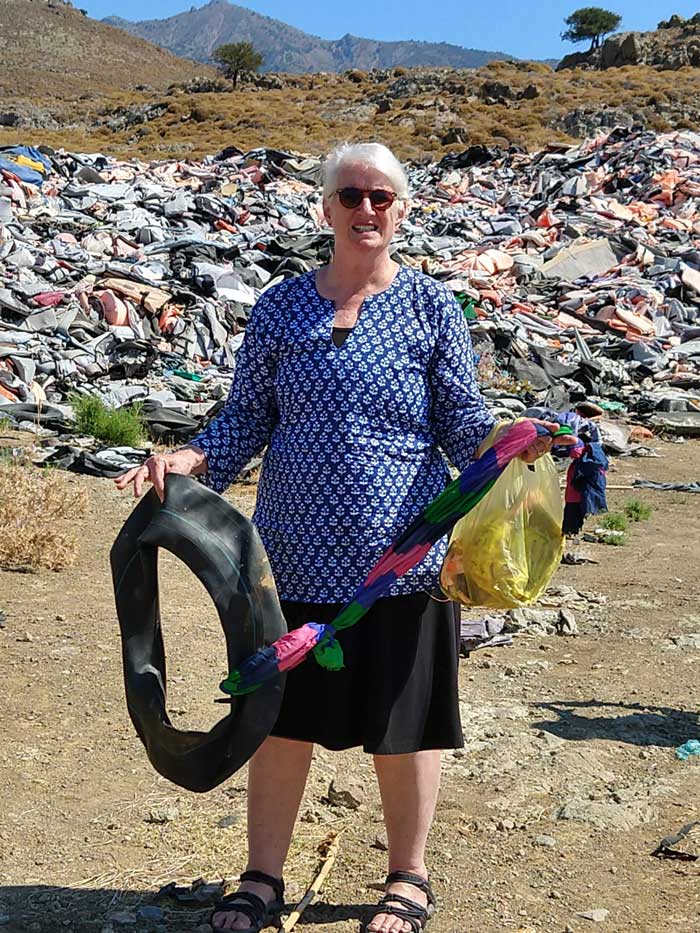 The author with a scarf she found tied to an inner tube in the junk heap. What story would these items tell? Courtesy of Marian Buckwalter

I asked two members of our last team what their most powerful impressions were. I was not surprised by their answers. Marian Buckwalter spoke of the beauty, resilience and dignity of the women. Martha Clymer commented on the gratitude expressed for the smallest things, such as a bit more room in an overcrowded tent. Many of the women wore lovely burkas—which covered everything but their eyes. But as Martha reminded us, "You can smile with your eyes."
Russell and I returned to Moria for the third time in January. When people ask why, I must answer, "Because I have never been in a place where I felt so strongly that Jesus would be." It is a great privilege to serve these people, one for which we will be forever grateful.
Filed in: All posts, Transforming