Orientation for tranSenders held at VMM
Posted on July 23, 2013 by VMMissions Staff
The morning of July 9, tranSend participants gathered in the Virginia Mennonite Missions conference room along with the VMM staff, providing a time of getting acquainted with each other. Park View Federal Credit Union brought a full breakfast for everyone to enjoy; PVFCU holds the accounts for all the workers who serve through VMM.
Orientation for service is multi-faceted; it includes heart, mind and soul. Each morning Kevin Clark led the group in "Soul Care" where the participants listened for God's voice in silence, watched for Him in nature, and walked the prayer labyrinth at Eastern Mennonite Seminary. Reflections on what God said to them in the various settings encouraged the participants to seek Him heartily.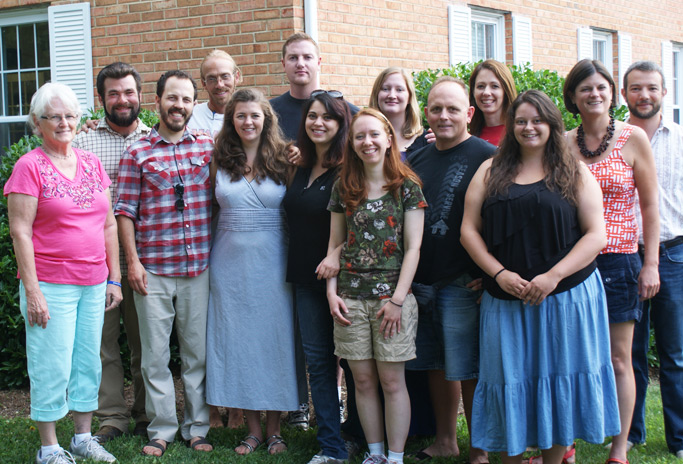 From left: Sandra Candle, Jonathan Cannone, Robert Russo, Joel Dollarhite, Jessica Russo, Adam Strode, Valentina Pastoressa, Chelsea Kobylarz, Jeanette Strode, Vince Ramella, LaVonne Ramella, Casey Johnson, Cindy Moyer, Martin Rhodes, short-term missions coach.
---
Input sessions included "Trends in Mission" by Loren Horst; "New Testament Theology of Missions" by Linford Stutzman, EMU Bible professor; "Becoming Apprentices of Jesus" and "Being Sent in the Way of Jesus" by Skip & Carol Tobin respectively; "Becoming 3rd Culture People" by Janet Blosser; "Worldview and Cross-Cultural Communication" by Carolyn Stauffer; "Apostolate to the Poor" by Ron Copeland; "Prayer" by Ken Horst; "Facing Stress & Trauma" by Mary Thiessen Nation; and "Anabaptism & Mission" by Mark Thiessen Nation.
The group went to Rocky Hill Stables and heard Barbara Robbins describe "Transforming Conflict." Each day the group enjoyed lunch in various ethnic restaurants, expanding their food tastes.
Wrapping up the orientation experience was a 24-hour retreat, July 17-18, at Highland Retreat where newly-appointed workers and long-term workers joined together for rest, restoration, worship and meditation. This opportunity to "come apart and rest a while" was welcomed by these persons who have many details to accomplish as they prepare for service. They are remembering that God is their source of strength for every circumstance.
One of the participants remarked on how broadening the orientation experience was—truly enlightening and invigorating as God's plan is sought and followed.
These persons are commissioned at Virginia Mennonite Conference assembly on Friday, July 26, during the worship service. Read their blogs, pray for them, send them encouraging e-mail messages, support them with financial assistance—in these ways you are partners with them.
Filed in: All posts