Twinkle's journey: The education of a Kalinga missionary in the Philippines
Posted on April 4, 2015 by VMMissions Staff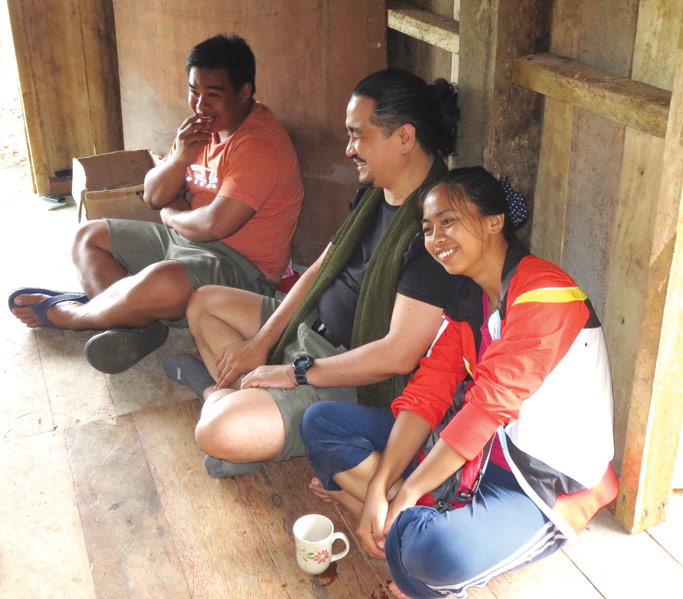 Twinkle (right) in Kalinga with her mission mentor Rev. Daniel Pantoja (center), during a time of fellowship with her newly-organized mission community. Photo: Bryan Jay Nahag Paler
.
When she was five years old, Twinkle Algag Bautista gazed at the sun's rays and wondered "Where is this? Where is my homeland? Where is Kalinga?" In school, she learned the history and folklore of Manila and Southern Luzon, the homeland of the Tagalog tribe, who hold most of the political power and cultural influence in the Philippines.
But she was taught very little about the culture of her own people, the Kalingas of the mountainous Cordillera Region of Northern Luzon. Even at her young age, she began to realize that she and her people did not fit the standard Filipino archetype, and later she would learn about the perpetual subjugation of the Kalingas and other Cordillerans by the national government; the despoilment of their territories by Manila-based logging and mining corporations; and the national prejudice against Cordillerans, whom lowlanders often dismiss as headhunters and savages.
She would understand all of this with time, but at age five what she felt most acutely was exclusion and shame. She felt the brokenness of the Cordilleran situation, and she knew that she wanted to work to help people.
Twinkle's early missionary zeal persisted through her teenage years, as did a sense of inferiority regarding her Cordilleran identity. She was seventeen before, as she says, "I fully embraced my identity as a Kalinga without the shame." She attended university far from home in Manila, where her classmates often derided her Cordilleran heritage, sometimes calling her a monkey. After receiving her Bachelor of Arts degree in Journalism, Twinkle returned to Kalinga and took a position at the Cultural Heritage Research Center of St. Louise College.
Still, she dreamed of serving her Cordilleran sisters and brothers through a more holistic ministry. She wanted to work not only for the preservation of Cordilleran culture, but also for the economic, spiritual, political and social renewal of her people. She was constantly asking "Is what I'm doing part of Jesus' plan for the world?" and she realized that she needed to find a Christ-centered framework for social activism.
.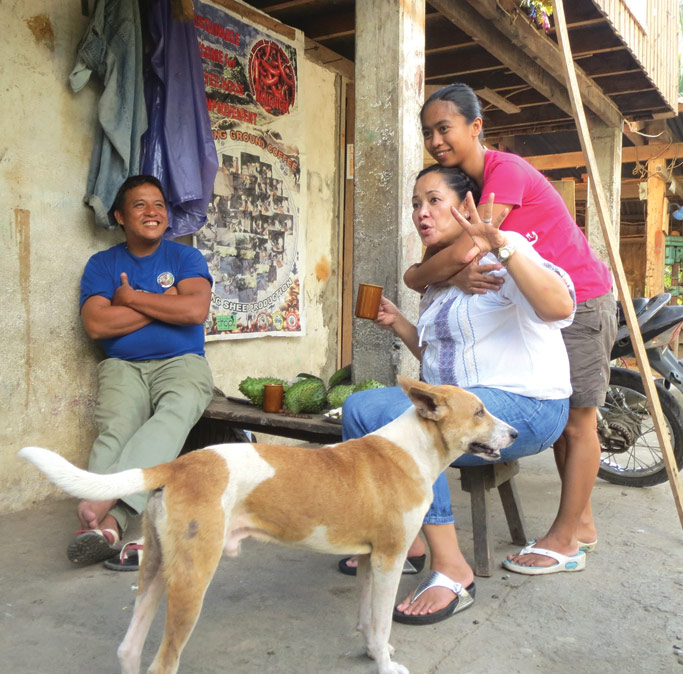 Twinkle embraces her mentor, PeaceBuilders' co-founder Joji Felicitas Bautista-Pantoja. Photo: Jonathan Cranston
.
In May of 2011, at the Christian Development Center in Tagaytay City, Rev. Daniel Pantoja, CEO of PeaceBuilders Community, Inc. (PBCI) was preparing to lead a group of young social activist leaders in a training program covering PBCI's Peace And Reconciliation (PAR) philosophy of mission. He had carefully screened and vetted every one of these youths, and was satisfied of their potential to be influential agents for justice and healing in the Philippines.
Then, shortly before the program was to start, a colleague and friend of Rev. Daniel asked, as a special favor, whether she could add one more name to the enrollment list. For the sake of his friend, Rev. Daniel grudgingly assented, and Twinkle was the last-minute addition. She showed up to the training program wearing high heels and the attire of a Filipina professional – a sharp contrast to her classmates, who included several young men with bandanas, long hair, and earrings, advertising their self-identification as social revolutionaries and radicals.
But far from being out of her element, Twinkle dove into the program material with enthusiasm, and soon impressed Rev. Daniel as a particularly perceptive and creative thinker. Twinkle wholeheartedly embraced PBCI's PAR framework for mission, which is based in an Anabaptist conception of Christ's commission to His followers. The PAR framework elevates social justice, peace, environmental stewardship, and the inherent value of every tribe and nation, along with the reconciliation of human souls to Christ.
In PAR, Twinkle found the model of holistic mission for which she had been searching.
She also found mentors in Rev. Daniel and Joji Felicitas Bautista-Pantoja, his wife and mission partner. Twinkle applied and was accepted to a two-year internship with PBCI in Mindanao, where she came to value the Pantojas' counsel and guidance, and finally to think of them as a second set of parents.
Twinkle has galvanized her entire extended family network.
Today she calls them "Ama" and "Ina," (Mom and Dad) and they call her "Anak" (our child). Under the Pantojas' mentorship in Mindanao, Twinkle acquired training and experience in community organizing, livelihood program development, conflict mediation, response to armed struggle, and many more skills for spiritual, social, political, economic, and ecological mission. She is now using these skills in her home province as the organizer of the new Peace and Reconciliation Kalinga mission community.
In bringing the PAR framework and training home to Kalinga, Twinkle has galvanized her entire extended family network. Her mother, grandmother, aunts, and cousins, along with many of their friends, are united and working towards the PAR vision of transformation in their province­—a vision of Christ-centered mission which includes the restoration of the Kalingas' pride in their culture, so that in the future, Kalinga children will not feel the stigma of exclusion from the story of their country.
.
---
From Transforming, Spring 2015, one of a series of articles highlighting tranSend.
Filed in: All posts, Transforming