Updated COVID-19 Office & Event Policy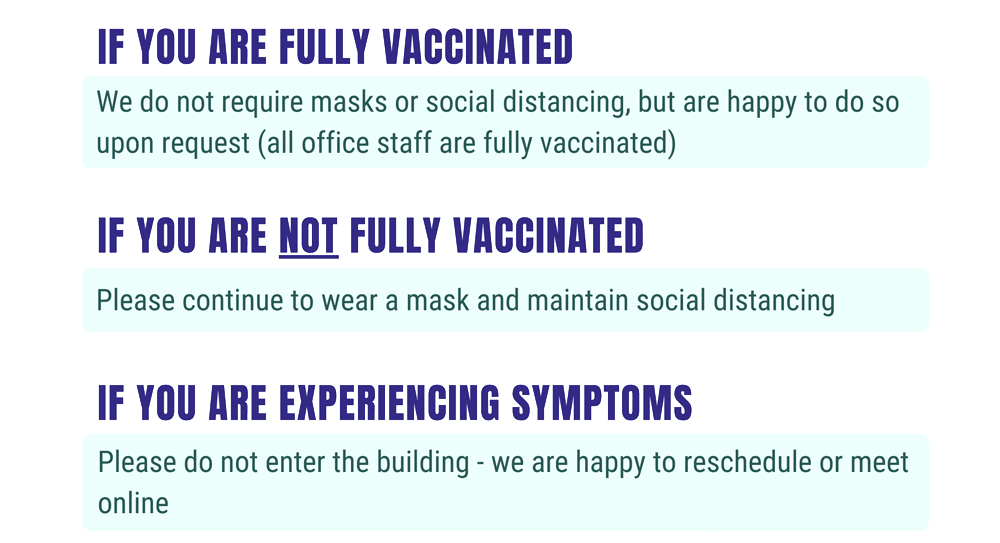 As of May 24, 2021, all office staff and tenants at VMMissions are fully vaccinated against COVID-19 (defined as 2 shots plus 2 weeks, or whichever schedule is recommended for the specific vaccine received). In accordance with updated guidance from the CDC and the Governor of Virginia, VMMissions is no longer requiring fully vaccinated staff or visitors to wear masks or maintain social distancing. Our office will implement disinfection protocols as deemed helpful for the health of those using our facilities, and otherwise will conduct routine cleanings as scheduled.
We ask that all staff and visitors, even if vaccinated, make a point to accommodate requests to wear masks, socially distance, meet outside, or otherwise adjust office protocol for the sake of the comfort, health or safety of others. Whenever possible, we ask that visitors who desire such accommodations communicate their preference ahead of their visit.
For visitors to VMMissions' building or events who are not fully vaccinated against COVID-19, we continue to require masks and social distancing for the comfort and safety of others who may be vulnerable to transmission.
If you are experiencing symptoms of respiratory infection (fever, coughing, shortness of breath, etc.), regardless of whether you suspect they are due to COVID-19, we ask that you do not attend VMMissions' building or events in person.
VMMissions may review and amend this policy as deemed necessary for the safety of our staff and visitors.