What Do Motorcycles Have to Do With Mission?
Posted on July 18, 2022 by VMMissions Staff
"It started out as a big hairy idea," said Pastor Tim K.*
That "hairy idea" was to turn a fun annual motorcycle ride to summer assembly into a meaningful community building activity that also raised funds to support the work of VMMissions.
Ten years later, that idea that started at Powhatan Mennonite Church has now raised nearly $115,000 to support the mission of VMMissions to "equip the church to share new life in Christ with neighbors near and far."
This year's tenth anniversary ride broke records. Registrations and sponsorships this year raised a record $18,875! Riders from 15 different congregations and three different denominations made up a record number of 25 riders along with five passengers for two beautiful days of riding. We covered over 400 miles of Virginia and West Virginia on a route designed by Lowell Haarer, and led by Ed Lehman.
Haarer has been on every ride since its inception, and remarks, "I just can't get over the fact that we get to do this amazing ride and people give us money for missions! It's awesome!"



After the first day of riding, bikers and friends gathered at Mt. Clinton Mennonite church for a meal and a time of worship with an address by VMMissions president, Aaron Kauffman. "What do motorcycles have to do with mission?" Kauffman asked. "Quite a lot actually!" Kauffman pointed out how motorcycles are a primary mode of transportation for ministers of the gospel in much of the world.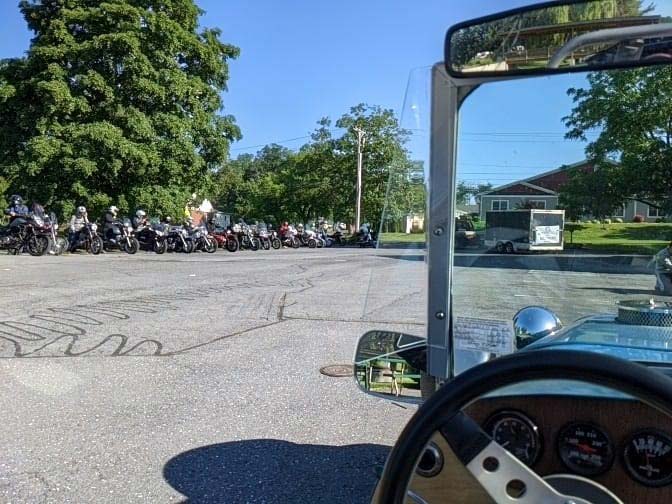 This statement was backed up by VMMissions workers in Thailand, Steve Horst and Bethany Tobin, who also shared about their work at the Friday evening program. They have a family "mo-sai" (Thai word for motor scooter) that carries them around the Life Enrichment Church, house church network.
VMMissions is grateful for partnerships like this one that allow us to recruit, train, send and support 60 workers into the harvest fields in 13 countries around the world. Kauffman said, "Without the support of events like Motorcycles for Missions, none of that work would be possible. Thank you, from the bottom of my heart."
* Last name withheld by request.