Worker Profile: Mark and Sarah Schoenhals
Posted on May 4, 2020 by VMMissions Staff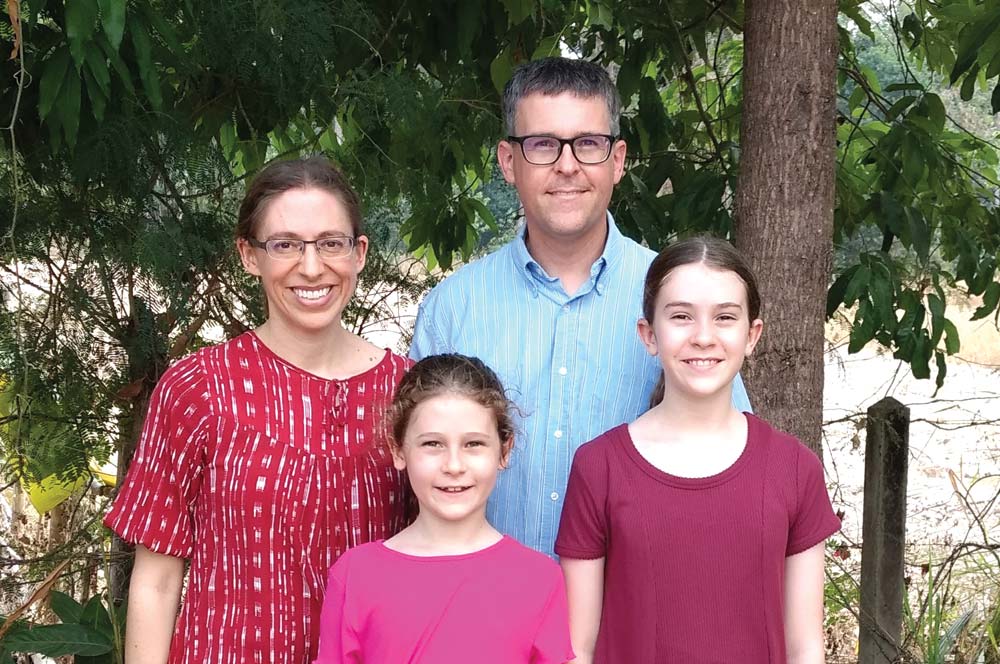 Sarah and Mark Schoenhals with daughters Hannah (left) and Heidi. They have served in northeastern Thailand since 2009, in partnership with Eastern Mennonite Missions. Courtesy photo
Worker page
Service program: transForm
Assignment:
We serve with Life Enrichment Church (LEC), a network of house churches in a wide rural area, with the goal of multiplying disciples of Jesus and house churches. We help disciple new believers, train emerging leaders, and advise and help sharpen the vision of existing leaders.
Biggest challenge:
Managing multiple schedules and a long and diverse list of responsibilities always keeps us on our toes! There are always surprises in ministry. This, in addition to living in a very spontaneous culture, means that we can expect to encounter the unexpected any given day. We frequently need to regroup, rearrange, and make challenging decisions about how to prioritize our time.
Biggest joy:
Our biggest joy is seeing lives transformed by the Lord Jesus! Sometimes, we see baby steps, other times, massive turn-arounds. In our current term, a particular joy has been to walk alongside a family as they have found freedom from addiction and other forms of bondage. They now have loving family relationships, new priorities, and readily give themselves to mentoring, evangelism, and other forms of ministry. They are increasingly able to lead in the church. It gives us great joy to see people walk into healing and freedom that only Jesus can give.
A typical day:
The most predictable part of our days includes schooling routines, with one child home schooling and one in a local Thai school. In the evenings our family exercises at a local park whenever we can. Beyond that, our days may include worship in various locations, discipleship meetings, lengthy church meetings (with relationships prioritized over agenda), visiting people at their homes, responding to emergencies, house work, office work…or preparing for any of the above. We travel frequently. That fact combined with Sarah having numerous dietary restrictions, necessitates spending a lot of energy on planning for meals, travel, etc. We take advantage of the early-to-bed schedule that is still largely the norm in this mostly rural area. Morning and evening times of Bible reading and prayer—either individually or as a family—are our lifeline!
Filed in: All posts, Transforming