You can tell the Christmas story, even if you can't hear
Posted on February 27, 2013 by VMMissions Staff
Sunday, December 16, the hill of Top Hill in the rural parish of St. Elizabeth was filled with mothers, fathers, aunts, grandmothers, and the students and teachers of Maranatha School for the Deaf. The annual Christmas program brought people from near and far, and both hearing and deaf persons attended.
VMM worker Eve Knepp worked with the other teachers and the students to prepare a program of interest to this variety of people. She led the youngest students in "The Little Drummer Boy," (they did the 'pum, pums' on oatmeal boxes hung on string around their necks—very creative!) She also led them in singing the Jamaican traditional carol "Little Donkey."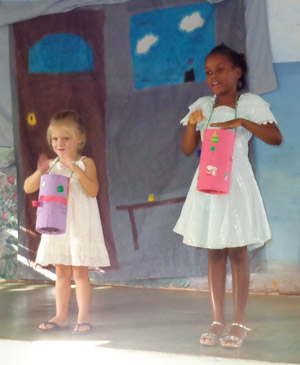 Paulette Dennis, teacher, led Level 5 (ages 13-17) in "O Come, O Come Emmanuel." Verica Senior, teacher, led them in "O Holy Night" which was done expressively. Angie Alexander, teacher, led the Level 3 & 4 students (ages 10-12) in signing "Go Tell It on the Mountain" which was quite upbeat.
Most of the students were involved in the Christmas play, "The Brand New Star" directed by Eve Knepp. It had all the features of the Christmas story enacted by the students including a donkey on which Mary 'rode' to Bethlehem. The students were sheep, angels, shepherds, wise men, and the climactic moment came when the lit star moved across the front of the chapel as the wise men followed (due to Rodney Knepp's ingenious rigging!)
Sponsors of the Maranatha students sent Christmas gifts for them, and Gloria Lehman had the privilege of handing them to the recipients. Big smiles, hugs and signing 'thank you' demonstrated how excited the students were to receive these tokens of love and care. Thank you to all the sponsors for your generosity in sharing with the students.
After a three-week holiday break, school is back in session with daily learning, playing, and growing together. Thank you for praying for this unique place where Christ's love is shown every day.
Filed in: All posts