Bethany and Steve desire to enhance their evangelism and discipleship ministry among Isaan migrant workers in Bangkok, Thailand, by again bringing a team together.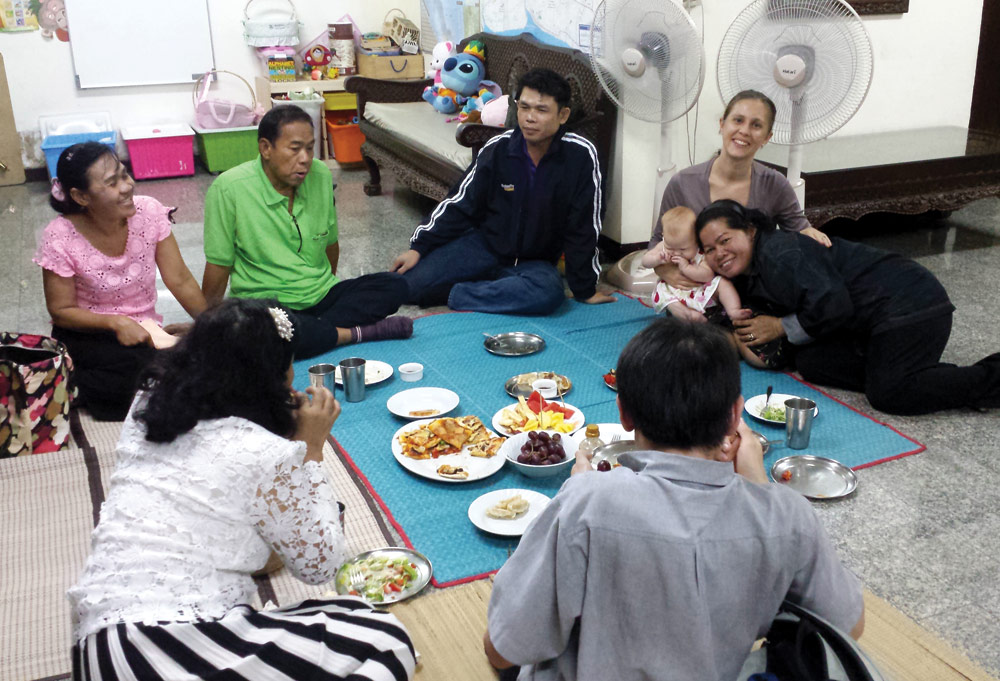 Steve and Bethany's Isaan friends help with evangelism efforts to share the Good News with other Isaan people over pizza at the Horst's home in Bangkok. Photo by Steve Horst

By Bethany Tobin
Some days we feel like we are always working and other days we feel like we are never working. It takes a lot of intentional focus to live in a state of availability to God's Spirit, and yet to not base our identity on what tasks we do (or some days, do not do).
It is no wonder then, that mission's dual foundation of absolute rest in the love of our Father and absolute commitment to the will of our Father is best maintained in community. How can we balance these things without others holding us accountable, worshipping with us, encouraging us, and making the logistics of ministry possible? How can mission be sustained unless many hands hold up many arms in turn?
That's why a team isn't just group of friends, it is gathered together for a purpose and has a goal—a goal that requires both being and doing!
Team has been our heart's hope and prayer since we started sensing a call to mission.
Steve had very positive experiences of team ministry in his previous service in Kazakhstan and Albania. There was a synergy of personalities, the ability to sustain ministry focus even in challenging situations, and all the while, team provided a foundation of rest and fun and family. Bethany on the other hand, had a taste of an effective team in ministry, but with painful conflict and struggles being an extended 'family' together.
We both longed for the intimacy of sharing the ministry journey with others and hoped for an older couple to mentor us. We counted it as a confirmation of our call to Thailand that there was another young family soon to join us in Bangkok.
Our team was together for one challenging year and a half; then we faced the disappointment of parting ways. But we were together long enough to taste the exhilaration of deep spiritual friendship and the bonds that are forged in the midst of difficulty. We also experienced the bewilderment of disagreement, long hard conversations and the challenge of bearing with each other in our failings.
Looking back, I am so blessed by the way our teammates showed their love for us by working at having fun together. If we share the tricky conversations and the work load, we also must laugh and rest together! Their sense of humor was truly the best medicine!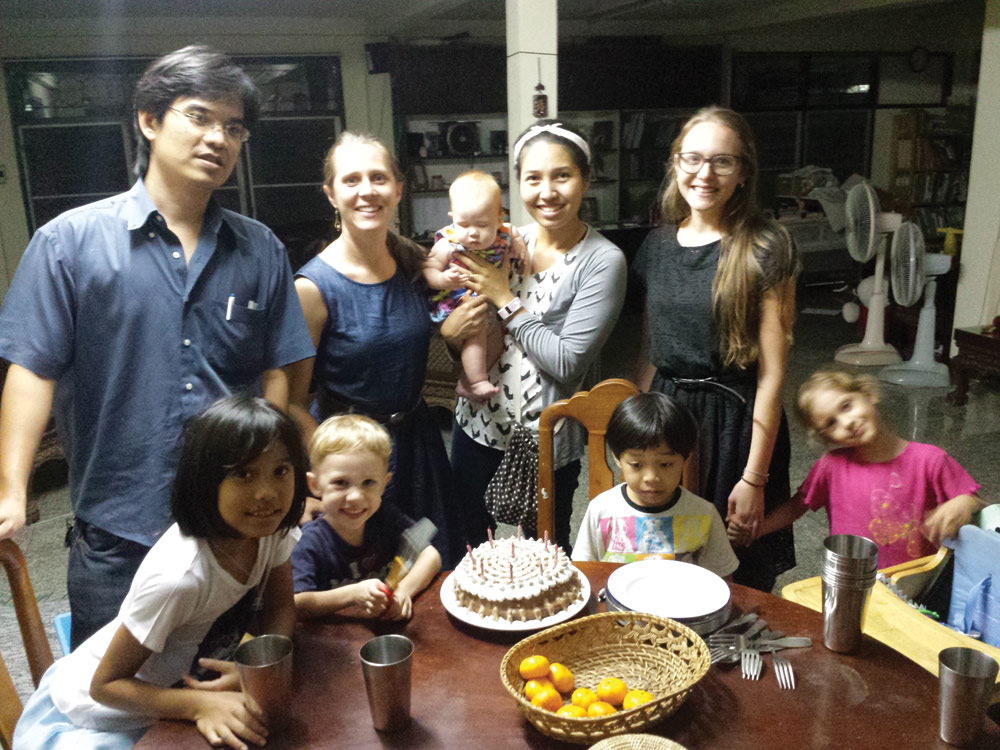 P Terng and B Boey at Bethany's birthday party. Courtesy of Bethany Tobin.

Now we are "on our own" here in Bangkok and that has been hard. The first call in this journey is to give up our selfish need for self-pity and instead open our eyes to what God is providing. With eyes to see our Father's goodness we find companionship popping up in unexpected places.
We have friendship and favor with an unlikely array of Thai believers. While none of these friends are committed to the same ministry, we do find God using them to play a part in God's vision in timely, even miraculous ways.
Like the day God mobilized an all-star Isaan evangelism-prayer-hospitality team to spontaneously land on our doorstep when we were doing a pizza party to share the gospel with a neighbor.
Or the humility of Khun Koch, a Thai-Chinese academic who shows his Christ-likeness by awkwardly climbing out of his wheelchair and sitting on the floor to eat fermented fish with Isaan migrants.
There's Uncle Whit's rambunctious roughhousing with our children, and P. Terng and P. Boey's parental commiseration and gastronomic escapades.
We must admit it feels haphazard and too irregular to count on some days. Sometimes we long for the cut and dry commitments—a community held together by contract! And maybe someday we might have more of a concrete team, but in the meantime, perhaps the typical Asian dynamic of being intentionally informal and lighthearted in these relationships teaches us Westerners—so prone to self-seriousness and task-orientation—the importance of holding it lightly, going slowly and making sure it's always filled with fun.Perhaps it also teaches us that before you can really capitalize the letter T in team, it must be undergirded by a real experience of trust, and not just a paper MOU.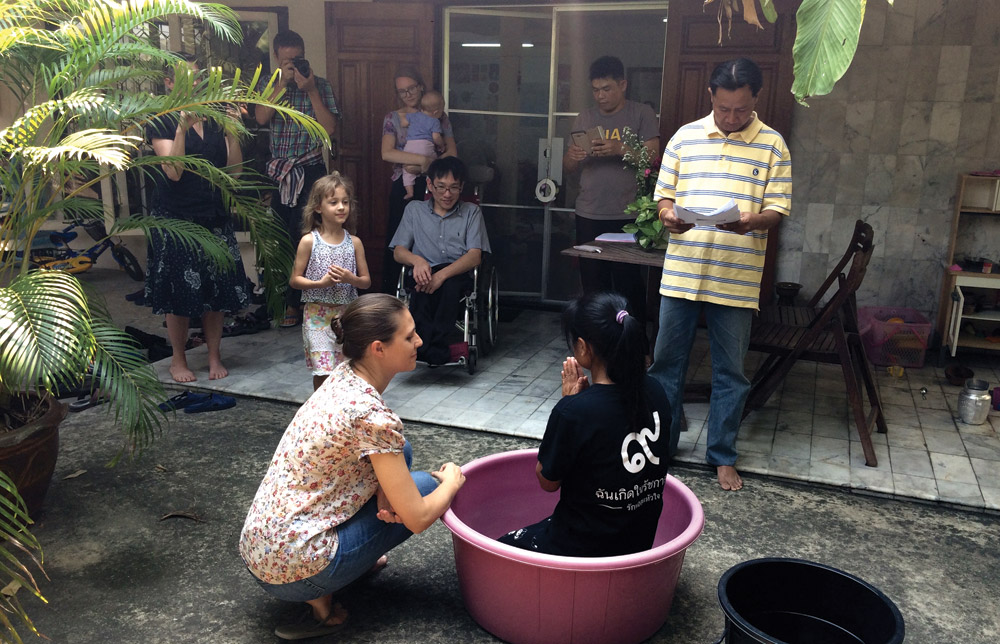 The baptism of P Jan, with P Jaa officiating, and local partners Khun Koch (seated) and P Ehk (standing) joining in the celebration. Also pictured is the author (kneeling), her husband Steve Horst and their two children, and Jessamyn Tobin. Photo by Lynn Suter

In many ways, this mirrors the mission invitation that God holds out to us as part of God's family: To always live in the pleasure of simple relationship, while also always being available and at God's disposal to do the work of the family. Sons, not slaves.
This is where we first see the concept of team, of God's family in action, modeled. We are those little children whose Father stands with them at the sink and makes a game out of teaching them to wash dishes. We are those little children who sing with their daddy while he gives them a bath.
It is team life on this foundation that we are building within our family and want to invite others into. Anyone want to join us?
Bethany and Steve serve among Isaan migrant workers in Bangkok, partnering with the Life Enrichment Church. They serve in partnership with Eastern Mennonite Missions.
Filed in: All posts, Transforming