Call to Prayer: Can prayer make your family unique?
Posted on July 5, 2019 by Jon Trotter
By Michael and Ruthy
Recently we were doing a family activity of identifying the three words that make our family unique. Along with other words such as the country where we served, and adventure, our 7-year old contributed that "we pray about where to go."
Growing in prayer is one of the most significant things that defines our past ten years of life and ministry. Our experiences in prayer have changed us and marked us in ways that will impact us for the rest of our lives. We want to teach and train our children how to live a life of prayer, where the default in every situation and circumstance is to draw near to God and listen and watch for his words of comfort, discipline and guidance.
Our priority on prayer is guided by clear biblical principles. We emphasize the fact that God hears our prayers and that we can hear from him. We read in 2 Chronicles 20:12, "We do not know what to do, but our eyes are on You." In listening to the Holy Spirit we are connecting with the one who is always faithful and good, full of grace and truth.
But principles are not enough; we need to practice. We realize that obedience is required. The obedience of praying: listening, asking and believing for the things God shows us. And the obedience of action: doing what God tells us to do.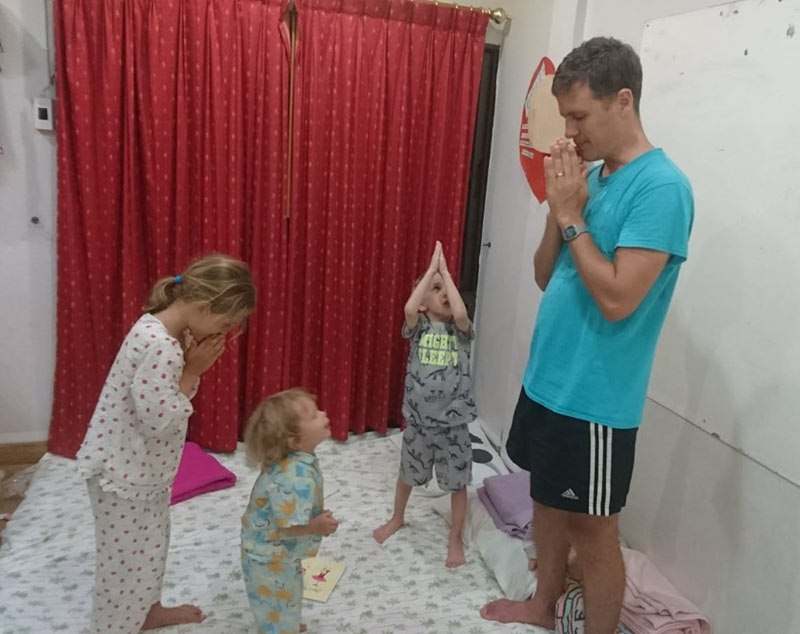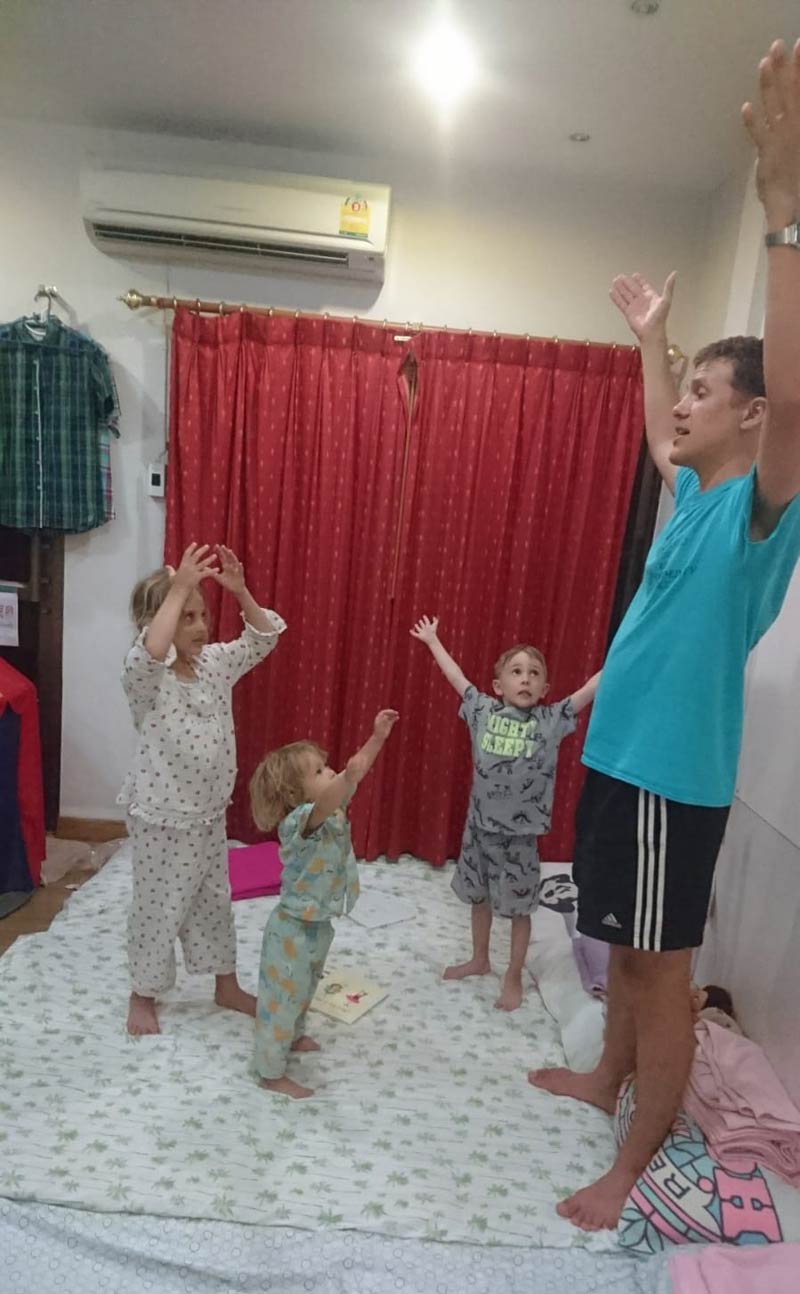 Steve Horst leads his children in expressive prayer practices that he and his wife Bethany have used to develop the family's prayer life. Courtesy photos

We are spurred on as we hear the stories of others who have lived lives of prayer and as we hear testimonies of God's answers to prayers for physical and emotional healing, financial provision, relational reconciliation and guidance from the Holy Spirit. Here are a few family-friendly prayer ideas that we have used to develop our family prayer life:
Pray using a map
Wall or floor maps are great, the bigger the better! Prayers can be written on sticky notes and placed on or around the map. Alternately, toys or objects (readily available in a basket) can also be placed on the map as prompts for prayer.
Draw pictures
Use a poster board and allow every child to add their picture/prayer. Pictures make it easy to go back and review things for which you have been praying.
Use starter prayers
Have some kind of short phrase that is the beginning of a prayer, i.e. "Lord, I bless ___ with …" Let the kids fill in the rest.
Set times to only praise/bless
Such specific parameters can help children to understand that prayer is more than asking. Blessing prayers also underscore the issue of our authority in Jesus as we pray.
Gather and distribute prayer requests
Choose a means of gathering requests. Write them out, mix them up and pass them out. Every individual or cluster then prays for the request they have received. Additionally, if prayers pertained to a particular person, short follow up notes of encouragement can be sent.

Research and pray
Have children do some research on a specific social reality or people, and pray out of what has been learned.
Make it an everyone plays ball game
Identify a prayer topic. Allow one person holding a ball to pray and then toss the ball to the next person, etc. This is a great way to get the introverts speaking out loud!
Act out prayers
Physical acts can help us to focus, and can bring a prophetic dimension to our praying. Examples: pour out perfume or water, construct or break things (with Legos), do actions with your body, walk to certain places…
Sing and dance
Prayer and physical expressions of worship are intimately linked. Emphasize freedom of voice and movement.
Adapted from: Children Can You Hear Me: How to Hear and See God by Brad Jersak and Eyes that See and Ears that Hear by Jennifer Toledo

Having completed ten years of service in South Asia, in partnership with EMM, Michael and Ruthy and their family are discerning future ministry.
Filed in: All posts, Transforming