My Coins Count
Pictured above: Gilchen Michele Garrido Davalillo with her family. They are refugees from Venezuela and were helped by the Quito Mennonite Church. MCC photo/Annalee Giesbrecht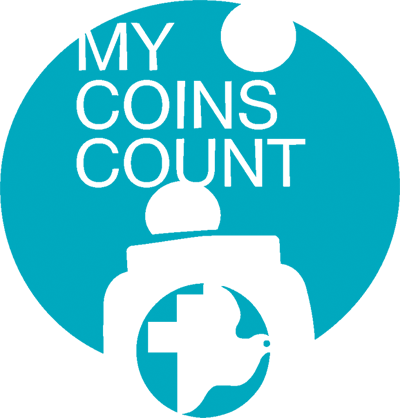 CARING FOR NEIGHBORS
Help local and global neighbors by filling water jugs with coins!
Downloads

(Poster – press version) (Poster – high resolution) (Poster – standard resolution)
VMMissions Project: REACHING IMMIGRANT COMMUNITIES
Harrisonburg, Virginia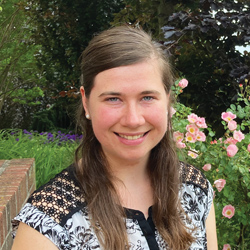 In partnership with Iglesia Esperanza de Vida and Iglesia Menonita Monte Moriah in Harrisonburg, Va., Hannah Shultz uses her fluency in music education and Spanish to share Jesus and practical disciple-making strategies with children and their families. One area of particular focus for Hannah's ministry is equipping youth with music skills for active participation in the worship ministry of their churches.
C. Farah Grace (name changed) serves as a Marketplace Worker, sharing the love of Jesus with Harrisonburg's Arabic-speaking community. She is a gifted evangelist and walks closely with families and women in their difficult histories of loss and trauma.
Yacoub Rasul (name changed) is an Egyptian church planter who serves Harrisonburg's Arabic-speaking community, a partnership with Faith Community Church's focus on diaspora ministry among immigrant communities. An important part of culturally-appropriate ministry in these communities is regularly giving and receiving hospitality, including participation in the birthday parties of children in these networks of relationships.
VMMissions' My Coins Count funds will be divided between Hannah's ministry in Latino congregations and the hospitality ministry of Farah and Yacoub as they are gracious hosts and guests among their Arabic-speaking neighbors.

MCC Project: PROVIDING CARE FOR REFUGEES
Ecuador
In Ecuador, Quito Mennonite Church supports local refugee and migrant families by providing all kinds of assistance, including food, medical support, hygiene items, stoves and blankets.
$40 provides rental assistance for one family
$150 covers the church's monthly cost of diapers and baby items for refugee families
$200 covers the church's monthly cost of mattresses and blankets for refugee family.
MCC's My Coins Count funds will help Quito Mennonite Church provide assistance to the refugee and migrant families in their own community .

What is My Coins Count?
My Coins Count is a fun way to raise money for projects of Mennonite Central Committee (MCC) and Virginia Mennonite Missions (VMMissions). It is the program formerly known as Penny Power. Funds raised will be shared evenly between VMMissions and MCC.
Collect coins in a container in your church, school, home or business. Tape the label onto a jug, jar or can. Blue water jugs are the most popular option, and can be picked up at Virginia Mennonite Missions, 601 Parkwood Drive, Harrisonburg, Va. After the relief sale, keep your jugs for next year, or collect for My Coins Count throughout the year!
Bring the containers to the Virginia Mennonite Relief Sale on Friday evening or no later than 9 a.m. on October 7 at the Rockingham County Fairgrounds near Harrisonburg. The coins are sorted by volunteers and counted in machines from Park View Federal Credit Union, whose staff calculate the total value of each congregation's coins. Currency and checks are also welcome.
Checks should be made payable to "Virginia Mennonite Relief Sale," designated for My Coins Count. Put checks in your congregation's jug or bring them by 9 a.m. to the counting shed beside the main auction building.
How can we promote it?
Here are just a few ideas:
Designate My Coins Count as the offering project for Sunday school classes or Vacation Bible School.
Have a special church fundraiser for My Coins Count.
Highlight My Coins Count during your Sunday morning worship service. This could be every Sunday or just once a month.
Have children fill a small container with coins at home, then give them a reward for each full container of coins they bring to church.
Match the amount of your church's contribution! Match $250, $500, $1,000 or the whole amount your congregation raises. Make it a contest!