Motorcycles on the road for missions
Posted on November 5, 2013 by VMMissions Staff
Motorcycle for Missions 2013, a new two-day cycling event that planners hope will become an annual fundraiser for Virginia Mennonite Missions, left Powhatan June 24, stopped in Roanoke for the night, and arrived at Virginia Mennonite Conference Assembly in Harrisonburg on June 25.
Participants were welcomed to fanfare and recognized in the evening's worship service in the Eastern Mennonite School auditorium. The ride was organized by Tim Kennell, pastor of Powhatan Mennonite Church (below, left) and is a project of VMM.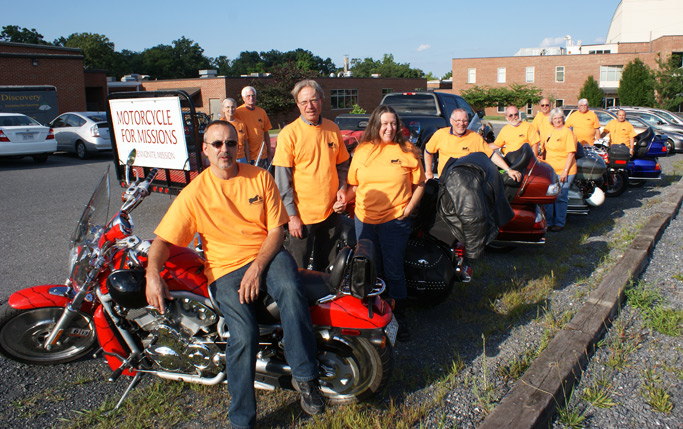 Riders Tim Kennel, Rob and Patty Burdette, Phil Helmuth, Lowell & Miriam Haarer, Lowell Tieszen, Ray Horst, James Maust, with Ed and Doris Ranck, drivers of the support vehicle behind at left. Photo: Galen Lehman
At the beginning of 2013, Virginia Mennonite Missions received an energetic message from Tim Kennel, pastor of Powhatan Mennonite Church, suggesting that a motorcycle ride be organized for the purpose of raising funds for missions. Tim described the way the ride works and asked if VMM was interested. Oh yes, indeed! We wanted to assist with organization, publicity and planning, and be the recipient of funds. "Motorcycle for Missions" was born, then developed, and carried through.
The ride began in Powhatan, with nine riders on seven motorcycles on July 24, arriving in Roanoke for supper and overnight lodging. The next day, the riders enjoyed the Blue Ridge Parkway, the good services of the support vehicle driven by Ed & Doris Ranck, and the joyful welcome at Virginia Mennonite Conference Assembly just in time for the opening worship service.
During the worship service, the congregation applauded the "Motorcycle for Missions" participants and recognized the amount of money they raised after expenses: $4,820.
VMM is grateful to Tim for spearheading this innovative way of raising funds, all the riders and their sponsors, the business sponsors (EMU and LD&B Insurance) and God's protecting angels during the ride. Look for announcements in 2014 for the second annual "Motorcycle for Missions" and get involved!