Sharing the light of Christ in Kosovo
Posted on December 18, 2013 by VMMissions Staff
Burnt and abandoned houses dot the countryside of Kosovo as we drive west and north on the highway. These houses and the bullet-pocked businesses lining the highway are scars of war and the accompanying hostilities that are recent in the history and consciousness of Kosovars.
As we continue on our drive through the country from the capital of Pristina to the rural town of Istog, I begin to notice that many of these homes which were ravaged during the war are being rebuilt and reinhabited. Slowly, the scars of war are being healed.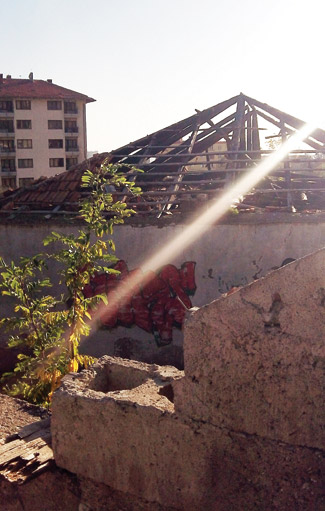 A dwelling burned during the Balkan War, in Istog, Kosovo.
Photo: Martin Rhodes
Later in the day, I sit comfortably in a darkening room with my travelling companions, our missionary friends Vince and LaVonne Ramella, and two Muslim men and their families. These men and their families are prominent citizens in the town of Istog and people of peace to those of us sojourning through their land. As the light of day turns to dusk, we drink coffee and discuss family, community, work, and other important and mundane things of life.
As we sit and are served wonderful coffee by Vince Ramella, I am reminded that the work of the Kingdom of God is the slow work of relationship-building and peace-making. Over the next few days we will continue to sit together and enjoy hospitality, and to be and share the good news.
As supper is prepared by LaVonne Ramella and her host: one Kosovar, the other American, one Muslim, the other Christian—I am reminded of the words from the prophet Isaiah: Arise, shine, for your light has come, and the glory of the Lord rises upon you. See, darkness covers the earth and thick darkness is over the peoples, but the Lord rises upon you and his glory appears over you (60:1-2).
These words of the prophet to the people of Israel are equally pertinent to VMMissions' workers in Kosovo as they live out the good news that our Lord Jesus Christ lived and died to bring new light and life to a land once covered in darkness. For Vince and LaVonne Ramella and their children Sid, Bradie and Justin, and for all of us who share the good news, I pray for the light of Christ to shine in and through us to a dark world.
Filed in: All posts