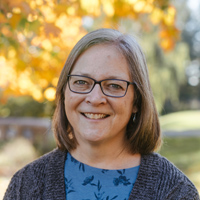 Jan Liskey
Director of Finance
As Director of Finance, Jan oversees VMMissions' financial operations and endowment performance, oversees the annual audit, and fulfills the agency's accounting and gift receipting functions.
She prepares internal financial reports for the agency directors as well as for the Board, and she staffs the work of the Board's Finance Committee. She works closely with the President and staff in budgeting and carefully tracks revenues and expenses against the many accounts associated with the MST model of worker support.
She appreciates the balance of decision making and accounting tasks associated with her role, and enjoys being part of a staff that desires to serve our workers, and God's kingdom, with integrity and care.
Jan lives in the Cross Keys area with her husband, Winston, and daughter, Katie. They attend Eastside Church.
Education
B.A., Eastern Mennonite University