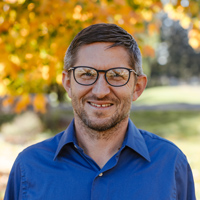 Jason Showalter
Global Ministries Director
As Global Ministries Director, Jason gives overall leadership to VMMissions' international and domestic ministries. His responsibilities include oversight of the international ministries previously carried by Lynn Suter and Carol Tobin, both of whom have indicated a desire to reduce their workload.
Jason brings with him 15 years of experience as a cross-cultural worker with a sister Anabaptist agency. His roles included orientation, mentoring, and developing strategic vision with cross-cultural teams. He earned a Masters of Arts at Eastern Mennonite Seminary in 2002 and is a 1998 graduate of Goshen College. A study-service term in Costa Rica, followed by an internship in Mexico, opened the door for work after seminary with the Shenandoah Valley Migrant Education Program of Virginia and later in Chicago, where Jason taught ESL to recent immigrants. He speaks Arabic, Spanish, French and the local language of the Mediterranean country where he and his family lived for over a decade.
Jason and his wife Carmen have five children: Dara, Lydia, Luke, Elijah and Isaac. They are part of Mosaic of Grace Church, a church plant in the Harrisonburg District of Virginia Mennonite Conference.