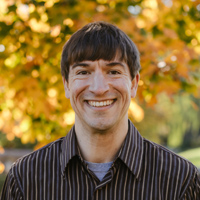 Jon Trotter
Communications Manager
Jon promotes the ministries of VMMissions by producing print materials and online media for VMMissions' external communications needs. He facilitates the planning and content work of the Transforming team, and collaborates across teams as website administrator and content manager. In addition, he handles VMMissions' IT responsibilities as server and system administrator.
Formed in faith at Midway Mennonite Church in Columbiana, Ohio, Jon was blessed to participate in a particularly impactful short-term mission trip in 2000 to Marsh Harbour, Bahamas, where a local pastor saw the need of the Haitian settlers on his island and felt the call of God to learn Haitian Creole and plant a church for that community. This pastor exhibited a deep faith in God's love for this people group and a genuine friendship with those across the barriers of culture and language.
This experience was helpful in showing how we are all called by Jesus to share the hope of God's redemption in spirit and in truth with all people, wherever we are. It was also a beautiful example of a church of many cultures worshipping the Lord together.
Jon is married to Meredith and they have two daughters, Hannah and Megan.
Education
B.A., Eastern Mennonite University, 2004
A.A., Hesston College, 2002