The Walls Came Tumbling Down: Our Entrance Into Albania
Posted on December 31, 2019 by Jon Trotter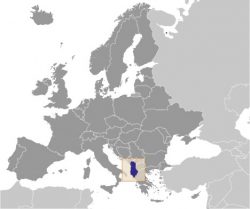 As told by Willard and Eva Eberly
"We were swept along, praising God for opportunities!" Willard exclaimed as he reminisced about the beginnings of the work in Albania. "We didn't program it! We connected with him and we could hardly keep up with it!"
The story of Mennonite mission in Albania begins with Gesina Blaauw, a Dutch Mennonite woman who had moved to Sicily to establish a Christian bookstore with Christian Literature Crusade. She also carried a deep longing to locate her Italian father. She didn't find her father, but she did connect with the Mennonites in Sicily, where Willard and Eva were serving as missionaries. Gesina shared another deep longing with her newfound church family: the burning passion in her heart for God to move in Albania, a nation locked away in complete isolation under tight communist control.
In order to enable trips to the closed country, Gesina created her own travel agency.
During one of her trips to Albania, she was imprisoned for several months for distributing Christian literature. She invited the Italian Mennonites to join her in praying for Albania to open up to the outside world. Living in the apartment above Willard and Eva and their children, Maurita, Mike and Andy, Gesina wanted to include Maurita in one of her tour groups. "Can I take Maurita to Albania with me?" she asked. "No, of course not!" they answered.
Finally, in 1991, after seven years of praying, the walls came down and Albania opened. At the same time, the Italian Mennonite Church was beginning church planting work in the city of Bari—directly across the Adriatic Sea from the Albanian coastline. VMMissions workers, Tim and Karen Green (parents of present worker, Shawn) found themselves involved with Albanian refugees coming to Bari. They began taking humanitarian aid into Albania. Meanwhile, the believers in Sicily worked with Albanian refugees arriving on their shores.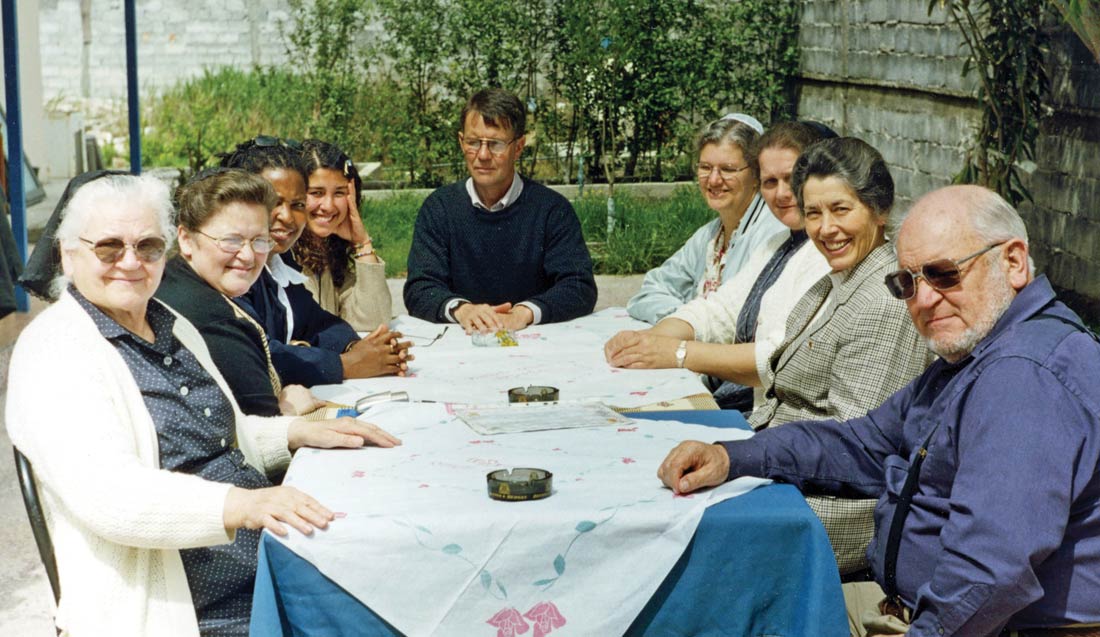 A group from Dayton, Va., visited Lezhë, Albania, in 2002. They are joined by Albania workers Norma Teles (third from left), Allen Umble (center), and Italy worker/VMMissions staff member Eva Eberly (second from right). Courtesy photo
By this time, Willard was living in Virginia, serving as the Mediterranean Regional Director for VMMissions, while also on staff with the Cornerstone Church. It so happened that a Cornerstone team was en route to Nigeria for a two-week visit with their workers, Tom and Karen Yoder. In Brussels, they learned of civil unrest in Nigeria and were advised to abandon their travel plans.
Not sure what to do next, the team consulted with Willard. "Maybe you can go to recently-opened Albania," he suggested "I'll check with my friend, Gesina."
Indeed, Gesina was in Albania, on hand to help with a huge evangelistic event in the capital city of Tirana. She said, "Bring the team to Albania! I know the government. I'll get you in. I'll meet you at the airport." Thus, the team found themselves in the middle of a large stadium, with people flocking to hear the gospel, and many eagerly presenting themselves for baptism. It was Acts chapter two all over again.
"The miracle of Albania from day one was sixty or seventy agencies working together! It was like revival; so much sharing of resources among us all. The agencies had done so much good that the constitution was rewritten to allow for evangelical presence and religious freedom." —Eva Eberly
With the first week completed, the team wondered about the second. An invitation came from none other than the Minister of Education of the city of Lezhë, asking the team to "do there what you did here in Tirana."
That is what they did. Among those walking past the soccer field where team leader Sam Scaggs was preaching was an Albanian couple who had never heard the gospel. Dini and Klementina Shahini found the Lord that week, and so began an amazing discipleship journey in which God brought them to Virginia, only to send them back to Albania eleven years later, equipped to serve in ways that would transform their city!
Churches and mission entities of every variety flooded into Albania after communism fell. Willard and Eva took in a team in 1992. "People were impoverished, walking around without proper clothing," remembers Willard. "Communism had stripped them of everything. So much material assistance was needed; we began doing lots of medical and economic development projects. In Italy, we hadn't helped the church to be outwardly focused, giving liberally. So we were attentive to that as we began to work in Albania."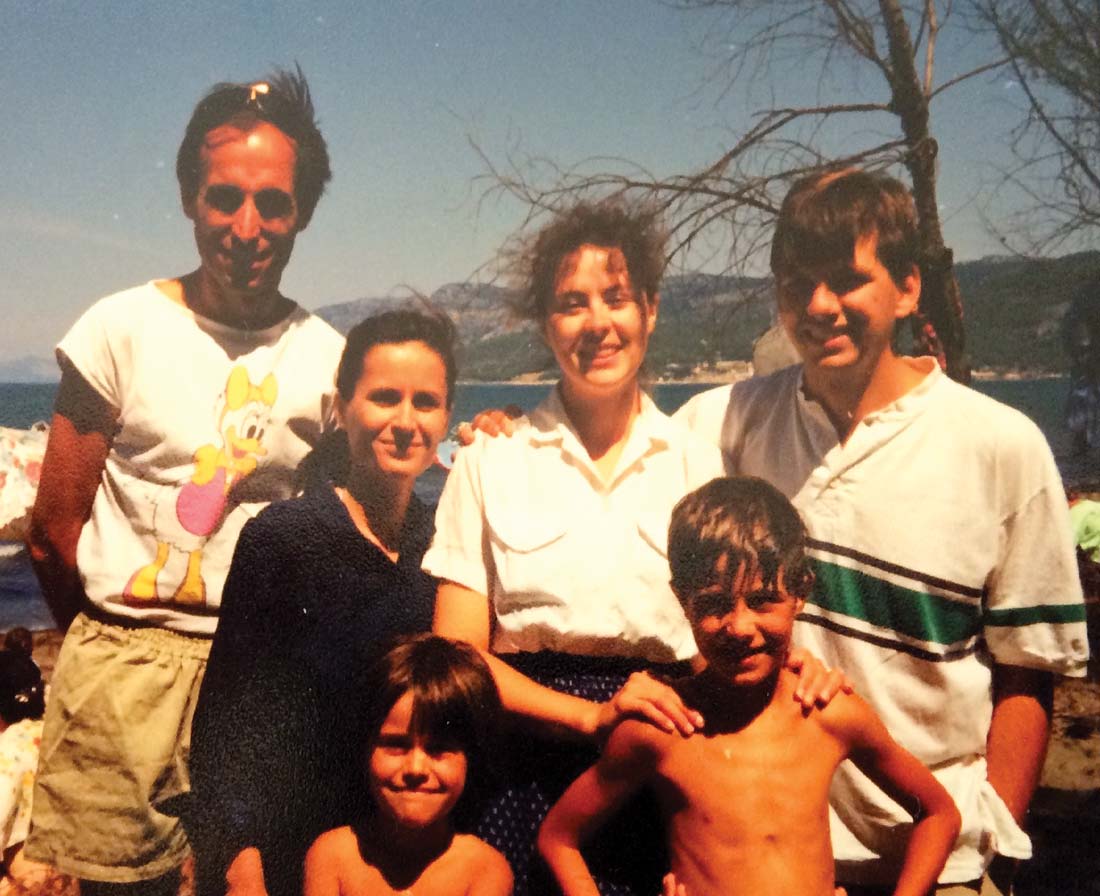 Dini and Klementina Shahini (left) participated in the new Mennonite church's first baptism service in Lezhë in 1993. Photo courtesy of Dini Shahini
Eva recalls, "The miracle of Albania from day one was sixty or seventy agencies working together! It was like revival–so much sharing of resources among us all. The agencies had done so much good that though there was a traditional desire to name Albania's religious identity as Muslim, Catholic and Orthodox, the constitution was rewritten to allow for evangelical presence and religious freedom."
Now 76, Willard looks back on what he has learned about mission. "We take one step after the other, following the Holy Spirit's leading and guidance. As God gives vision, we pray. We make ourselves available. And as we look from generation to generation, we see God's faithfulness."
Open Doors in Albania
Long-term workers serving a combined 67 years, often with colleagues from Eastern Mennonite Missions.
Eight short-term teams and 20 persons serving for at least one year through tranSend.
The emergence of Guri i Themelit church in Lezhë.
Norma's ministry among the Roma through the Joshua Center, 1999-present.
Significant involvement with agricultural development and loan projects.
Lezha Academic Center, a thriving K-12 English medium school founded by Klementina and Dini Shahini in 2011.
Albanian believers engaged in mission, both in Albania and beyond.
Timeline

Filed in: All posts, Transforming