Publications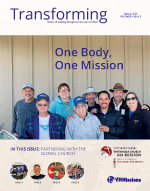 Transforming is our 12-page mission magazine published quarterly that tells stories of how our work and our workers are making disciples in the way of Christ.
---
2023
Spring – "One Body, One Mission"
Winter – "God Is on Mission"
2022
Fall – "How Do We Measure Success?"
Summer – "The Gospel is for Everyone" (Campaign Issue)
Spring – "The Future That God Sees" / "El futuro que Dios ve" (español)
Winter – "Experience + Reflection = Wisdom"
2021
Fall – "Vision for Multiplication" / "Visión para la multiplicación" (español)
Summer – "Shoulder to Shoulder in Mission" / "Hombro con Hombro en la Misión" (español)
Spring – "Faithful to the Call" / "Fiel a la Llamada" (español)
Winter – "Being People of Hope"
2020
Fall – "When Walls No Longer Divide"
Summer – "Third Culture Kids: Uniquely Formed and Called to Serve"
Spring – "The Power of the Gospel"
Winter – "Good Works Beautify the Gospel"
2019
Fall – "The Wind of the Spirit" (Centennial issue)
Summer – "Family Matters in God's Mission"
Spring – "Engaging More Than Academics"
Winter – "Following Jesus into the Harvest"
2018
Fall – "A Culture of Multiplication"
Summer – "From Anywhere to Anyone"
Spring – "Engaging Work as Witness"
Winter – "Investing in the Next Generation"
2017
Fall – "Joining the Holy Spirit in Mission"
Summer – "Sharing the Good News"
Spring – "Mission is a Team Effort"
Winter – "Collaboration is Our Posture in Mission"
2016
Fall – "Church is the Primary Instrument for God's Mission"
Summer – "The Whole Earth is the Intended Reach of God's Mission"
Spring – "Multiplication is the Intended Result of Mission"
Winter – "Holistic Witness is How We Engage in Mission"
2015
Fall – "God is the Primary Agent in Mission"
Summer – "Incarnation is God's Pattern for Mission"
Spring – "Making Disciples is Our Primary Task"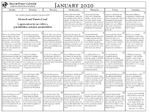 Highlighting the prayer requests and activities of our workers, our monthly prayer calendar keeps you informed and engaged in prayer on our behalf.
OTHER PUBLICATIONS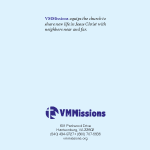 VMMissions overview brochure: an in-depth look at our mission, vision, core commitments and guiding principles that form the foundation of our work.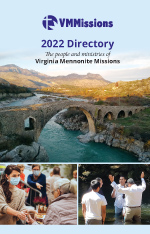 Annual Mission Directory: a printed booklet, distributed to supporters and available on request, listing our current mission workers, board members, list of donors, staff and ways to get involved. Because it contains information about workers serving in sensitive areas, it is not put online.