30 Seconds That Threw Lezhë Into Chaos
Posted on March 9, 2020 by VMMissions Staff
After a 6.4 magnitude earthquake shook their city of Lezhë, Albania, VMMissions workers Rafael and Solange extended God's presence and love to their neighbors.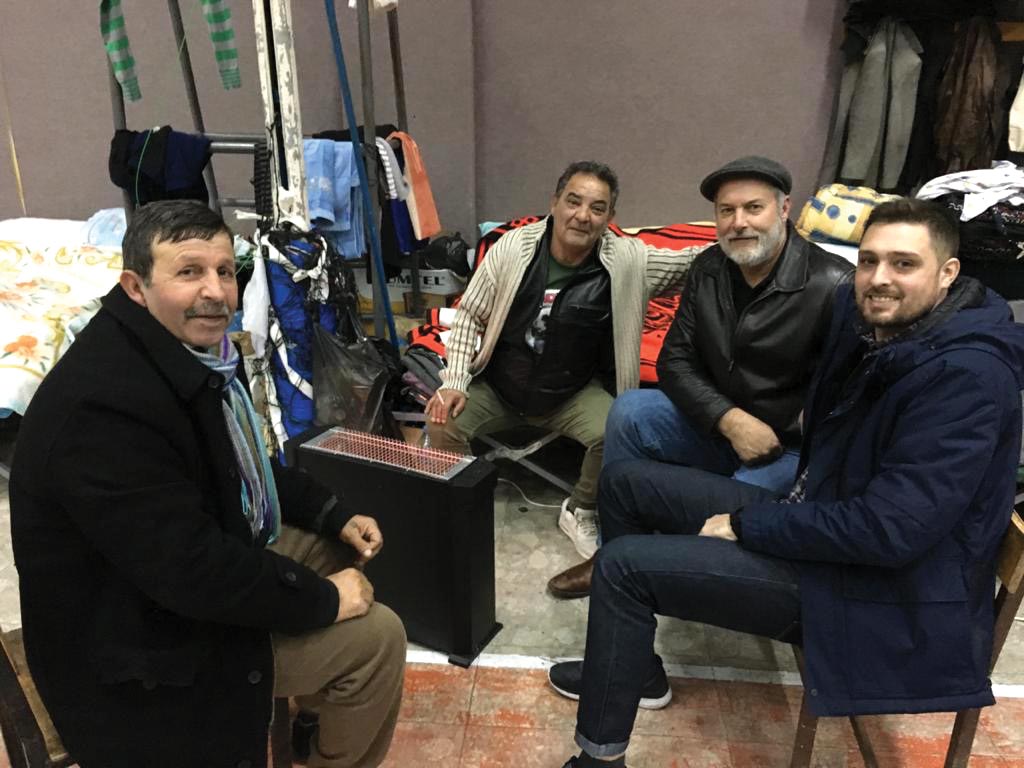 In the temporary shelter in Lezhë (left to right) locals Brahan and Petrit speak with VMMissions workers Dan Hess and Rafael Tartari. Photos courtesy of Rafael Tartari

Have you ever imagined going out into the street of your city in your pajamas? In fact, that's what we did on November 26, 2019. It was 3:51 a.m. when we experienced a 6.4 magnitude earthquake. Though the initial quake lasted only a little more than 30 seconds, it seemed like 30 minutes. There was loud trembling—the noise of things banging in the house, the whole house crackling. There was nothing to do except to cry out for the mercy of the Lord. Even more frightening was the loss of power; we were instantly trapped in darkness.
We began to hear the sound of ambulance sirens, people calling us, telling us to get out of the house. We took the children and went to the city center to meet our brothers and sisters, our friends and neighbors. Our city was in chaos. We were all doing the same thing—going to the square dressed in pajamas, slippers, and jackets to withstand the cold. We stayed until the light of day. As soon as the electricity returned, we turned on the TV and only then heard of the sad destruction that claimed 51 lives, leaving hundreds injured and homeless, having lost everything. What pain in our hearts!
Aftershocks continued for days. With the people literally shaken, the scheduled Independence Day celebrations were cancelled. Across the city, there was beautiful solidarity in our sadness and mourning. The quake was all that people could talk about.
Because teammates Dan and Mary Hess and Norma Teles live in high rise apartments, and were impacted by the tremors much more than we were, we hosted them until the aftershocks passed. It was a joy to have them with us, especially for our kids.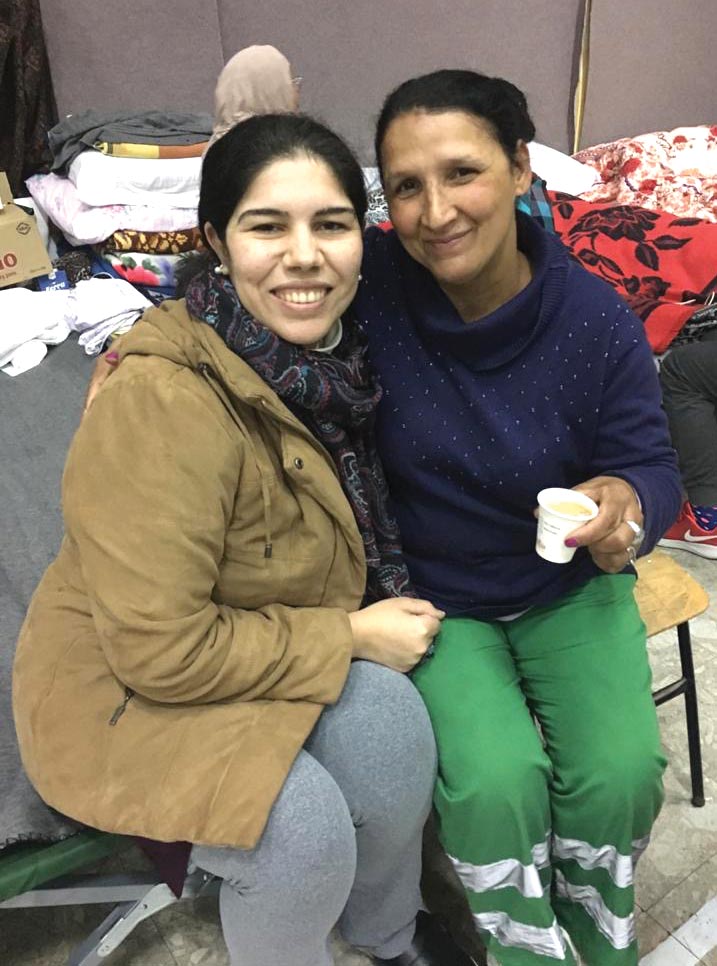 Solange Tartari with Rudina, a neighbor in the shelter.

As a church we gathered for a special prayer service for the families of the victims, the homeless, and for the government, giving thanks for those who were brought through danger unharmed. We also began collecting food and clothing, inviting our brothers and sisters in Christ to help make deliveries to a village outside of Lezhë that experienced more damage. Glory to God! Donations came from everywhere. The words of Psalm 46 were a reality and comfort to us all: "God is our refuge and strength, an ever-present help in trouble. Therefore we will not fear."
Two weeks later, we started to help homeless Roma people in our town who were transferred from tents to the public sports gym. Initially, we were only helping to distribute breakfast. Wanting more than this superficial contact, we started going at night, just to do activities with the kids and serve espresso to the adults. This gave us the opportunity to listen to the stories of those being sheltered and to pray for their traumas. We had the opportunity to bring hope through God's Word. We ended up meeting a lot of people we either already knew or who were family members of friends and acquaintances. This was perfect!
We invited the church people to come with us as well, in order to make new acquaintances. In this calamity, I see that the Lord is revealing himself to the lost. We realize how much some people who did not even want to know about God have come to recognize his power and his greatness.
We are immensely grateful to God for everyone who contributed to the earthquake response, enabling us to help those who lost their homes. It was more than help; it was a gesture of God's love and presence.
Prayer: Keep praying with us that God will be glorified in the relationships built through the earthquake, that there would be lasting fruit for God's kingdom in Albania.
Filed in: All posts, Transforming